Even though pasta comes from Italy – it's loved all over the world. With over 600 shapes for you to choose from, it's a dish that can hardly become boring. Since pasta is very starchy, following keto means that you need to find low carb pasta alternatives.
In this article you'll find low carb pasta and keto noodles that you can get online. Also, you will learn a delicious keto pasta dough recipe that tastes as good as the original one. Of course, you'll get some low carb pasta sauce ideas that will inspire your meals.
Low Carb Pasta to Buy Online
There are some low carb pasta brands that created dried keto pasta that tastes as good as regular one. Each of these low carb pasta options can be ordered online. Some can even be found in supermarkets.
Best Low Carb Spaghetti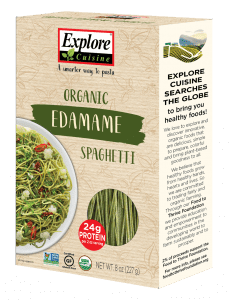 Since spaghetti is my ultimate favorite choice of pasta, I tried many low carb spaghetti options until found my favorite ones.
This Explore Cuisine low carb spaghetti is made from bean flour. They contain a lot more protein and a lot less carbs than your traditional pasta choices. So, if you love eating spaghetti, you simply must try this keto friendly alternative.
Edamame Spaghetti can be found here.
1. Al Dente Carba-Nada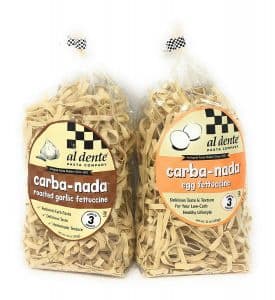 These delicious fettuccine low carb pasta has only 17g net carbs per serving and tastes like regular pasta. Compared to other keto friendly pasta and noodles, this option has a few more carbs in it. However, if you're the type of person who values quality over quantity – be sure to try the Carba Nada.
You can get Carba Nada in two different flavors – the classic egg fettuccine and roasted garlic. Both are delicious, however my personal favorite was the classic egg low carb pasta – the texture came closer to the original.
Also, this pasta is super healthy for you. It's made from all natural ingredients and is completely GMO free. Simply pair it with some delicious veggies, low carb pasta sauces and enjoy!
Carba-Nada can be found here.
2. Barilla Red Lentil Penne / Rotini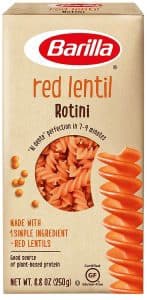 Made from only red lentil flour, these delicious Barilla low carb pasta choices not taste delicious but also have a vibrant color to it. With only 28g net carbs per serving, this is an amazing keto pasta alternative that comes in two shapes.
You can choose penne or rotini. They're both the same nutrition wise and only differ in shape. Penne are a perfect choice when you have the type of sauce that's more liquid and can fill the inside of the pasta. Rotini are an excellent choice when you're making a pasta salad or a low carb pasta dish with many veggies.
Red Lentil Rotini and Penne can be found here.
3. Explore Cuisine Green Lentil Lasagna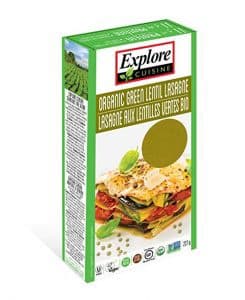 Those who have a sweet spot for lasagna simply can't afford to miss out on this low carb pasta. Even though making a low carb lasagna may sound impossible – it's not. Especially when you have these green lentil lasagna sheets.
With only 31g net carbs per serving, these lasagna sheets are made from organic green lentil flour, organic green pea flour and organic brown rice. Packed with nutrients, protein and fiber, these lasagna sheets are worth a shot.
Green Lentil Lasagna sheets can be found here.
Low Carb Pasta Brands
When it comes to low carb pasta brands – there are various choices out there. Since going on keto is becoming more and more popular – finding low carb pasta alternatives is getting easier.
Many world-known pasta manufacturers started making low carb pasta alternatives. What's great about that, is that since they already know how to make world-class pasta, it's easier for them to make delicious keto friendly pasta alternatives. Take the Barilla example. Barilla started back in 1877 – so they should be pretty good at making pasta more than 100 years in business. Now they're making keto pasta alternatives from chickpea and red lentils.
Another brand that specializes in low carb pasta alternatives is Explore Cuisine. They work with only the finest organic ingredients and make great keto pasta alternatives and alternatives to traditional pasta in general. They use various organic ingredients: from beans and lentils to rice and peas. This way Explore Cuisine creates plant based pasta filled with more protein and fiber than the traditional pasta. The pasta is also gluten and GMO free, so suitable for many diets.
If you want to find your best low carb pasta brands, I would recommend starting from Explore Cuisine. There you will find various pasta types, from traditional low carb spaghetti to lasagna sheets.
Low Carb Noodles to Buy Online
Knowing your low carb noodles options is very useful when you're in the mood for some Asian-inspired dishes. What's great about them, is that the keto noodles have very little to practically no carbs. So, you can make your favorite Asian dishes with low carb noodle alternatives. Here are some of the best choices found online:
1. Sea Tangle Kelp Noodles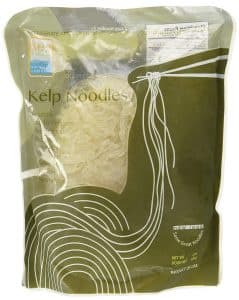 Sea Tangle Kelp Noodles contains only 100% raw food and is free of allergens. These low carb noodles are made with sea kelp – a type of seaweed. The Kelp noodles are not only low in carbohydrates but also have very few calories and are fat-free.
With only 2g net carbs per serving, Kelp keto noodles are a great replacement for regular noodles. You'll be able to make your favorite dishes, only without the unnecessary carbs.
Kelp Noodles can be found here.
2. Miracle Noodle Angel Hair Noodles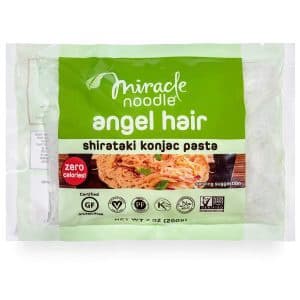 No wonder they're called Miracle Noodle. These low carb noodles are actually no carb noodles. Bonus – they're also calorie-free, starch-free and sugar-free.
They're main and only ingredient is Glucomannan – a natural and healthy fiber. These noodles consist of 97% water, so you'll need to eat quite a few bowls to get full for longer than several minutes.
You can mix it into your favorite soups, dishes and souces. These no carb noodles are absolutely keto friendly and guilt-free.
Angel Hair Noodles can be found here.
Low Carb Pasta Recipe
If you're not a fan of store-bought pasta and prefer making your own – you're in the right place. Here I will share with you my favorite low carb pasta recipe and actually tastes like regular pasta.
Low Carb Pasta Dough
You can make it with a food processor or mixing it by hand. Either way, the taste of this keto pasta dough is amazing.
Ingredients:
1 cup almond flour (blanched)
2 tbsp coconut flour
2 tsp xanthan gum
2 tsp apple cider vinegar
1 large egg
¼ tsp sea salt
1-3 tbsp water (optional)
Method:
Mix almond flour, coconut flour, xantan gum and salt together (by hand or use a food processor).
Whisk the egg together with apple cider vinegar and slowly add to the mixture.
Mix everything until the dough forms a ball. Add water if needed.
Wrap the pasta into a plastic wrap and let it rest for 20-30 minutes.
Once your dough has rested – roll it out thinly by using a pasta machine or with hands. If you're not ready to cook yet – freeze it. If you're ready, boil it for up to 3-4 minutes in salted water and mix with your favorite sauce.
NOTE: since this low carb pasta is fresh, you can even add it directly into the sauce, without boiling. If you want to do so – freeze it for 10 minutes before adding. This way your keto pasta will keep the shape!
Low Carb Pasta Sauce
Once you have your keto pasta ready, home-made or store-bought, you need to pair it with some delicious low carb pasta sauce. What's great about keto-firendly pasta sauces, is the fact that they're actually very easy to make. Many classic Italian pasta sauces in fact, are low in carbs. Here are some of the most delicious low carb past sauce ideas that will work as a keto spaghetti sauce or paired with any other type of pasta: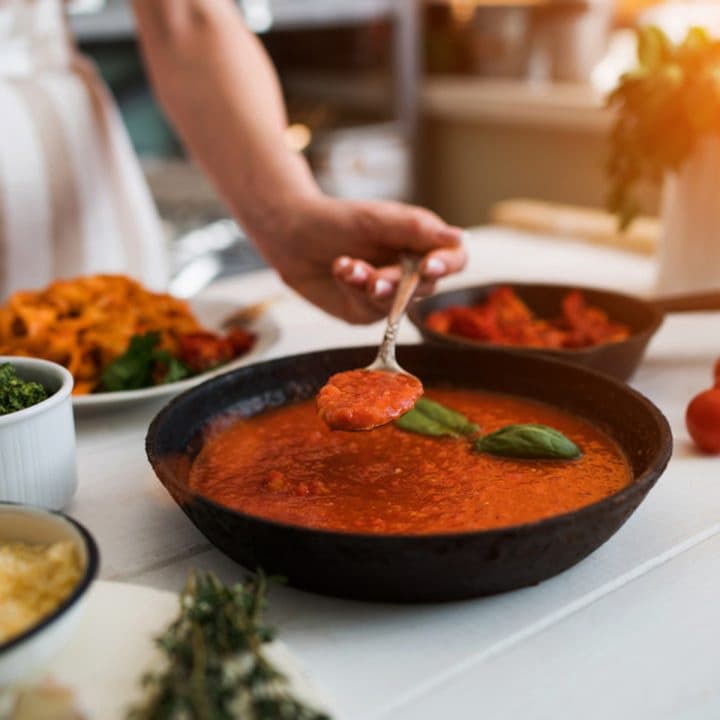 Butter and Parmesan
This sauce is nearly carb free, since butter is carb-free and a handful of Parmesan comes with only a couple of grams of net carbs.
Here's how to prepare the butter and Parmesan low carb pasta sauce. Place a non-stick pan on low heat and add your butter. Once the butter melts, add your low carb pasta and stir well. Once the pasta is covered with butter, sprinkle Parmesan on top and mix well. Let the cheese melt and season with salt & pepper to taste. Serve immediately.
Low Carb Marinara
Marinara or tomato sauce is an Italian classic. This low carb version of Marinara sauce is keto friendly and is quick to prepare. It is my ultimate favorite keto spaghetti sauce.
Here's how you can make low carb Marinara sauce: get a can or two of peeled tomatoes (with no sugar added). Puree the tomatoes. Place a non-stick pan on a low heat and add some olive oil. Once the oil is hot, add your pureed tomatoes and season with salt, pepper, dried oregano, parsley and basil. Let it simmer and add you favorite pasta. Serve with some grated Parmesan on top.
Best Keto Spaghetti Sauce – Carbonara
If you're a fan of meaty pasta dishes, this low carb pasta sauce is the perfect choice for you. Pasta alla Carbonara is an ultimate Italian classic and absolutely keto friendly. It is my ultimate keto spaghetti sauce that I make at least a couple of times a month.
Here's how to prepare the Carbonara sauce: saute bacon cubes or pancetta (Italian style bacon) in olive oil until crisp. By using a little pasta water, incorporate your cooked pasta into the bacon and stir well. Remove pasta from heat. Take a separate bowl and mix 2-3 egg yolks with Parmesan and Romano cheeses. Slowly add the mixture to your pasta and bacon while stirring. The eggs and cheeses will melt and cook from the heat from pasta and bacon. Sere immediately with grated Parmesan on top.
NOTE: stirring in the egg and cheese mixture when your pasta is off the heat will ensure that the eggs don't overcook.
Alfredo Sauce
Another brilliant Italian low carb pasta sauce that is nearly carb-free. Most store bought options contain very few carbs. However, making your own is very easy and will taste even more delicious.
Here's how to prepare the Alfredo sauce: start from placing a pan on low heat. Add 8 tablespoons of butter for every cup of cream thet you will use. Once the mixture warms up, add some Parmesan cheese and salt and peeper to taste. Mix in a couple of tablespoons of your pasta water and stir in the pasta. Adjust the seasoning and serve immediately.
Low Carb Pasta – Overview
Since keto is gaining more and more traction on a daily basis – there are more and more great low carb pasta brands. They make healthy and nutritious keto friendly pasta alternatives that can be purchased online or in various supermarkets. If you want to take a step further and keep your carb intake very low – get some no-carb pasta known as low carb noodles.
If you prefer making your own pasta, that's also quite simple and tastes as good as the real deal. What's great about eating low carb pasta when on keto is the sauce variety. A great part of the italian classics require no adjustments as they're already very low in carbs and very high in fat.
Eating pasta on keto is absolutely possible, so enjoy!