By eating keto side dishes you can turn each of your meals into a completely new experience that will help you forget that you're actually following a diet!
Finding the main dish ideas is pretty easy, however, most people struggle to keep the keto side dishes interesting.
I've searched all around the WWW and made a list of tasty and easy keto side dishes that will keep you inspired when making any of your meals.
From delicious veggies-only to bacon wraps, here you will find great keto sides that will compliment any of your daily meals.
If you're looking for looking for vegetarian keto sides, you can jump in page by clicking the link. If you enjoy some meat in your keto friendly side dishes, simply browse through the list from the start.
Need some inspiration for the main dish? Check out these keto dinner ideas and equally as tasty keto breakfast recipes.
Enjoy!
Keto Side Dishes with Meat
Here you will find delicious and mouth watering keto side dishes featuring meat. Delicious veggies + fatty meat – my favorite combo!
Bacon Wrapped Carrots – Sweet & Savory Keto Side
Sweet or savory? Sometimes I get this dilemma…
So, these delicious bacon wrapped carrots became one of my favorite keto side dishes when the sweet vs savory dilemma occurs.
Salty bacon topped with sweet maple syrup works great not only with pancakes!
Choose your favorite protein, pair it with some bacon wrapped carrots, glaze them with maple syrup and Voila! An unforgettable experience.
TIP: even you feel like going in a more savory direction, still try this recipe. Simply skip the syrup or use a very small amount of it!
Keto Gravy – Not Only for Thanksgiving
I can't imagine Thanksgiving without eating turkey. Also, I can't image eating turkey without gravy.
Usually, I eat turkey at least several times a month, so this delicious gravy serves as one of my favorite keto side dishes when it comes to turkey and other poultry.
This gravy tastes as good as the original one and you don't need to worry about the additional carbohydrates. How great is that?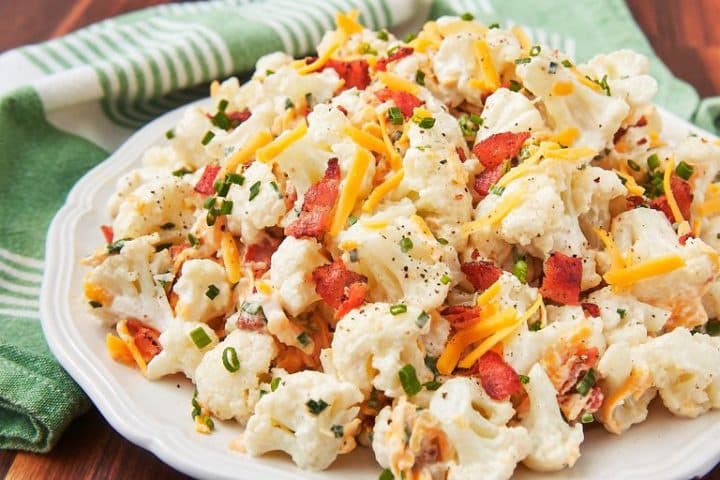 Eating salads can become boring quickly. However, this is not the case with this one.
This cauliflower salad is loaded with cheddar cheese and bacon will surely leave your taste buds satisfied.
What I particularly like about this salad, is how it's made with mayonnaise, sour cream and other fatty ingredients but doesn't leave you heavy after you're done eating.
The key to that is incorporating lime juice. The acidity added to the food gives it lightness. So, be sure to use this tip with any other dish you make. Add some acid and enjoy a whole new experience.
Low Carb Side Dishes – Pizza Cups
One of the greatest thing about keto is that pizza can be categorized as keto sides. Especially when it comes in a shape of a cup.
These delicious pizza cups will work perfectly not only as a keto friendly side dish. These cups can also be served a snack when you have friends or relatives visiting.
Don't even get me started on how quickly these cups will disappear if you serve them for children!
TIP: they work great with vegetable soups as a bread substitute.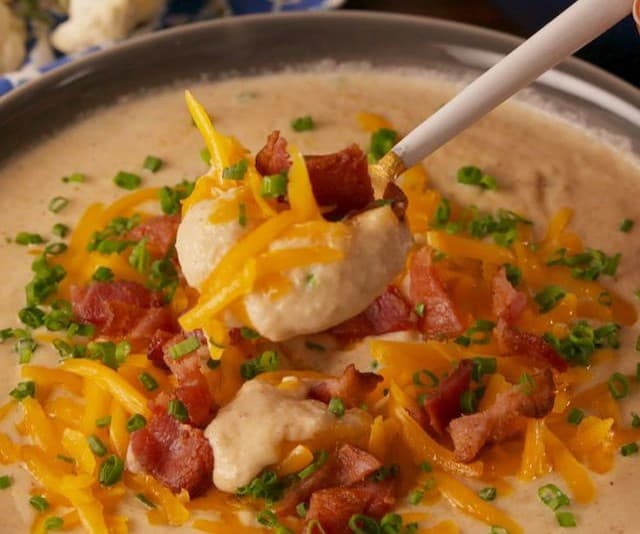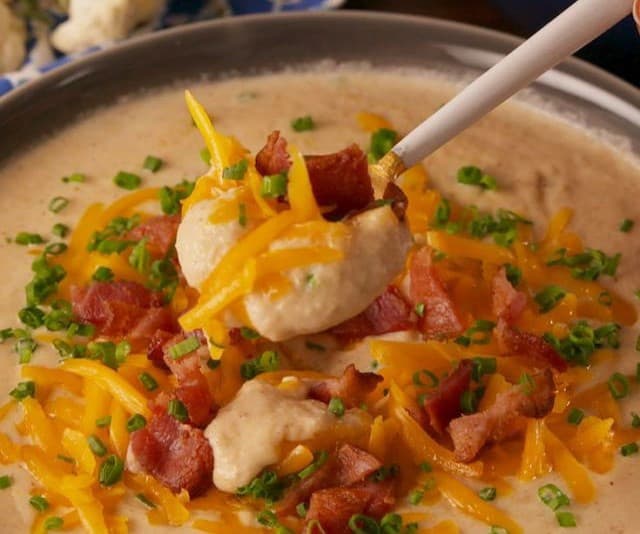 This delicious low carb soup will work perfectly as a keto side dish and as an appetizer. Serve it as you like!
What separates this soup from it's competition, is using roasted cauliflower.
If you roast the cauliflower before you add it to the soup, it becomes more flavorful. This easy trick simply elevates the dish to a whole new level.
Paired with crunchy bacon, this mouth-watering keto soup will keep you coming back for more.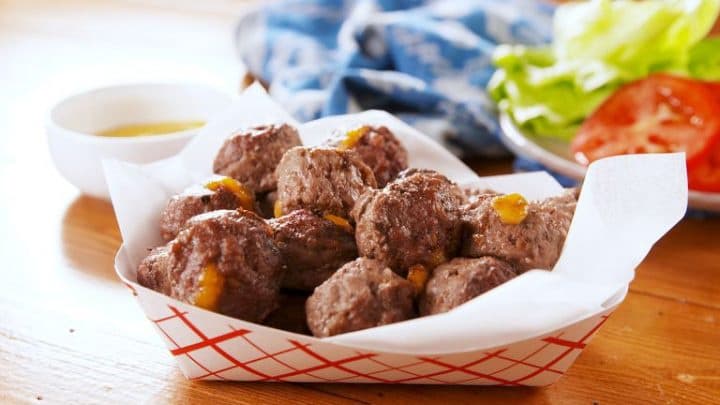 This is one of my favorite keto side dishes when my main protein isn't meat. Also, I enjoy using these fat bombs as snacks.
What's different about these fat bombs, is the amount of butter used in them. Once they're cooked, the meat is moist and melts in your mouth.
Another great thing about them is the cheese inside. Not only it tastes great, it gives the dish the WOW factor.
Eat it with your meals, serve it as a snack and surprise your friends. No matter what way you choose to eat it, this keto friendly side dish is a must-try.
TIP: wrap the bombs in bacon and pan-fry them. Simply delicious.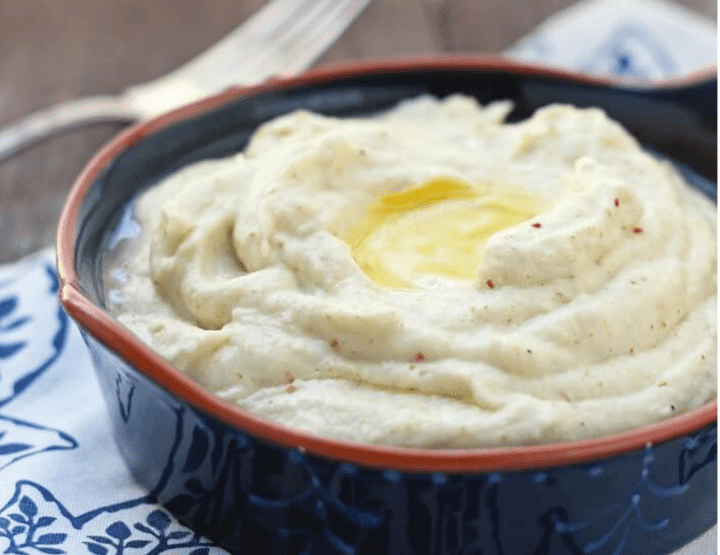 Once I started keto, one of the biggest troubles I had, was finding substitutes for potatoes. I loved eating them prepared in any way. Baked, boiled, mashed. If you served it – I would eat it.
So, when I found this delicious cauliflower mash – I had my mind blown. It tastes delicious, melts in your mouth and kinda reminds a regular potato mash.
I love pairing this mash with any meat, especially beef and poultry.
TIP: serve it with keto gravy and poultry of your choice – feels like Thanksgiving.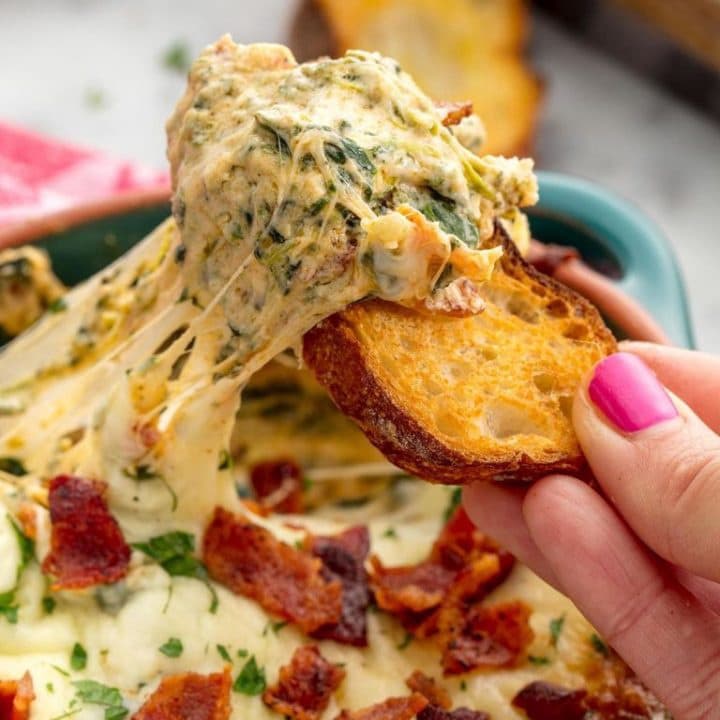 I enjoy eating finger foods and dipping them in sauce. It simply makes the whole experience of eating so much better and more fun. This is one of my favorite keto side dishes for finger foods that works perfectly with cold snacks and hot ones.
Just like butter – bacon makes everything taste better. This side dish, or side dip, is not an exception.
Paired with cheeses you like and the trinity of mayo + sour cream + cream cheese becomes an irresistible dip for finger foods.
Adding the sour cream to the mayo and cream cheese mix, gives it lightness and the sourness that's required for the dish to feel lifted.
TIP: eat it with fresh carrots and celery if you want a lighter meal. Pair it with roasted chicken wings if you're feeling more hungry.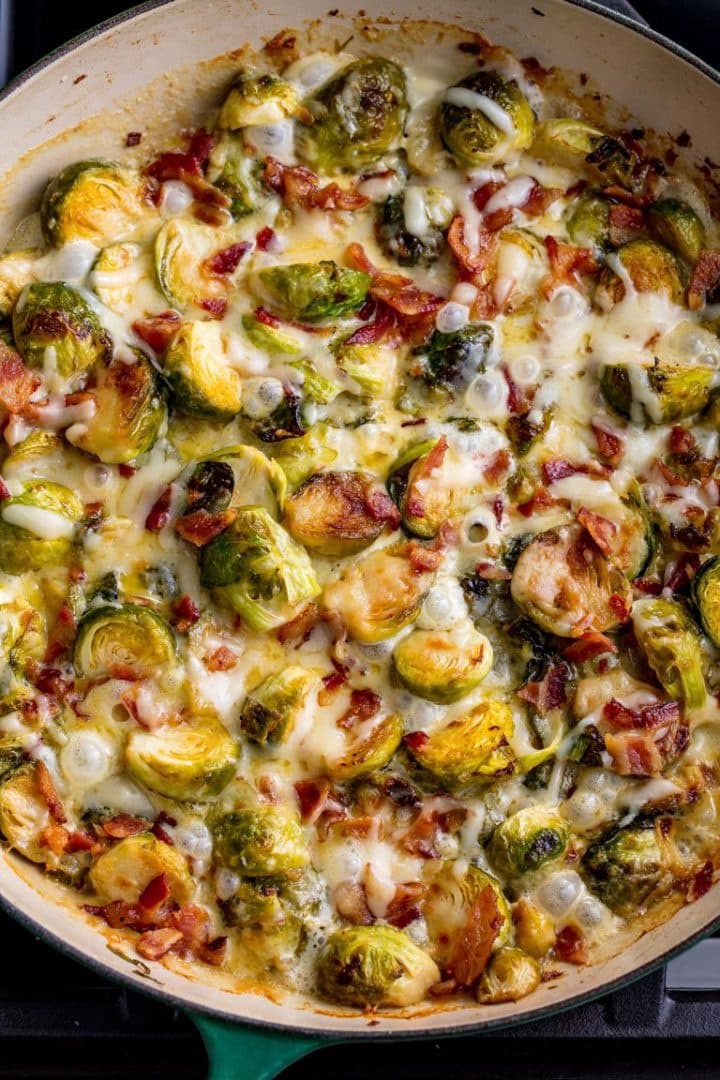 In just 30 minutes, you can have a delicious keto friendly side dish that keeps you coming back for more.
Until I tried it, I never thought hat Brussels sprouts can work so nicely with cheese. However, this dish proved me wrong.
Originally prepared with bacon, it will taste as great without it, in case you have any vegetarian friends over or simply prefer to eat the 'lighter version'.
When it comes to this dish, my favorite combo is cheddar cheese topped with some Parmesan on top.
Pair it with beef, chicken or any other protein of your choice. Healthy, nutritious and super tasty.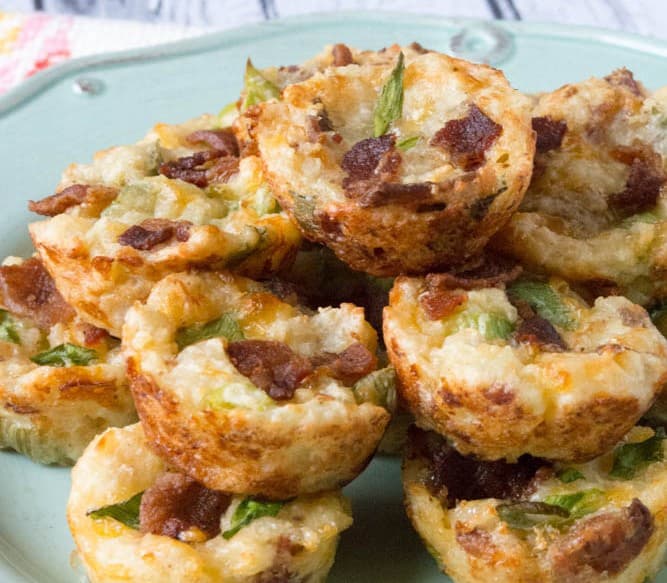 As you've probably noticed from my chosen recipes, I am indeed a bacon lover.
These cheddar cauliflower bacon bites are small but very irresistible. Usually, I eat them as a snack but sometimes I like to snack on them with the main dish.
What I liked about them is that how eating them doesn't feel like you're eating something made from cauliflower. All you feel is the delicious bacon and cheese combo that melts in your mouth.
It's delicious, it's fatty – it's a must try keto friendly side dish.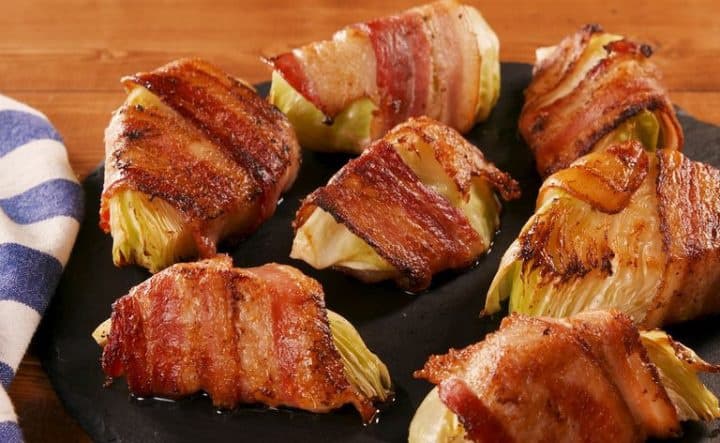 Well, anything wrapped in bacon is delicious. Everyone knows it.
So, what makes these cabbage dippers so special?
The answer is simple – Parmesan cheese. Before wrapping the cabbage into bacon, it is toasted with oil and Parmesan. The cheese gives the cabbage a delicious, salty and sophisticated taste that simply lifts the whole experience to a higher level.
You can make it vegetarian by skipping the bacon, if you have any friends that don't eat meet over. However, from my experience the version with bacon is better.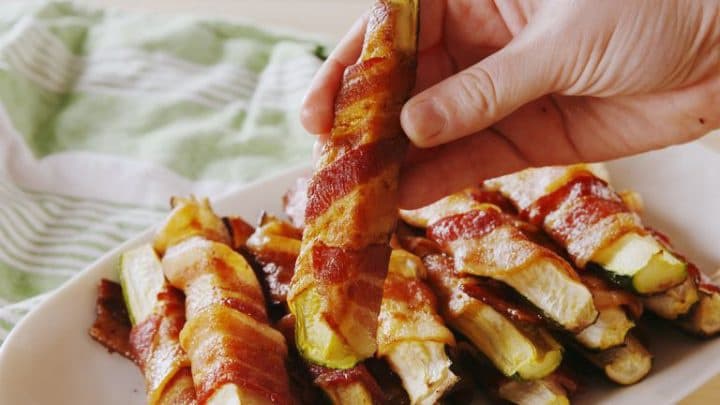 Since we're talking about wrapping vegetables in bacon – feel free to do the same with zucchini.
Bacon Zucchini wrappers are one of my top choices for easy keto side dishes when I have very little time and want to have food that would remind me of take-out (we all have those days).
Only 10 minutes prep time and you can simply leave the rest of the work for the oven.
TIP: serve them as a snack on a movie night – quick and effortless to prepare!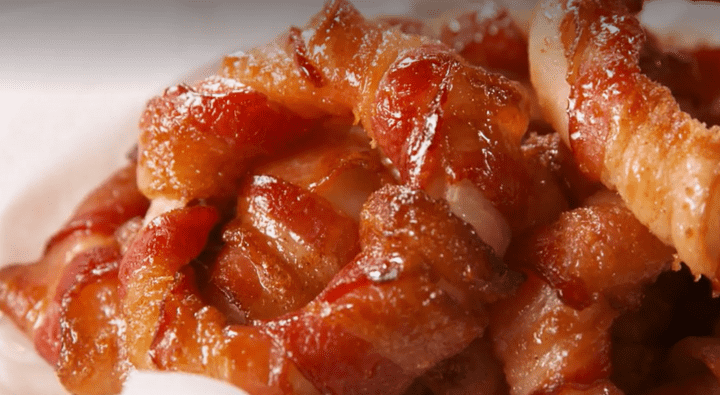 Who doesn't love onion rings? I know I do.
That's why I always make this as one of keto sides and snacks when I have any friends over for a movie or game night. Not all of them follow keto but all of them enjoy a fatty meal.
What makes these onion rings great (besides the fact that they're wrapped in bacon) is the spice kick you get from adding cayenne and the fact that you can bake them in the oven.
So, you don't need to deep fry anything and can still get a mouth watering experience.
Keto Vegetarian Recipes for Side Dishes
Here you will find some of the best keto side dishes that are vegetarian friendly and will also be enjoyed my meat lovers as well.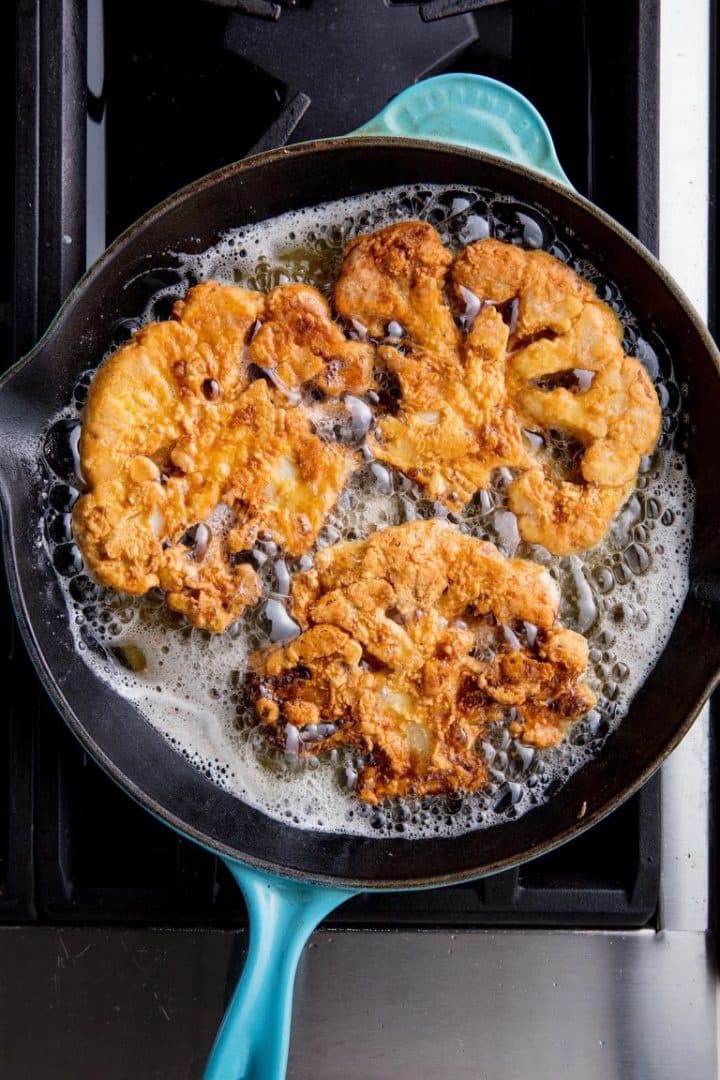 Chicken doesn't sound vegetarian, however this keto side dish is perfectly suitable for vegetarians.
The idea behind this recipe is using techniques that are originally used for frying chicken and adapting them to a cauliflower steak.
Keep in mind that you can eat it alone or serve it as a side dish – works perfectly both ways. The dish is spicy, crunchy and simply delicious. So, a must-try to add to your keto diet plan.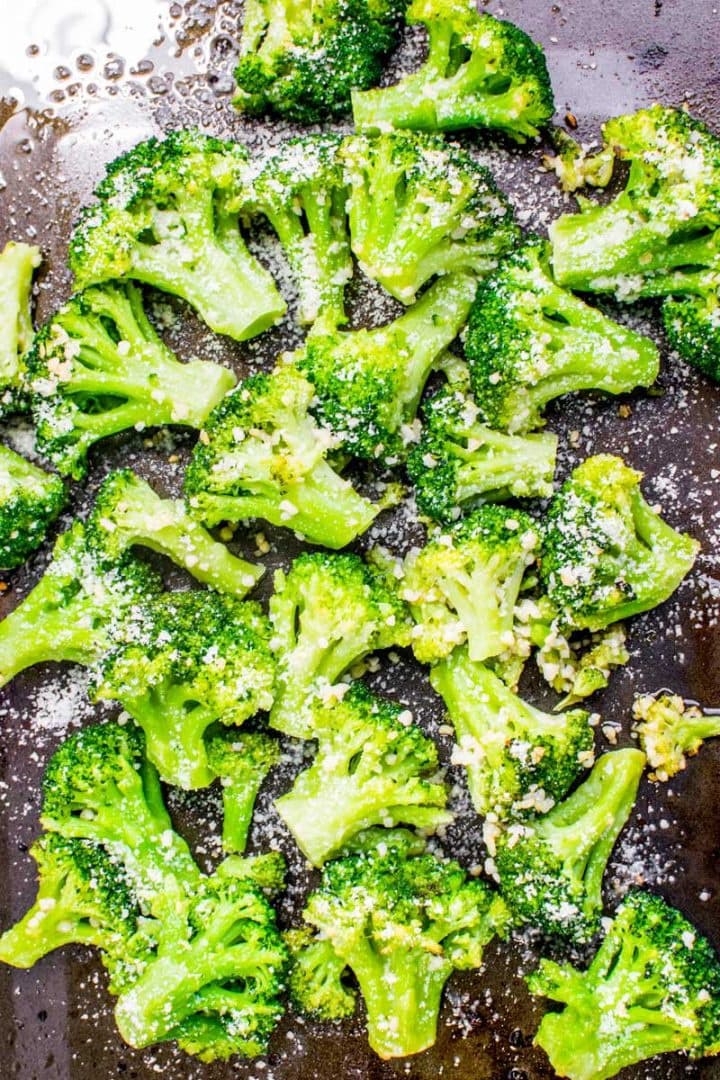 This is another one of my top choices when it comes to making keto side dishes in 30 minutes or less.
It requires only several ingredients and is extremely easy to make. Broccoli paired with garlic tastes incredible and the Parmesan cheese on top makes it taste like something you ordered in a restaurant.
TIP: if you're looking to make this dish in 10 minutes or less, instead of baking the broccoli, boil them for 2-3 minutes. Toss them with butter and season with salt and pepper. Finish the dish by sprinkling some Parmesan cheese on top. Enjoy!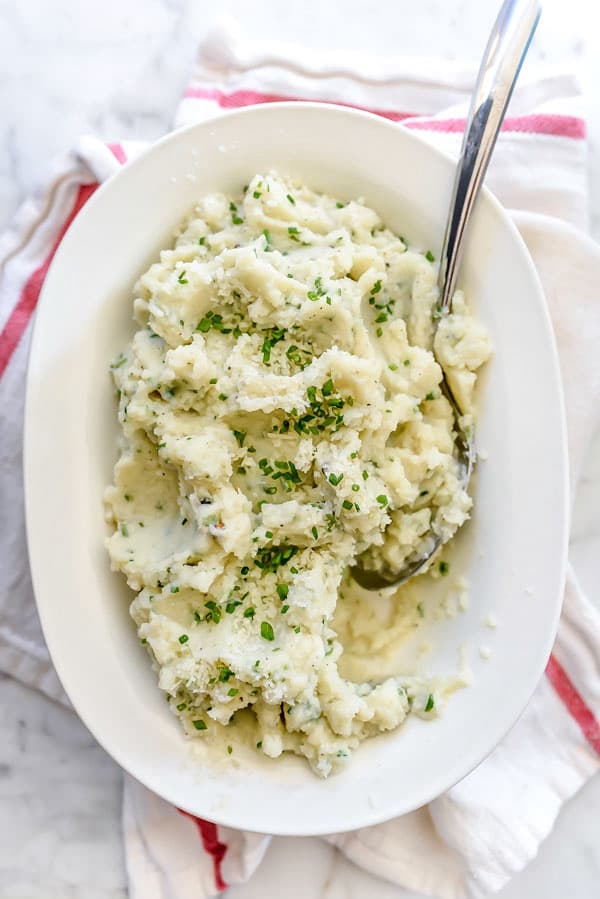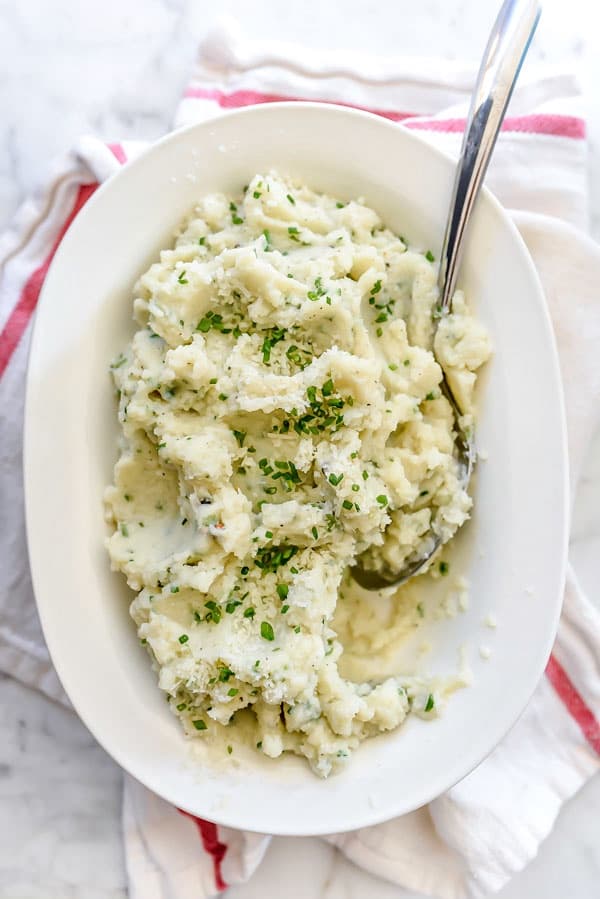 I used to enjoy making polenta or corn mash with Parmesan on top. Once I went on keto, I have spent a lot of time while searching for the perfect substitute.
This cauliflower mash is something I always make as a keto side dish, especially when I have my vegetarian friends over. Well, sometimes I make it only for me and my boyfriend. It's amazing.
Normally, I'm not a fan of cauliflower mashes, but this one is extraordinary. The Parmesan cheese lifts up the dish and gives it an amazing under-taste that you can feel in your mouth even after a few hours after you've originally eaten it.
So, this recipe is a must try and I'm sure it will soon become one of your favorite keto side dishes when you're in the mood to eat some mash.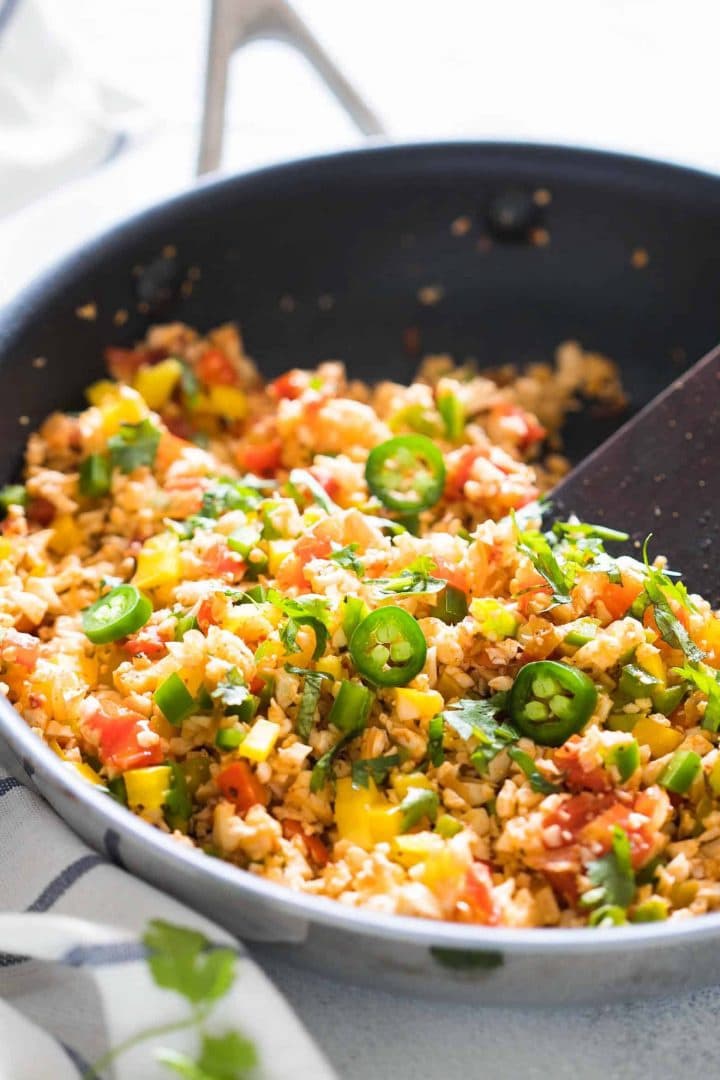 To tell you the truth, at first I was surprised how many non-keto foods can be substituted with cauliflower. Rice is not an exception.
This cauliflower rice is one of my favorite Mexican-inspired keto side dishes. I make it every time when I feel like I am missing spices in my life.
The combination of bell peppers, jalapenos and lime juice gives the cauliflower a delicious Mexican taste. The dish is full of flavor and will compliment any of your meals or will be a perfect meal on its own.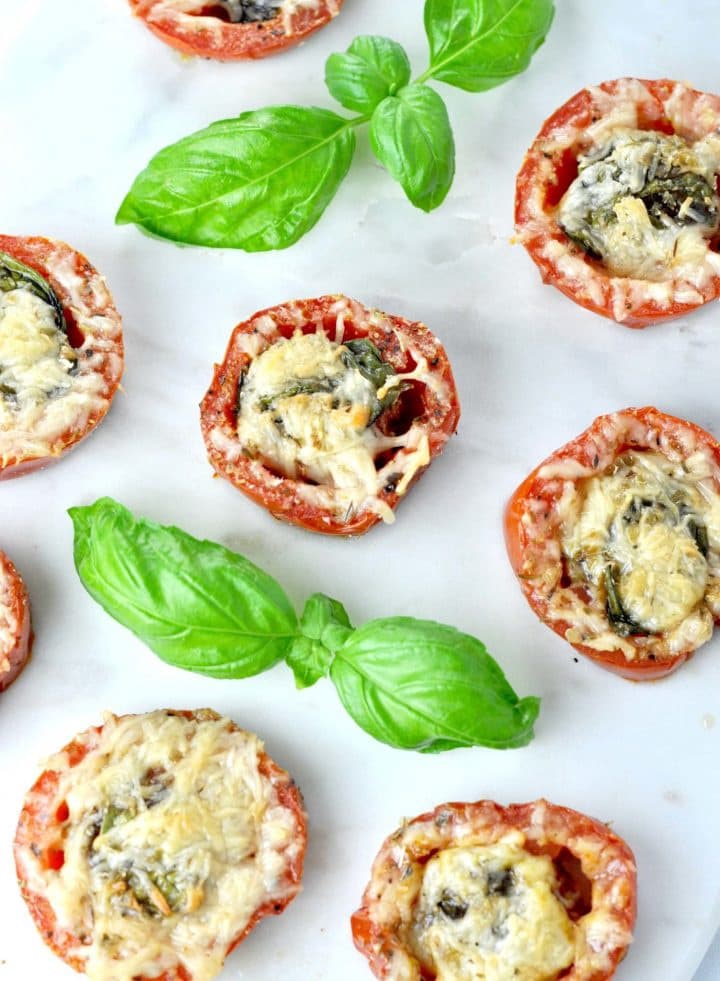 If you want a taste of Italy – this is one of those keto side dishes that you simply can't afford to miss out on.
I've stumbled on it a couple of months ago and it soon became one of my favorites.
You can serve it as an appetizer – it look great on the plate, or you can eat it as a side dish. Works both ways and as I said before – this one is a must try.
Not only is this dish tasty, it's also very healthy. Packed with vitamins and antioxidants it will to help to keep your body strong and full of energy throughout the day.
Did you know that tomatoes consist of components that can help reduce blood sugar, give your skin a healthy and youthful look? Well, if you didn't, now you have another reason to try these amazing keto sides.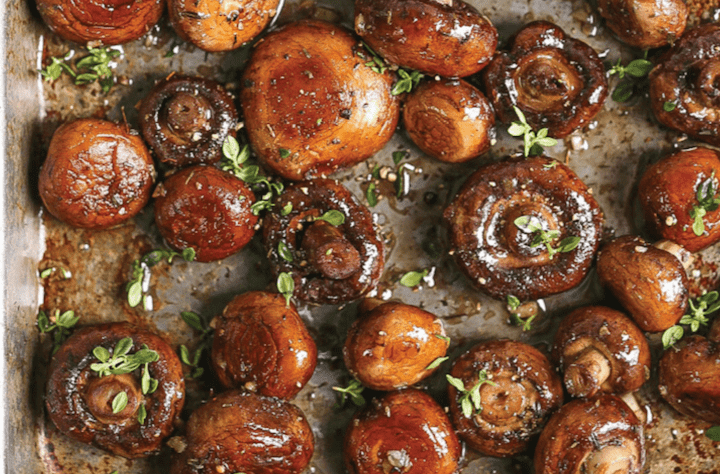 This is one of the easiest keto side dishes to make. However, tastes like something served at a restaurant.
Garlic butter gives many dishes a great taste and this simple mushroom side dish is not an exception.
Another thing that I liked about this dish, is how nicely the lemon juice incorporates into the flavor profile and elevates the dish.
TIP: Try making it with portobello mushrooms, you'll be surprised how good it tastes!
Pico De Gallo – Classic Mexican Keto Friendly Side Dish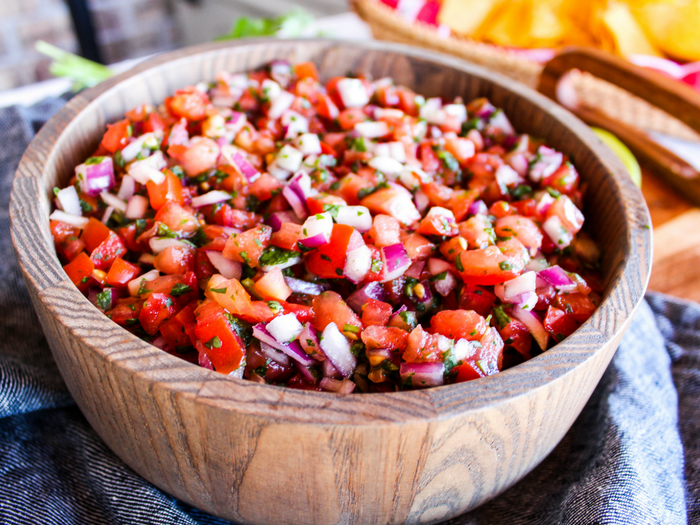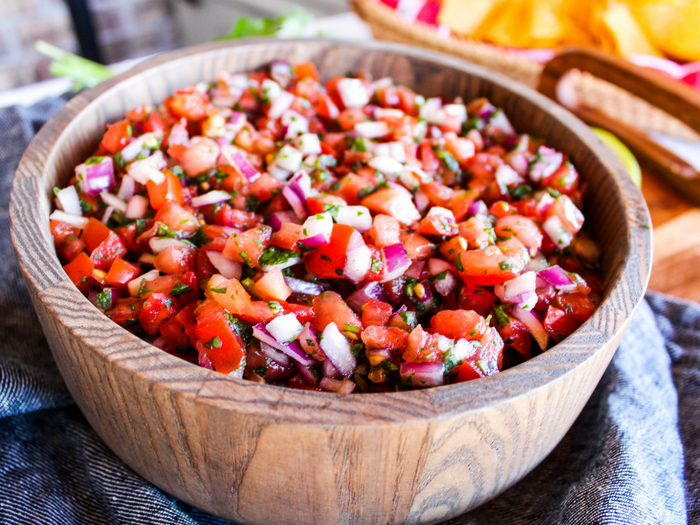 This Mexican classic I enjoy eating for many years, since I first encountered it.
What I enjoy about Pico de Gallo is how the freshness of tomatoes is enhanced by the incorporated lime juice and jalapenos.
Pair it with any of your favorite proteins or use it as a dipping sauce. It will give any of your meals a lift to a higher level. Moreover, Pico de Gallo works perfectly with nearly any dish especially these cheese crisps.
TIP: be sure to adjust the level of spices to your taste. Make sure that you feel the tastes of all ingredients and not just the heat from the jalapenos!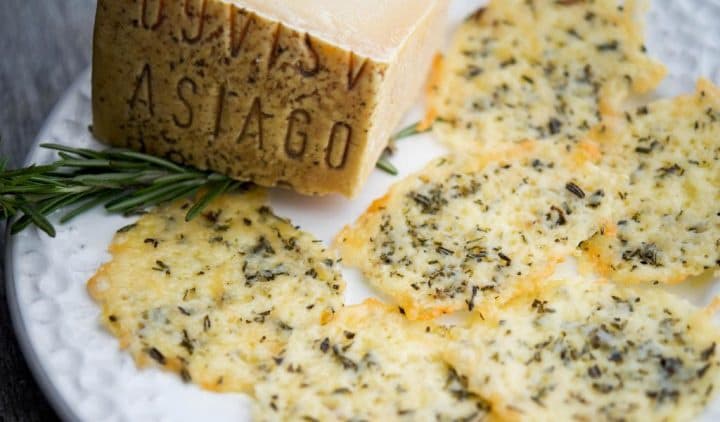 If you're a cheese lover, this is a perfect keto friendly side dish for you.
What I like most about these crisps, is that will work perfectly with nearly any cheese: cheddar, gouda, parmesan – any.
Simply mix your favorite cheeses together, spice them up and place in the oven. Just in a few minutes you will have a great snack or side dish.
It works perfectly paired with the Pico de Gallo recipe described above. Also, you can add the cheese crisps into your salad and enjoy a completely new and exciting meal.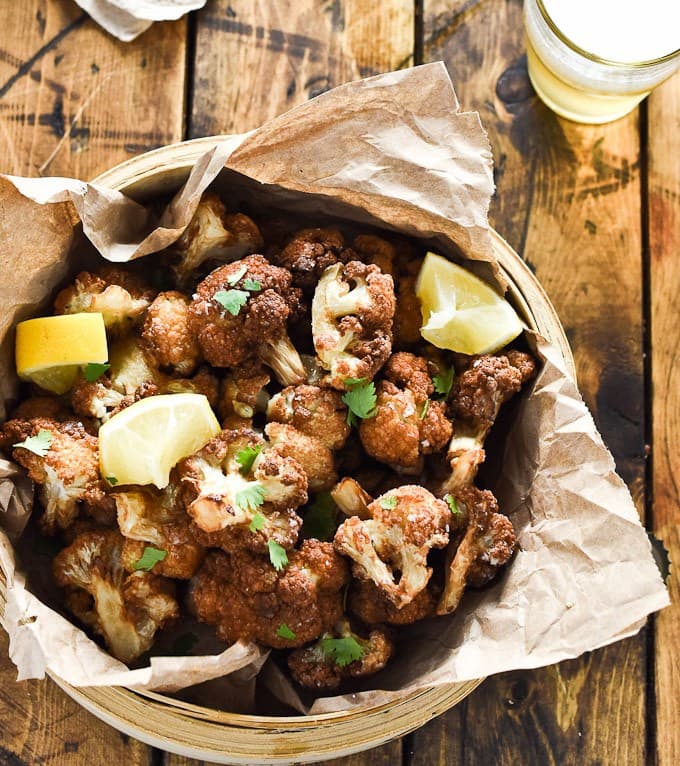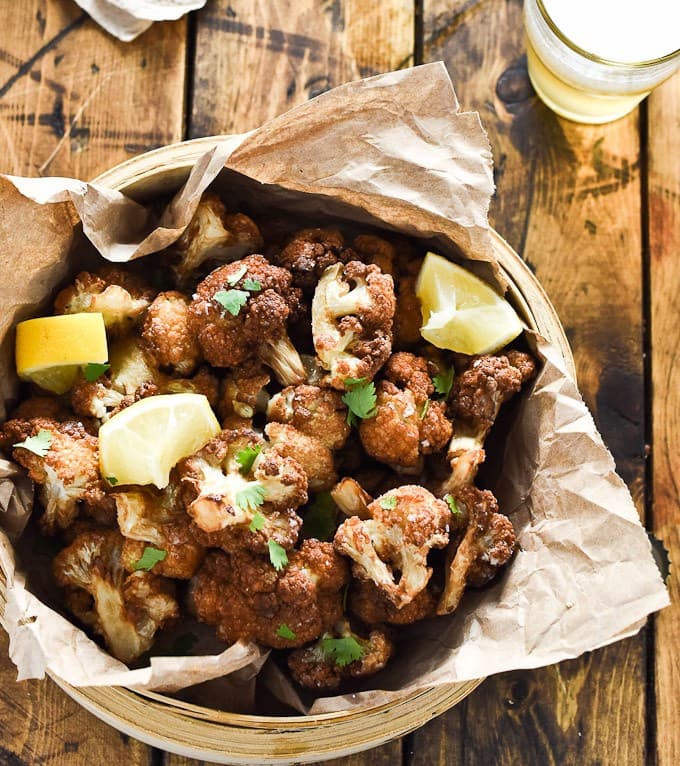 Since I first visited Lebanon, I simply fell in love with their cuisine. During that time, I tasted various dishes and later tried replicating them. The spice blends that they use are simply irresistible.
Once I found this Cauliflower recipe, I felt like I was in Lebanon again. Therefore, I knew I must share it with you.
Making this dish is relatively easy and doesn't require any very specific and exotic spices. That's one of the reasons why I fell in love with it.
Lemony and vibrant – this fried cauliflower will keep you coming back for more.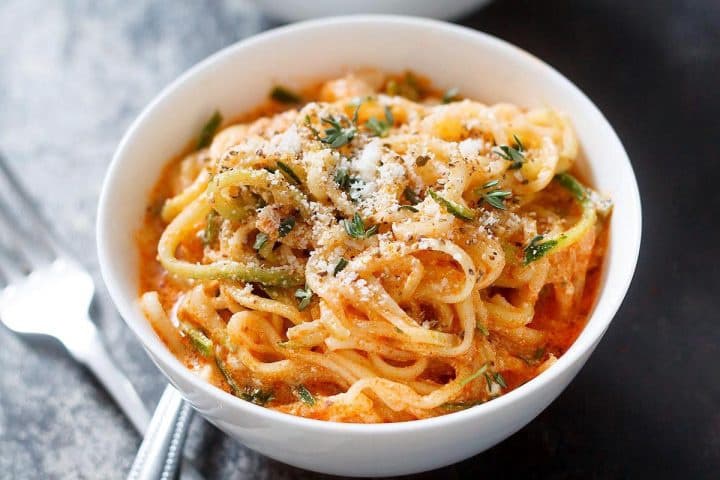 When you want a comfort dish for a cold evening, these zoodles will definitely give you the comfort that you need.
Made with tomato and garlic sauce, it gives you a taste of Italy, just with a different type of noodles. And which country is famous for its comfort food? Italy, of course.
Topped with parmesan cheese, a delicious bowl of zoodles can be served as the main dish or as a keto friendly side dish. It's easy to prepare and looks like something that came straight from a restaurant. That's the ultimate comfort and satisfaction served to you on a plate.
20 minutes or less and it's on your table!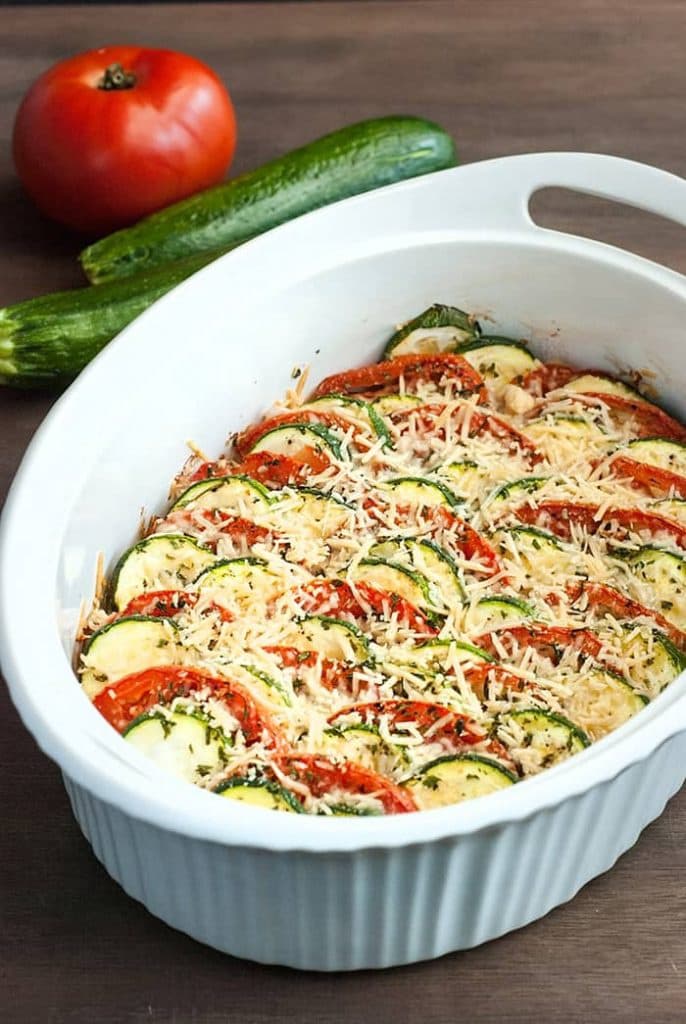 If you served me a full bowl of this – I would probably eat it all and also lick the bowl. Yes, it's that tasty.
This dish looks gorgeous when served and is equally as tasty. So, if you want to lift up your regular dinner, this is one of the gorgeous-looking keto side dishes to keep in your mind.
Besides the gorgeous looks, it is really tasty and nutritious. To put it in other words, not only will your eyes and taste buds have a party but you will get a huge dose of vitamins, antioxidants and other valuable nutrients.
Tasty and healthy – my favorite combo!
Keto Side Dishes – Make Your Meals Exciting
Incorporating various keto side dishes to your daily meals will never let the food you eat become boring. So, be bold and don't be afraid to experiment with different tastes and ingredients.
Eating food is an experience, so be sure that you have a diverse one. Food is one of the biggest pleasures in life – to take advantage of it.
If you're looking for more inspiration, don't forget to check these quick and easy keto dinner ideas as well as some delicious keto breakfast recipes to start your day.