If you like to spend time in the gym and enjoy lifting weights, you might have used or at least considered using protein powder to optimize muscle growth. If you're going keto, you might have wondered how it works with a low-carb diet. Do you need a keto protein powder? Are they different from the ones not marketed as keto-friendly?
I'm here to answer all of these questions. It's completely normal to ask these questions as new diets often involve huge changes to an individual's lifestyle, including both nutritional and exercise habits. The good news is that the world of low carb protein powders is quite simple and the product that can be selected without too much hassle.
If you're interested in learning how to pick the right sugar free protein powder, you can read on. If you want to see the keto protein powder top 6 list I've compiled, you can go ahead and jump there.
Keto Diet and Exercise
People often have the misconception that keto diet and exercise don't work together. The logic behind such thinking is that exercise causes our bodies to burn off excess carbs and that it needs them as fuel.
However, that's not completely true. Your body can use ketones and burn off fat during exercise just as well as it does normally when you're on a low-carb diet. Sure, it might be difficult, especially at the very beginning when your body is still not yet used to the new fuel.
Fortunately, all of that passes and for most people, they can enjoy exercise the same way they used to. There are even some studies that show how ketosis can improve endurance in some types of exercise.
What Exercises to Do On Keto?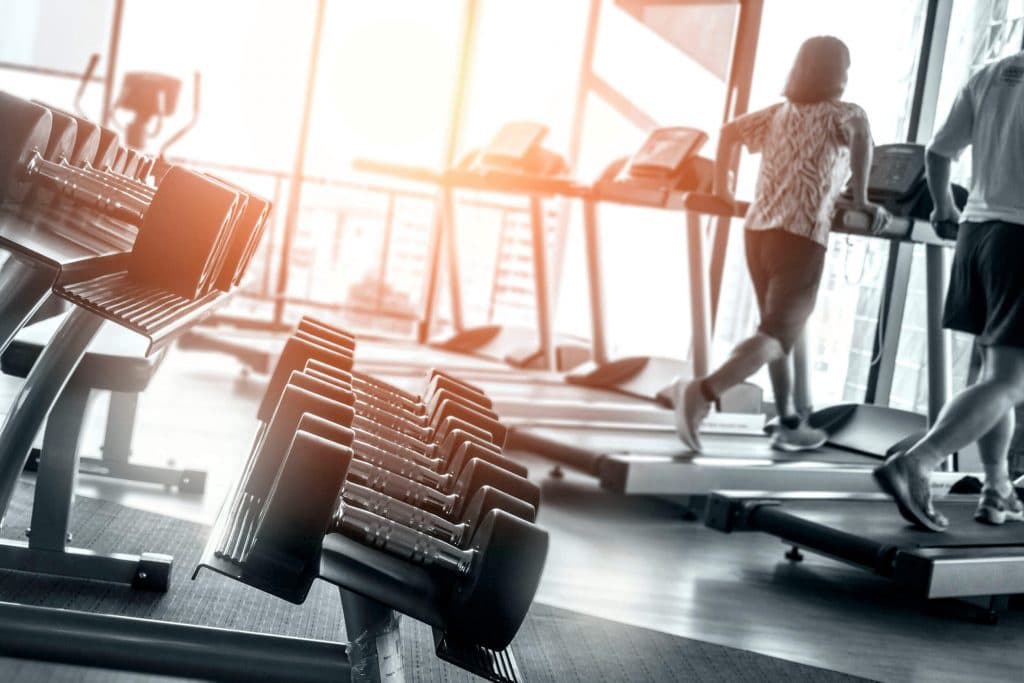 On the other hand, this does not mean that keto and exercise have no limitations. Usually, high-intensity exercises on keto will run you out of energy and they won't be effective. This means that stuff like HIIT and circuit training are out of the window with the standard keto diet.
The good news is that stuff like light cardio (jogging, cycling, or elliptical) together with some weight training can do wonders and assist your diet and help you reach your goals. It's important to note that you might feel like you can do fewer reps or feel like you want to use lighter weights. That's normal and expected – listen to your body and work your way up.
Do I Need Keto Protein Powder?
Unfortunately, loss of muscle mass is expected with any kind of diet. Not unexpectedly, you can counter that by exercising and lifting weights. However, finding the right keto protein powder supplement can make sure you get the most of your exercise.
It will not only help you prevent the loss of muscle mass, but it will also help your body build the muscle after your gym session. In addition, the right low carb protein shake won't kick you out of ketosis. This means you will get the best of two worlds!
How Much Protein On Keto Do I Need?
On a low-carb diet, a person should eat somewhere between 0.7 to 0.9 grams of protein per pound of body weight (or 1.5g – 2.0g per kilogram). You should aim for a bigger number if you're doing more weight lifting or you have more muscle mass.
The thing is, some people on keto diet tend to reach (and sometimes go overboard) their upper limit without consuming any keto protein powder. This usually happens if people eat too much lean meat which has a lot of protein.
What happens if you eat too much protein on keto? A process called gluconeogenesis occurs, which converts excess protein into carbohydrates. Normally it's not bad, but it can kick you out of ketosis (source).
This means that when looking for a low carb protein powder you should pay close attention to the nutrition label. If possible, pick the ones that have not only protein but also healthy fats. For example, MCT oil powder is something that works very well with keto.
Of course, you can always just use smaller scoops of keto protein powder and add MCT oil manually. The oil (in both liquid and powdered form) are for sale both online and in supermarkets and pharmacies.
Which Keto Protein Powder Base Is The Best?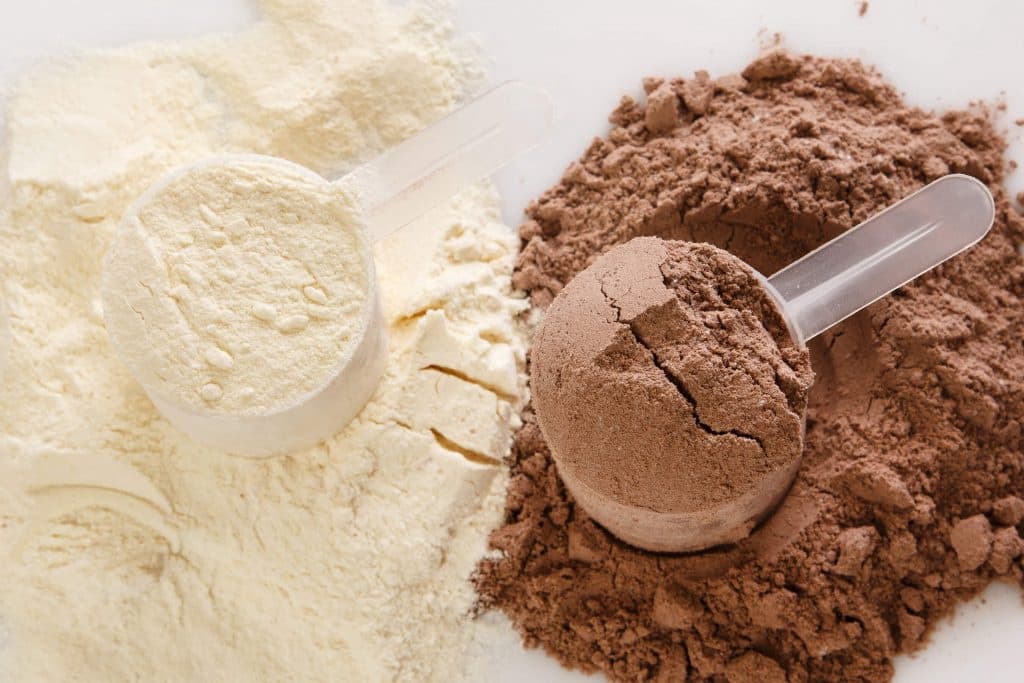 That's another important point to consider. Keto protein powder can be made from numerous sources. However, not all of them stand equal. Some are healthier in general, others don't work with certain diets. Keto is no exception.
You should avoid protein bases that are mostly protein and contain no fats. For instance, egg white protein base wouldn't be a good choice for people on keto. In comparison, whey protein isolate and collagen would work much better. Technically, casein-based keto protein powders are also good, but they are slower to digest and they are less effective in muscle building.
All in all, the best choice probably would be whey protein isolate due to the fact that it's a complete protein (meaning it has all 9 essential amino acids) and that our bodies are able to digest it quickly.
Collagen, on the other hand, is usually used for a different purpose. It can improve the quality of your skin, reduce joint pain and prevent bone loss. It can also prevent the loss of muscle mass, but it's less effective at doing so than other proteins.
Best Low Carb Protein Powder
Below I've compiled a list of keto protein powder products that match the description I've written above. This is definitely not the full list, so don't necessarily limit yourself to these specific supplements. I'm sure there are more low carb protein shake products out there that have similar ingredients and work just as well.
Nonetheless, here are 8 products that will keep you in ketosis and help you build your muscle in the progress.
1. Perfect Keto Protein Powder
This is a product aimed directly at people who are on a ketogenic diet. Perfect Keto sells numerous high-quality keto products and this keto protein powder is no exception.
The product contains virtually no carbohydrates – just 2 grams per serving (1 scoop, equivalent to 0.85oz). It's based on the whey protein isolate which comes from grass-fed dairy.
In addition, this low carb protein powder is infused with MCT powder. Medium-chain triglycerides, which are a healthy source of fats that are quick to digest and have many other health benefits.
And that's not all – the product comes in two flavors. Consumers can pick between chocolate and vanilla. For those who wish to keep things basic, an unflavored option is also available!
The bottle contains 20 servings, meaning it should last you around one month with a regular workout routine.
2. LevelUp Grass-Fed Keto Protein Powder
LevelUp created a keto protein powder that stands side by side with Perfect Keto. It contains both whey protein isolate and collagen, along with C8 MCT oil (that's the one you want when it comes to MCT). As the name suggests, the ingredients come from grass-fed dairy and they are non-GMO and gluten-free.
Unlike the competition, a single serving consists of two scoops and not one. One serving contains 12 grams of fat, 20 grams of protein and just 2 grams of carbs. Nonetheless, a single bottle will be enough for 24 servings, which should be enough for more than a month.
This sugar free protein powder comes in two flavors – chocolate cream and vanilla sweet cream. According to user reviews, the taste and texture are very good. This means that it mixes well with other foods.
3. Ancient Nutrition Keto Protein
Ancient Nutrition also manufactures a range of products for keto dieters. One of their best-selling products is Keto Protein, which is a bone-broth based supplement. While different from whey protein isolate, the product does provide a good mix of nutrients for anyone on keto.
A single serving contains 11 grams of fat, 15 grams of protein and just 2 grams of carbs, of which 1 gram is sugar. This equates to a protein shake product that's keto-friendly and will provide you with energy and help you build muscle.
The product comes in numerous flavors. However, judging by consumer reviews, I would advise picking something other than vanilla. Apparently, it doesn't taste like vanilla and people don't seem to enjoy it.
The downside is that the bottles aren't that big. The largest one contains just 19 oz of powder. This equals to 17 servings per container. Normally, that's about one month's worth of keto protein powder.
4. Now Sports Whey Protein Isolate
Now Sports is also a reputable brand known for making a wide variety of supplements and products for athletes. This keto protein shake is also made from whey protein isolate, making it a good choice for anyone looking for a sugar free protein powder. The supplement contains just 1 gram of carbs per serving.
The product also comes in a huge bottle that contains 5 lbs (2.2kg) of powder. It equates to around 80 servings, meaning it should last you for the whole 4 months.
The product is unflavored, which can be both an advantage and a disadvantage, depending on your preferences.
A slight downside is the lack of fat contents in this supplement. However, it's easy to compensate for that by slightly adjusting your meals to include more fat.
Alternatively, you can make it a bit more keto-friendly by mixing the powder with MCT oil.
5. Legion Whey+ Protein Powder
This whey protein isolate is a great choice for anyone who wants a sugar free protein shake. The powder is made from grass-fed dairy and is approved to be non-GMO and hormone-free.
Legion Whey+ comes in 10 different flavors (an unflavored option also available), so almost anyone will be able to find the flavor they enjoy. But beware of nutrition labels – different flavors might have a different amount of carbs in them.
This keto protein powder comes in 1.8 and 5-pound bottles but not all flavors are available in a larger bottle. This means the product should last for 30 and 80 servings accordingly.
Just like with Now Sports, the supplement contains virtually no fat, so if you wish to include more fat in your diet (which I encourage), you will need to do that by yourself.
6. Isopure Powder
Isopure protein powder is a perfect choice for those, who want zero carbs in their protein powder, Made from 100% whey protein isolate, this no carb protein powder is gluten and lactose free. So, it is friendly with many diets.
As the Isopure Powder comes in 10 different flavors you can choose your favorite one from creamy vanilla or apple melon to toasted coconut or alpine punch. Each powder comes in 3 different sizes, ranging from 1.5 pounds to 4.5 pounds. So, based on the chosen Isopure Powder size, you should have enough of this no carb protein powder for 15 to 66 servings.
Just like previously mentioned protein powders, Isopure Powder is not only carb free but also fat free. So, adding fat to your diet will be completely up to you.
7. Perfect Keto Collagen
This is yet another product by Perfect Keto. I decided to put at least one collagen supplement. While it may not be the best keto protein powder, it does have its own benefits that a lot of people may want to make use of.
Collagen is great for keeping your skin and bones healthy. In addition, it relieves joint pain and it helps your body to build muscle mass. If you're looking just for muscle mass, you may be more interested in whey protein isolate.
A single serving of the product contains 4 grams of fat (from MCT oil), 10 grams of protein and just 1 gram of carbohydrates. Single container should last you 20 servings.
Unlike whey protein, it's recommended to consume keto collagen supplements in between meals and not before exercise.
The Bottom Line
Exercise on keto can be a bit of a challenge at the very beginning. It might seem like most protein powders contain carbohydrates. Fortunately, there are products designed just for low-carb dieters. Keto protein powder is something that can help you build your muscle mass and prevent muscle loss.
Let's go over the features that you should be looking for.
Obviously, when picking your low carb protein shake you need to look out for carbohydrates. That's easy enough to do as carbs are clearly written on nutrition labels.
Next step is to check the source of protein. If you want to build muscle, whey protein isolate is what you're looking for. If you want to keep your skin and bones healthy, search for keto collagen. Some products have a mixture of both.
If you're on keto and you want a more balanced low carb protein powder, you should search for products that have added fats. Ideally, they should come from MCT oil. More specifically – C8 fatty acids (also known as caprylic acid).
I hope this information will help you find the keto protein powder that you're looking for. You can use my list above as guidance. If you want for more choices, feel free to search the market, just make sure to read the labels!
Also, I think this goes without saying: if you're unsure about your nutritional needs or you have allergies or existing conditions, make sure to consult with your medical professional or a certified trainer.
Have fun with exercise and keto!