Keto is one of the most amazing diets since it allows you to stop counting calories and eat bacon, cheese and eggs without feeling any guilt. I've built this list of incredibly tasty keto dinner ideas that will tickle your taste buds before sleep.
Some people enjoy starting the day with a strong breakfast and finish it with a light dinner, some prefer the opposite. They choose a light breakfast and finish the day with a fatty keto dinner.
It doesn't matter which category you fall under, in this list you will find everything, including quick keto dinner recipes that work perfectly during work days and easy to make low carb dinner ideas for those who don't enjoy spending hours in kitchen.
Quick Keto Dinner Ideas – 30 Minutes or Less
Here you will find some ridiculously tasty keto dinner ideas that take less than 30 minutes to prepare. Each of these quick keto dinners will work perfectly for any work day, especially when you don't have a lot of time to make food or simply feel tired and just want a delicious keto dinner on your plate ASAP.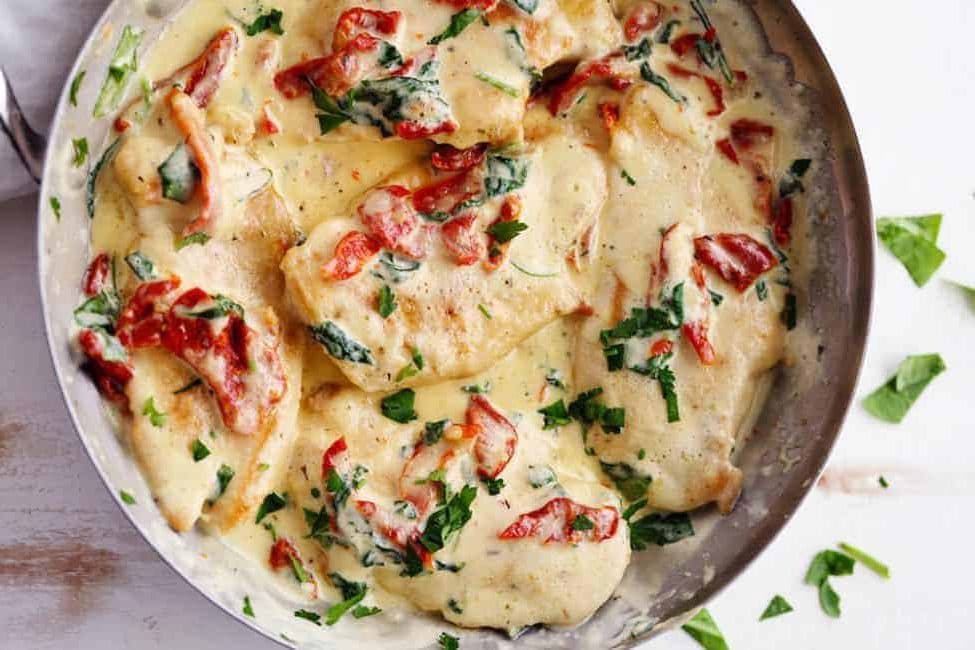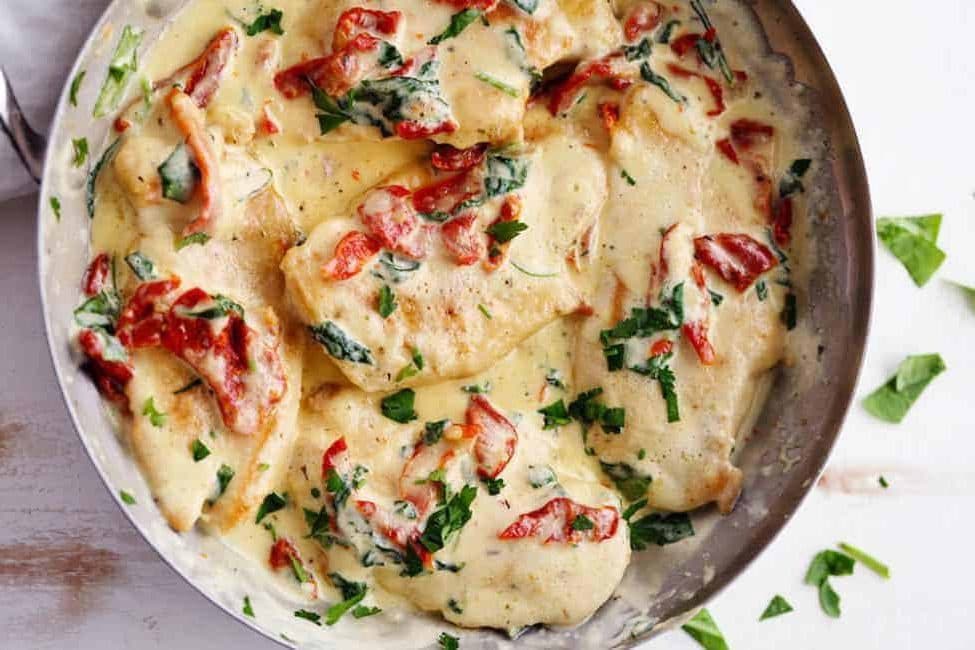 Let's start from the classic keto dinner ideas.
Creamy garlic chicken is an international classic between those who follow the keto diet and even those who don't.
If you're looking for a quick keto dinner, this could be one of your top choices. Making garlic chicken is easy and only requires one pot. So, no heavy cleaning, just a quick and delicious meal on your table.
The creamy garlic sauce topped with spinach and sun dried tomatoes is the taste you simply can't say no to.
TIP: to lift the dish to whole new level, add a splash lemon juice or vinegar when the sauce starts to thicken.
Also, this keto dinner will work perfectly as a family meal. If your significant other or children are not following the keto diet, simply serve it to them with some pasta on the side.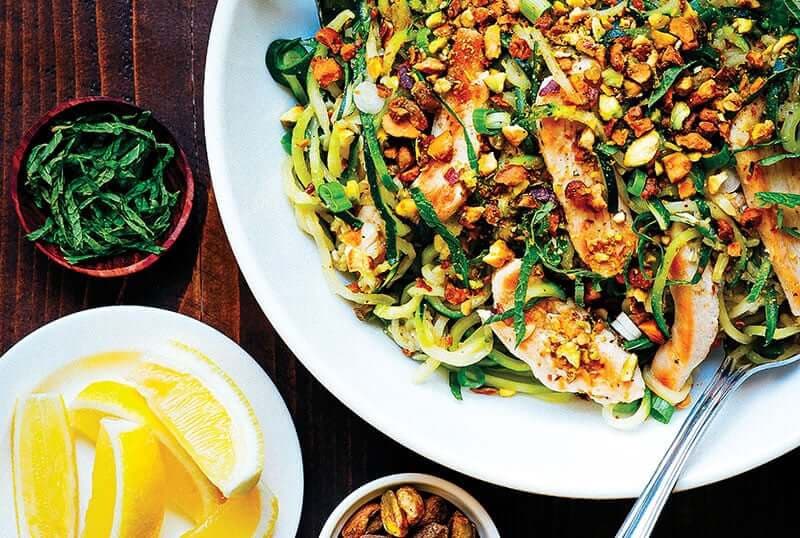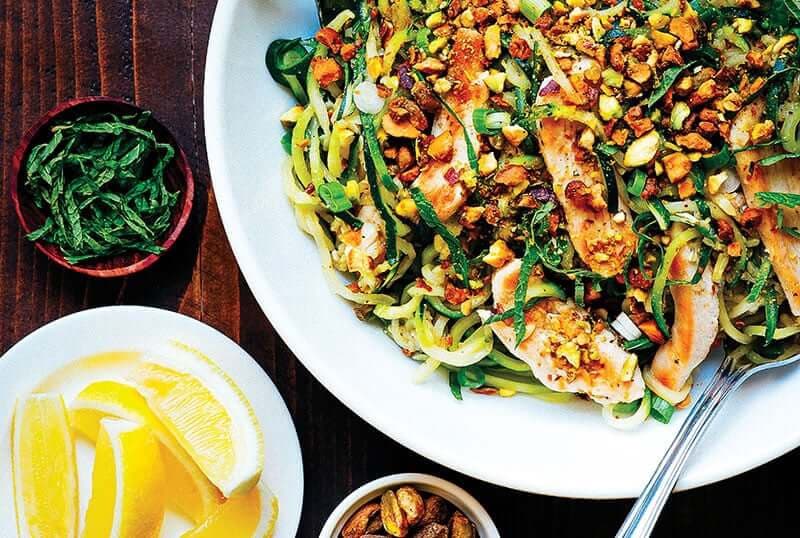 If you're a fan of pasta, this keto dinner will seriously suit your needs.
Yes, it is not made with regular pasta, but trust me, the zucchini pasta is just as tasty and transforms a classic pasta dish into a keto dinner.
When I stumbled upon this recipe, I immediately knew I had to try it. And it left me with even more than I was expecting.
Once you eat it, you will feel like your keto dinner just took you to Italy and gave a mini vacation for your brains.
It is as satisfying for your stomach as it is for your head. So I'm sure that whenever you will want a reminder of Italy, this is the ONE out of all low carb dinner ideas that will pop into your mind.
The zucchini pasta melts in your mouth and paired with chicken gives you an unforgettable experience. Topping everything with pistachio nuts simply lifts this keto dinner into a restaurant experience.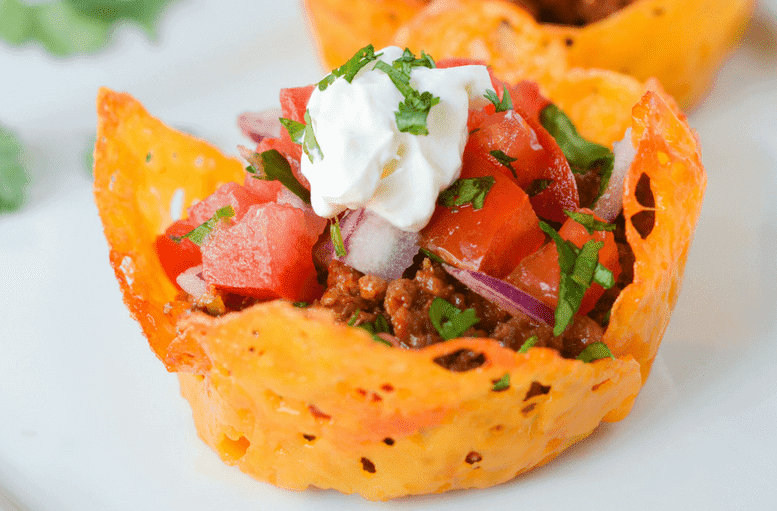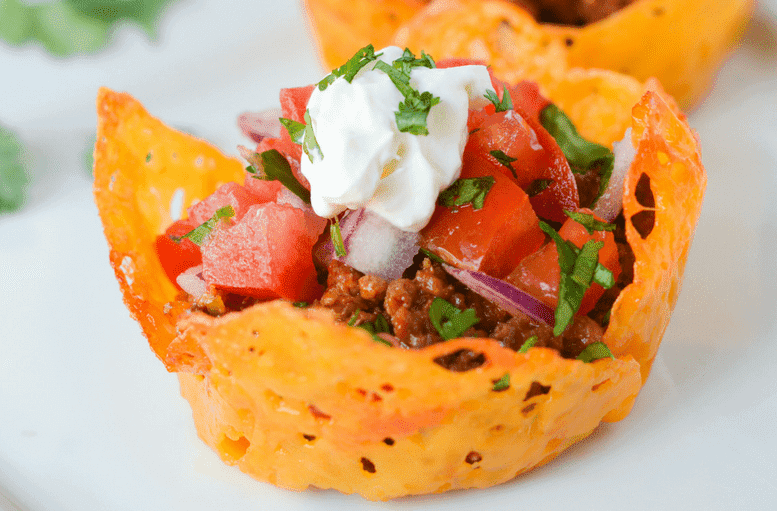 These taco shells are not only one of the greatest keto dinner ideas but also work perfectly as a snack when you have some company over.
This keto friendly dinner recipe eliminates the unnecessary carbohydrates you get when eating tortillas.
It is quick and easy to make, however requires a muffin tin. Be sure to top these keto friendly dinner tacos with sour cream, guacamole and salsa. The experience is absolutely incredible.
TIP: it works perfectly with any type of meat. For a heavier dinner, my favorite choice is beef and if I want to go lighter – spicy chicken tastes amazing.
Frittata That Makes You Feel Like You're in Spain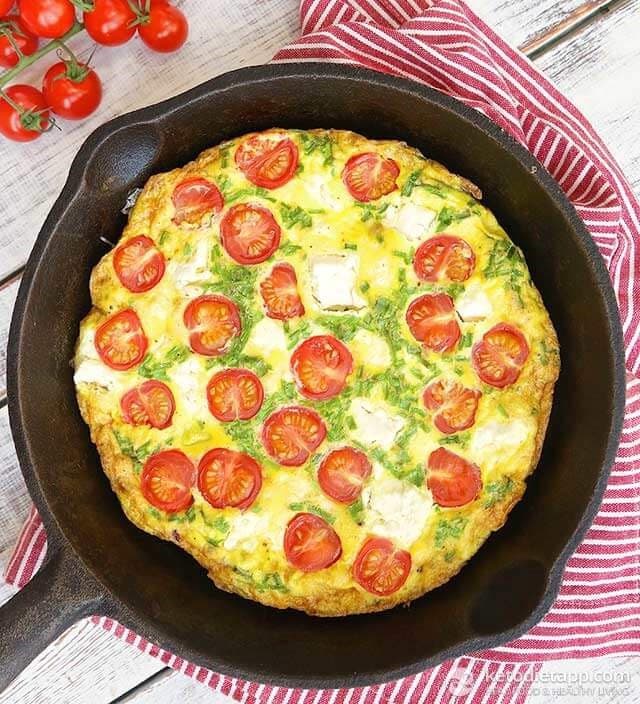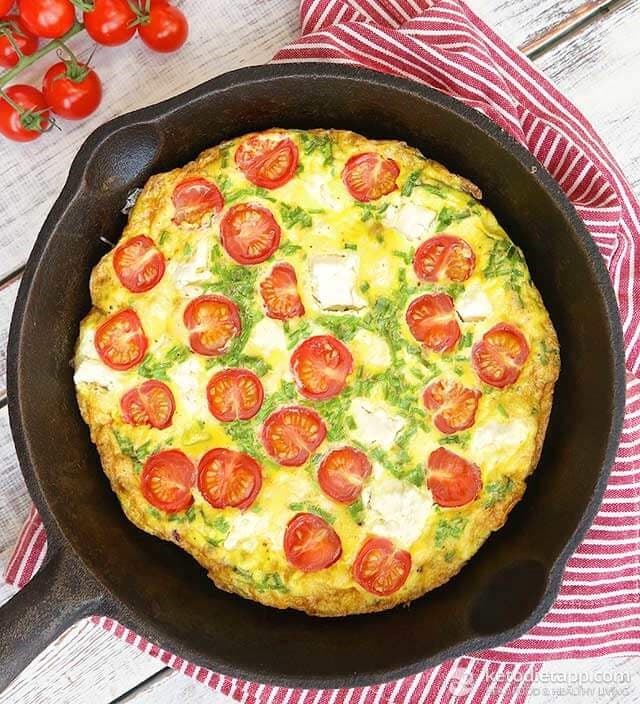 If you're looking for a quick keto dinner that brings you the taste of Spain – you absolutely have to try this frittata.
What's amazing about this dish is that it tastes equally as good when served hot or cold.
Making a frittata will not only give you the chance to clean your fridge from all leftovers but also give you a taste of Spain.
It can be literally made with any topping that you enjoy or have laying around in the fridge.
This vegetarian option made with feta cheese, tomatoes and fresh herbs work as a perfect keto dinner on a hot summer evening. Also, you can eat the leftovers for breakfast. It is a must-try recipe that I'm sure you'll keep on making.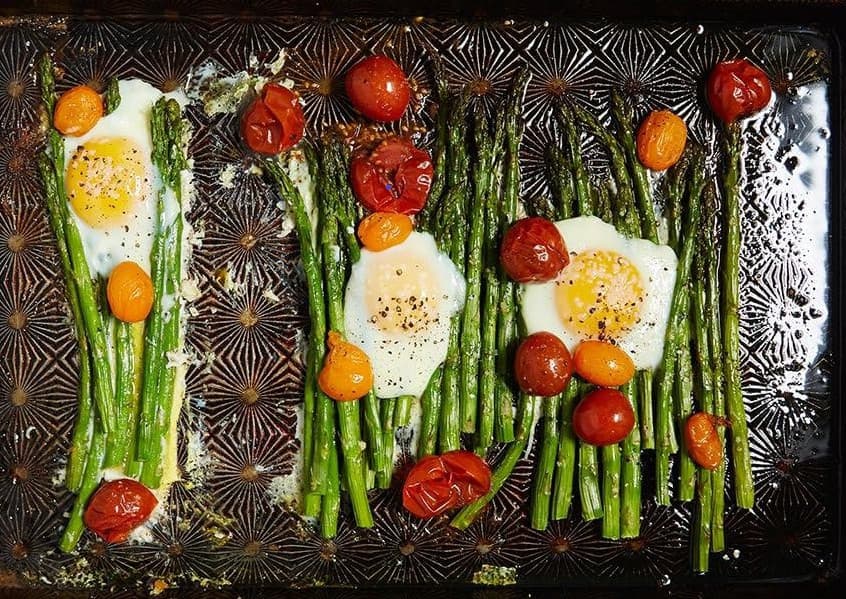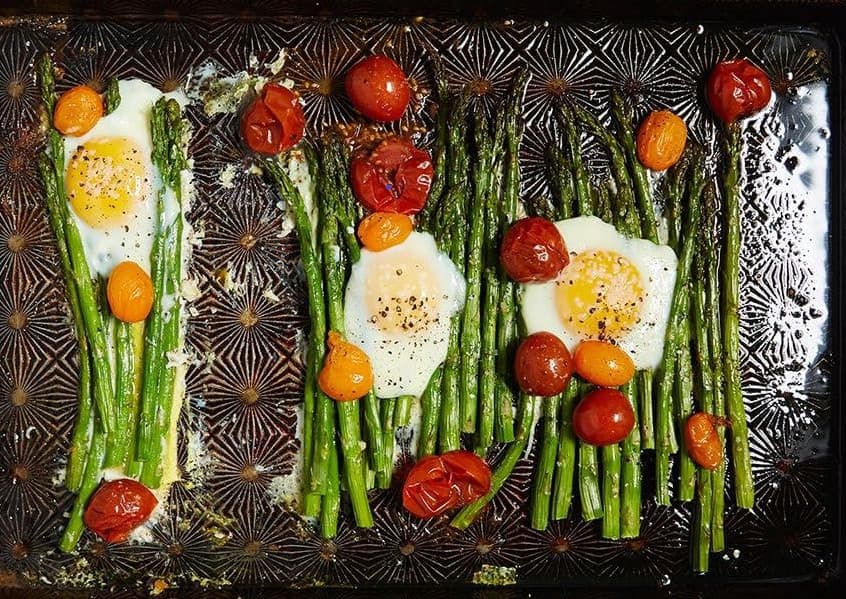 Who said that eggs are only for breakfast? Well if you simply love an egg dish and don't enjoy cleaning up after a long day at work, this one-pan egg dish is perfect for a keto dinner.
Of course, it will work perfectly for ketogenic breakfast as well.
Fresh tomatoes combined with asparagus and a runny egg on top will really lift up your spirits and leave your palate satisfied.
TIP: if you want the dish to tickle your taste buds even more, sprinkle some chili on the tomatoes and some lime juice before serving it.
Keto Dinner Salad Straight From Greece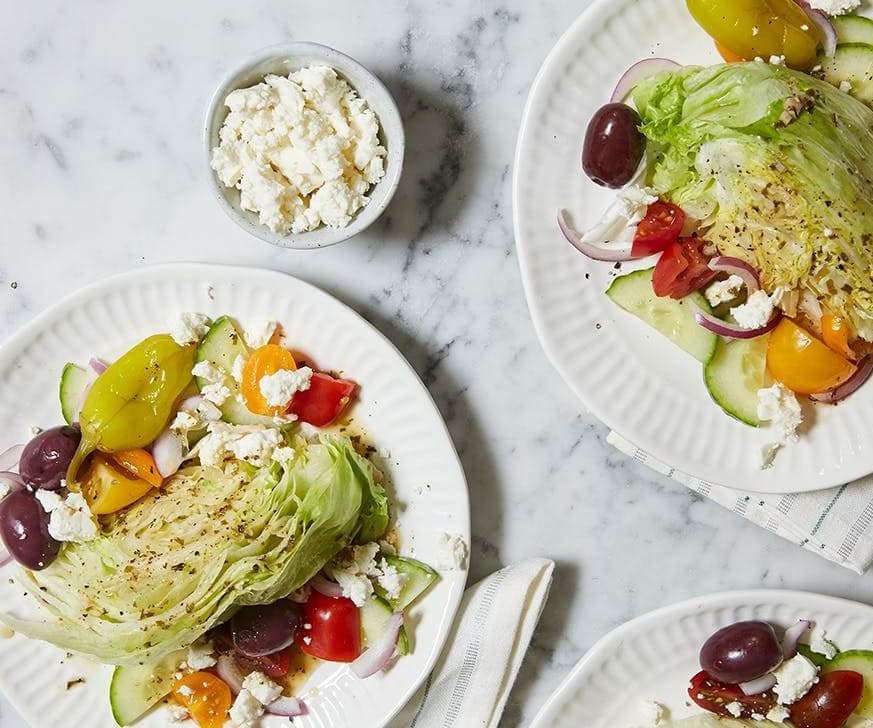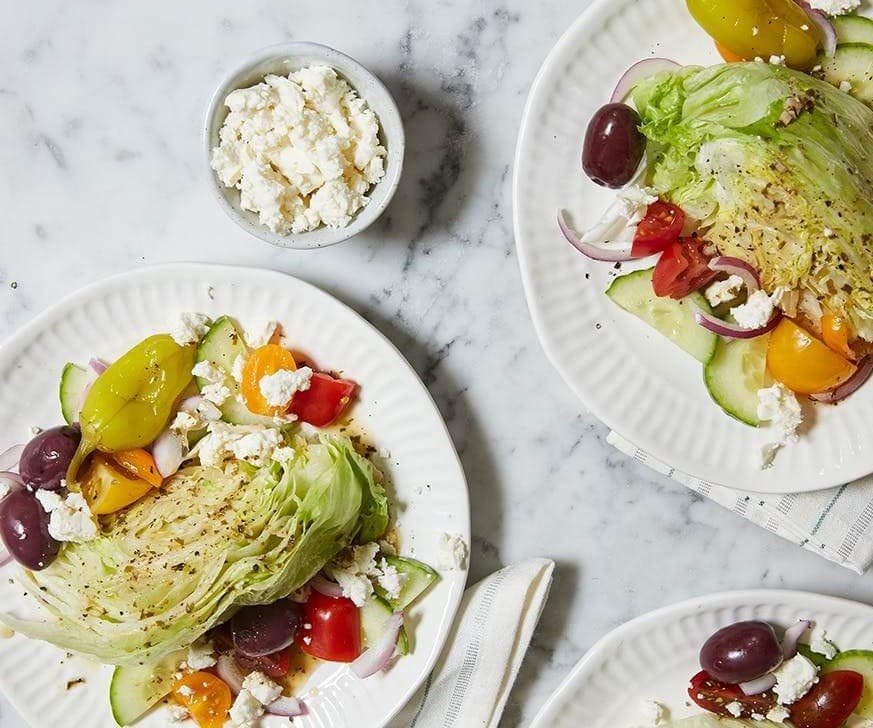 When you want a keto dinner ready in 10 minutes – try this salad.
Even though it's effortless to make, the salad tastes like something served in a restaurant.
Olives combined with lettuce and red onions is a Greek classic. However the homemade vinaigrette from this recipe takes this simple salad to a whole new level.
It's a must-try even for those who are not particularly fond of salads.
TIP: if you feel like you want a fattier dinner, serve this salad on the side. It will really lift up your whole dinner to next level.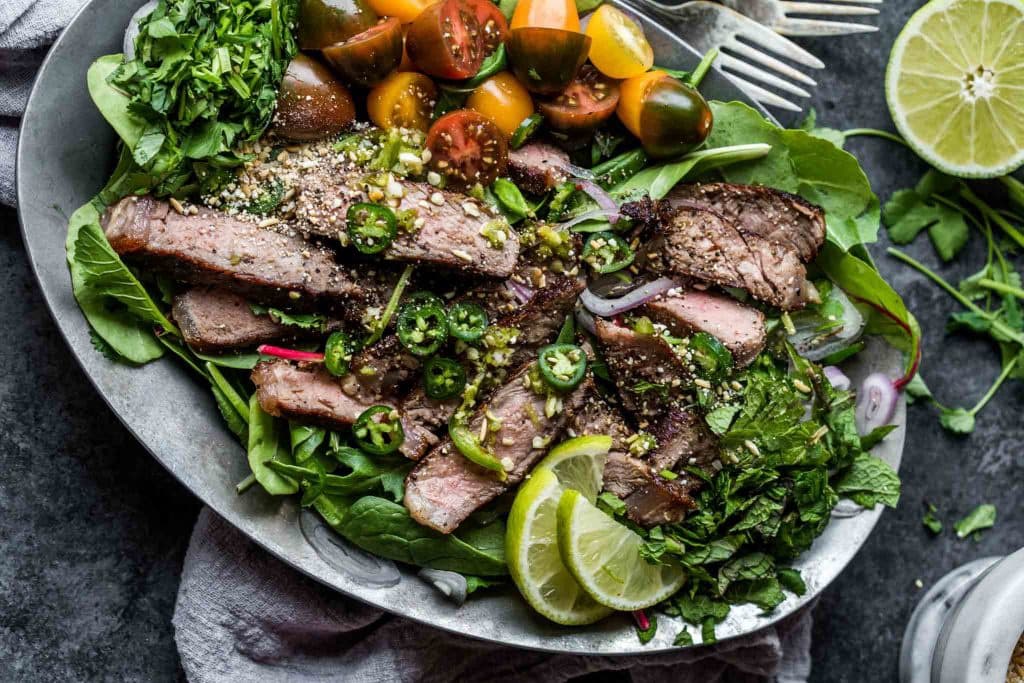 If you wish to spice up your life or at least your meal – this is a great keto friendly dinner recipe.
This 30 minute Thai beef salad is easy and quick to make but tastes like a dish that took hours to prepare as the beef simply melts in your mouth.
It's infused with intense and spicy flavors to seriously tickle your taste buds. Flavors like citrus, lemongrass, mint, cilantro and jalapenos will leave your mouth with an unforgettable bouquet of taste experiences.
Perfectly balanced, this keto dinner recipe is a must to try for everyone who enjoys a bit of spice in their lives.
TIP: even though this dish consists of some ingredients that could be a bit unfamiliar for you, such as fish sauce, don't get scared! This salad has a perfect taste harmony and you will really enjoy it. Don't be afraid to experiment.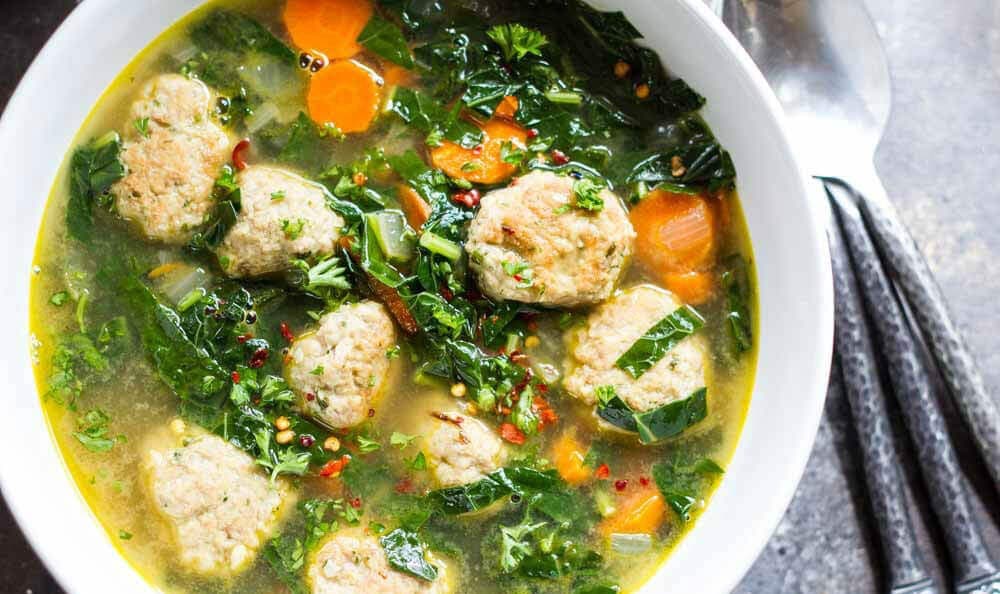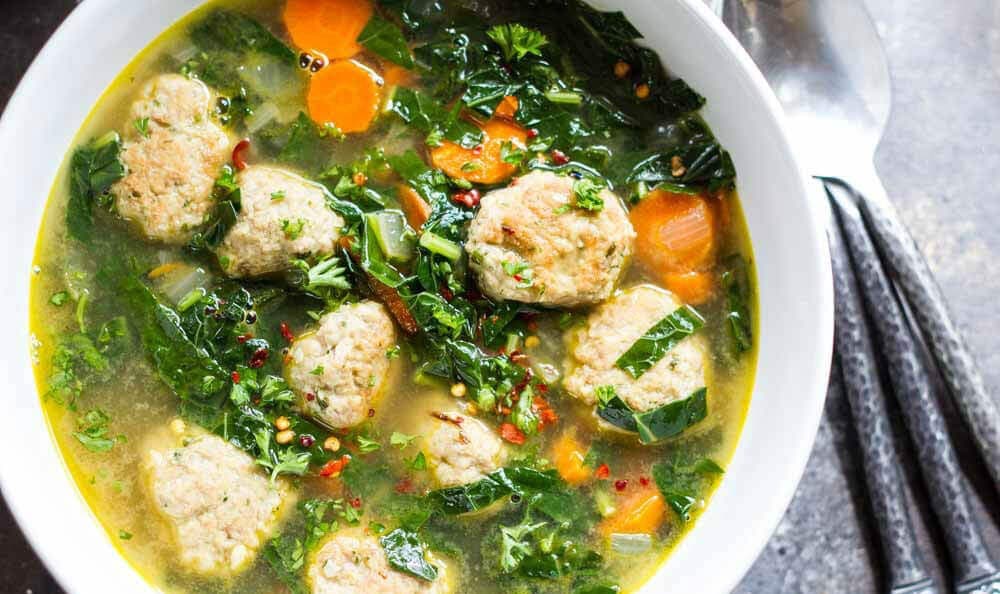 Of course, you can also eat it during summer, if you want. It is one of the greatest keto dinner ideas when you want comfort food.
This soup takes only 30 minutes to make and the taste simply brings you back to childhood. That's why it's one of my favorite keto dinners.
Turkey meatballs combined with fresh carrots and kale salad make a nutritious and healthy combination.
I simply fell in love with the taste of the stock. Infused with turkey and light taste of carrots it brings me back to childhood memories, when my mom used to make a similar soup.
TIP: be sure to use fresh herbs when making this keto friendly dinner recipe. Fresh herbs compared to dried ones simply brings the taste to a whole new level.
Gazpacho Soup – Perfect Keto Dinner Recipe on a Hot Summer Day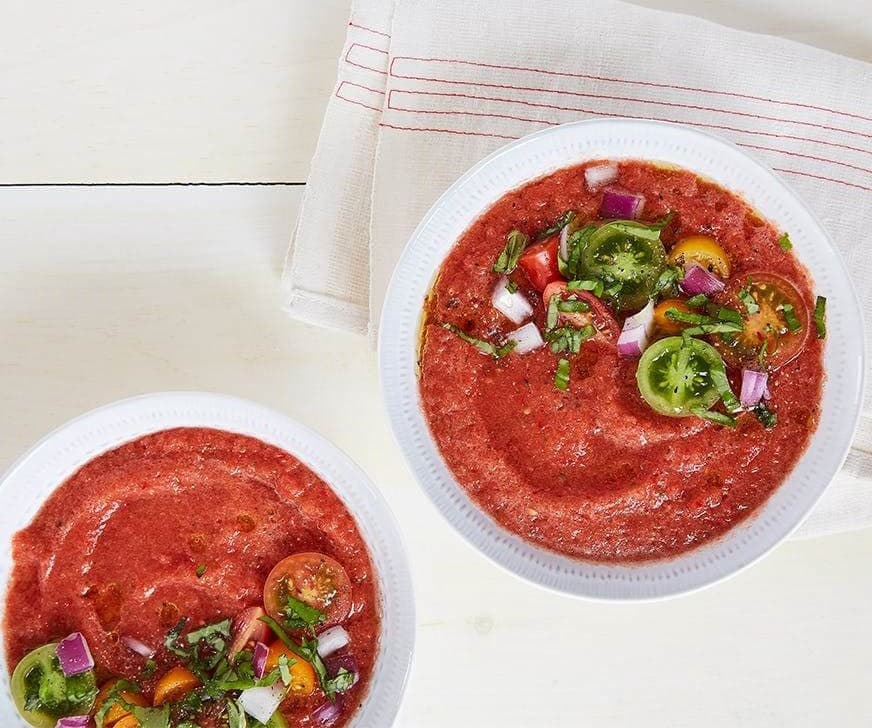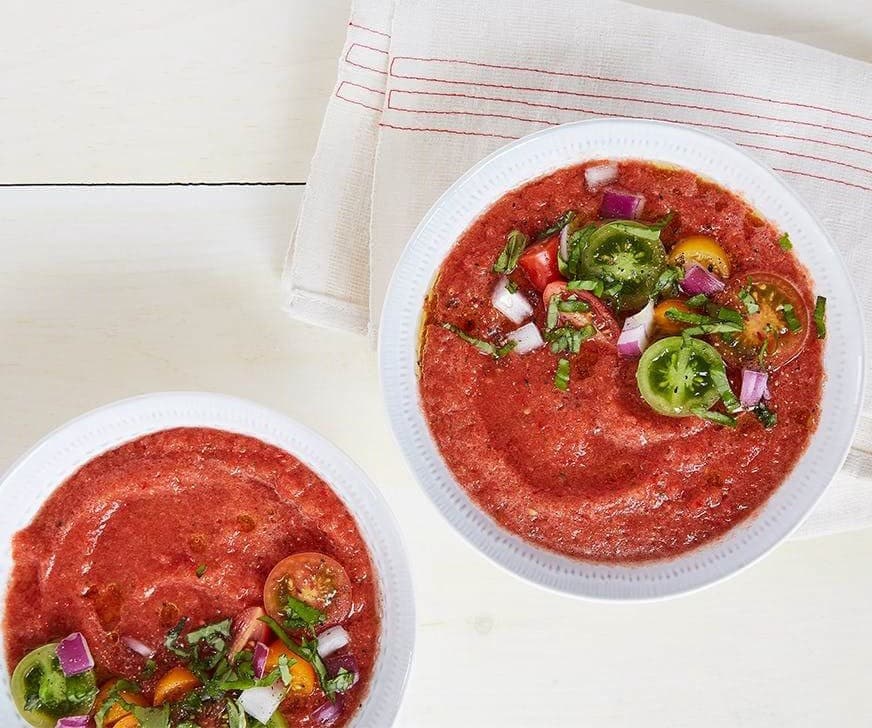 When it's the middle of the summer, it's quite hard to stand next to a hot stove. So, if you're looking for summer low carb dinner ideas – you must try this cold gazpacho soup.
My boyfriend is not a fan of soups. When I told him that we'll be eating a cold one, he was definitely not excited. However, I convinced him to try it.
And surprise, surprise – he loved it.
Making this soup for a quick keto dinner is effortless and takes literally less than 15 minutes.
All you need is a blender.
Once you have your tomatoes and cucumbers mixed with onion and garlic, all you need to do is mix everything together. And voila – your soup is ready. Garnish it with herbs and enjoy!
TIP: if you want to lift the gazpacho to a higher level – add some lime juice. Then this keto dinner will give you an unforgettable experience.
Quick Chili Soup – One of The Best Keto Dinner Ideas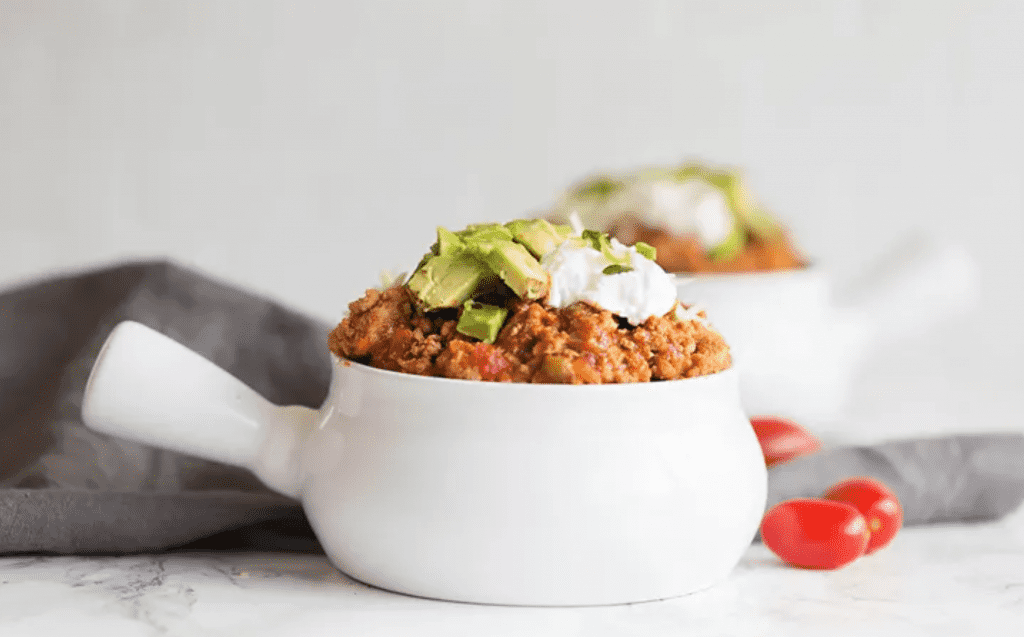 If you feel like wrapping yourself in a blanket into a burrito, you must have a bowl of keto friendly dinner chili soup.
The dish is bursting with Tex-Mex flavors and will surely leave your taste buds satisfied. Also, will bring you comfort.
Even though usually chili takes hours to prepare, I was surprised how easy this one was. And equally tasty. So if you're looking for comforting low carb dinner ideas – give this one a shot.
TIP: serve it with cheddar. Trust me on this one.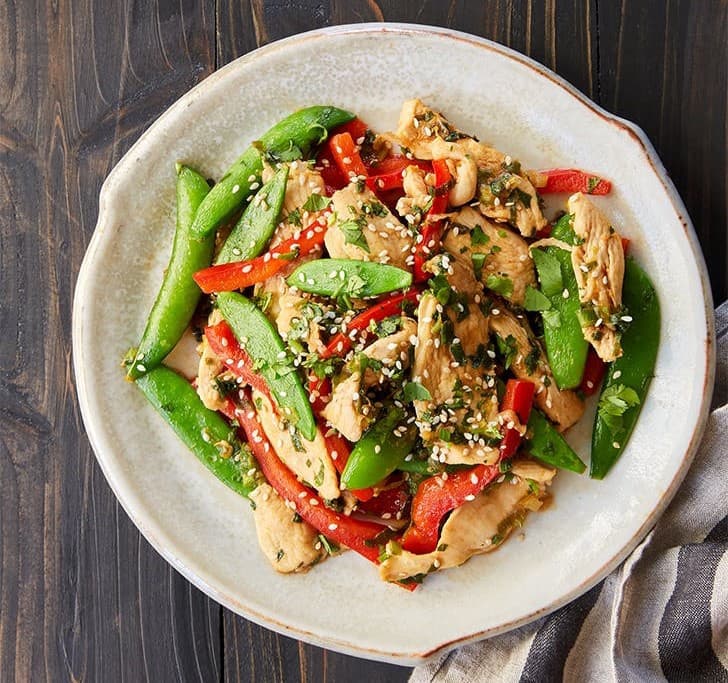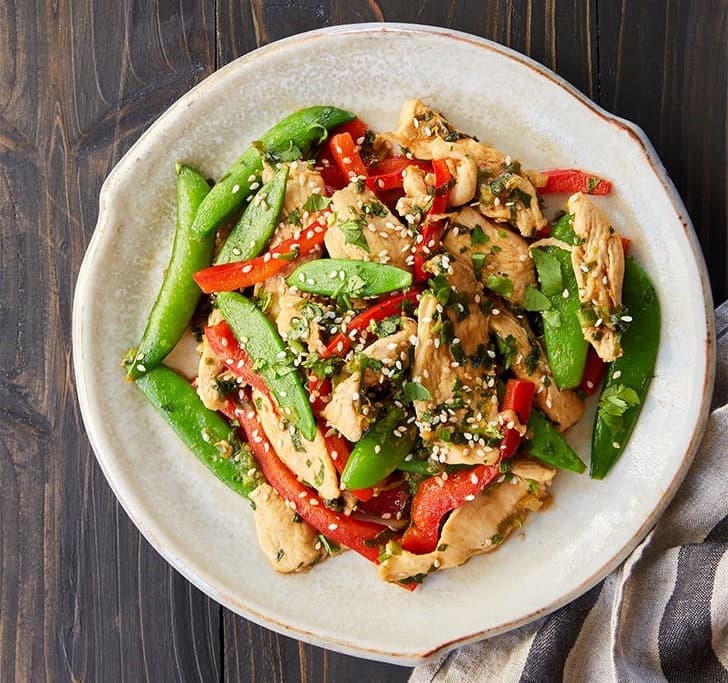 Several ingredients + 20 minute in the kitchen = an amazing keto dinner.
First, let's start with the fact that this stir fry will be way more healthy for you than take out. Second, making it will take as much time to go get take out. So, the keto friendly dinner choice is quite obvious.
So, it doesn't matter if it's a cold winter evening or a hot summer day, be sure to make it, especially when you can get fresh peas.
TIP: it's tasty even with frozen peas, but if you want to turn it into an ultimate keto dinner recipe, be sure to get fresh peas.
Easy Low Carb Dinner Ideas – 8 Ingredients or Less
If you don't enjoy buying 20+ ingredients for your meals, you've come to the right place. Here you will find ridiculously easy keto dinner ideas that require 8 or less ingredients.
Each of these quick keto dinners have amazing taste and don't require a lot of effort in order to make them. Delicious low carb dinner ideas with 8 ingredients or less. Enjoy!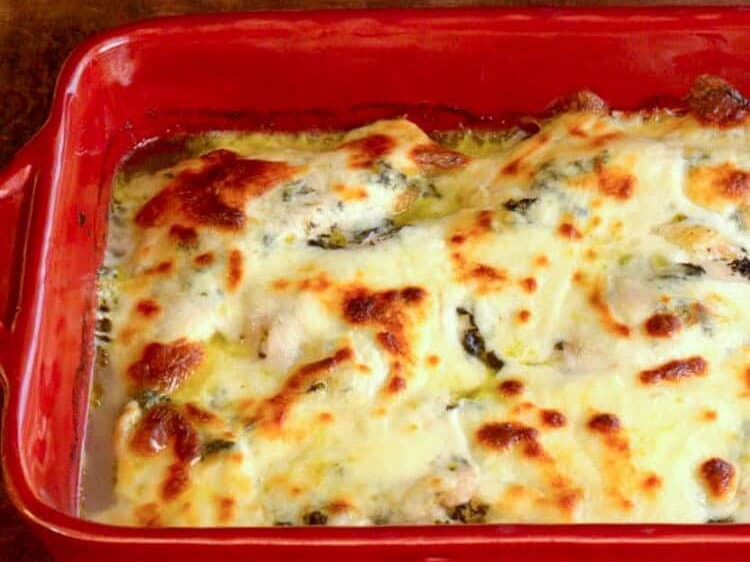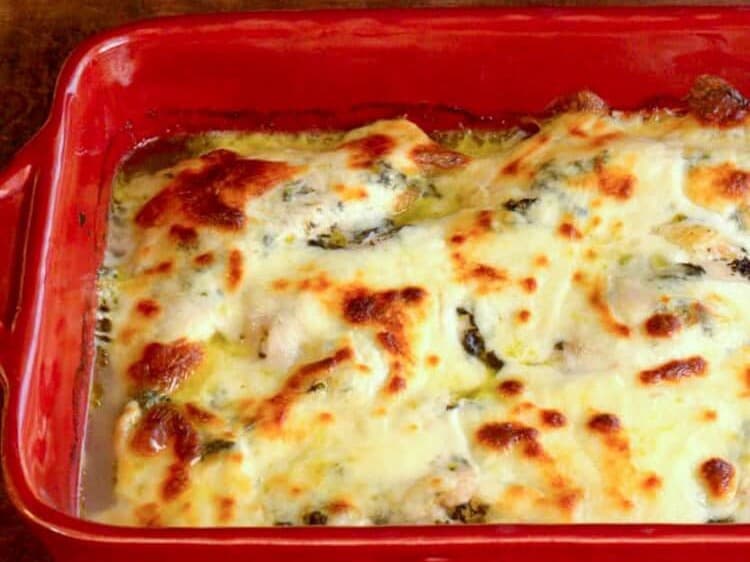 5 ingredients, 5 minutes prep time – one of the easiest keto dinner ideas to realize.
In order to make this delicious keto friendly dinner dish, you'll need pesto, chicken, mozzarella and salt and pepper.
The dish is effortless to make and will be enjoyed by children as well.
If you feel more adventurous it the kitchen, you can make your own pesto (literally takes 3 minutes, but requires extra ingredients).
TIP: consider making your own pesto sauce as you can later use it for salad or any other dish.
Very Quick Keto Dinner Ideas – Pizza Cups – 6 Ingredients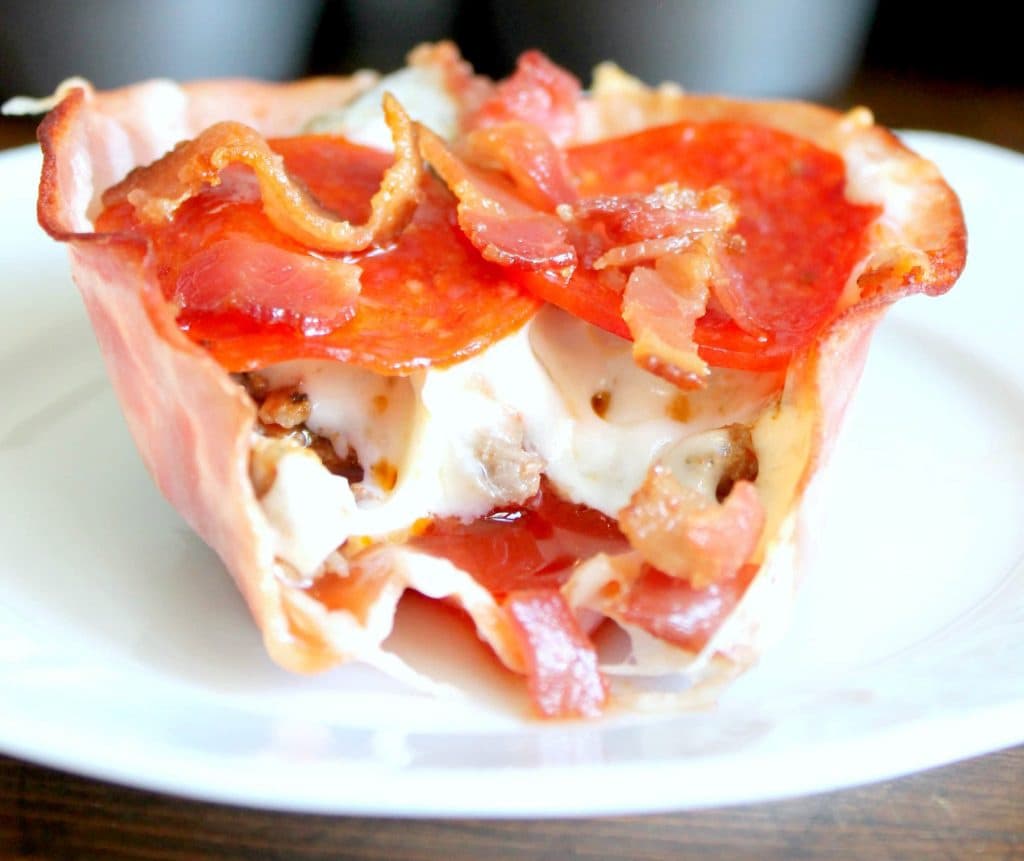 These delicious pizza cups require only 6 ingredients and you'll have it ready on your table in less than 30 minutes.
The great part is that this keto dinner requires some of the most common ingredients that you'l find in nearly everyone's who follow the keto diet fridge: ham, cheese, pepperoni.
So, in short: when making this dish, you'll get the best part of a pizza packed in a cup.
Getting hungry? I know, I am.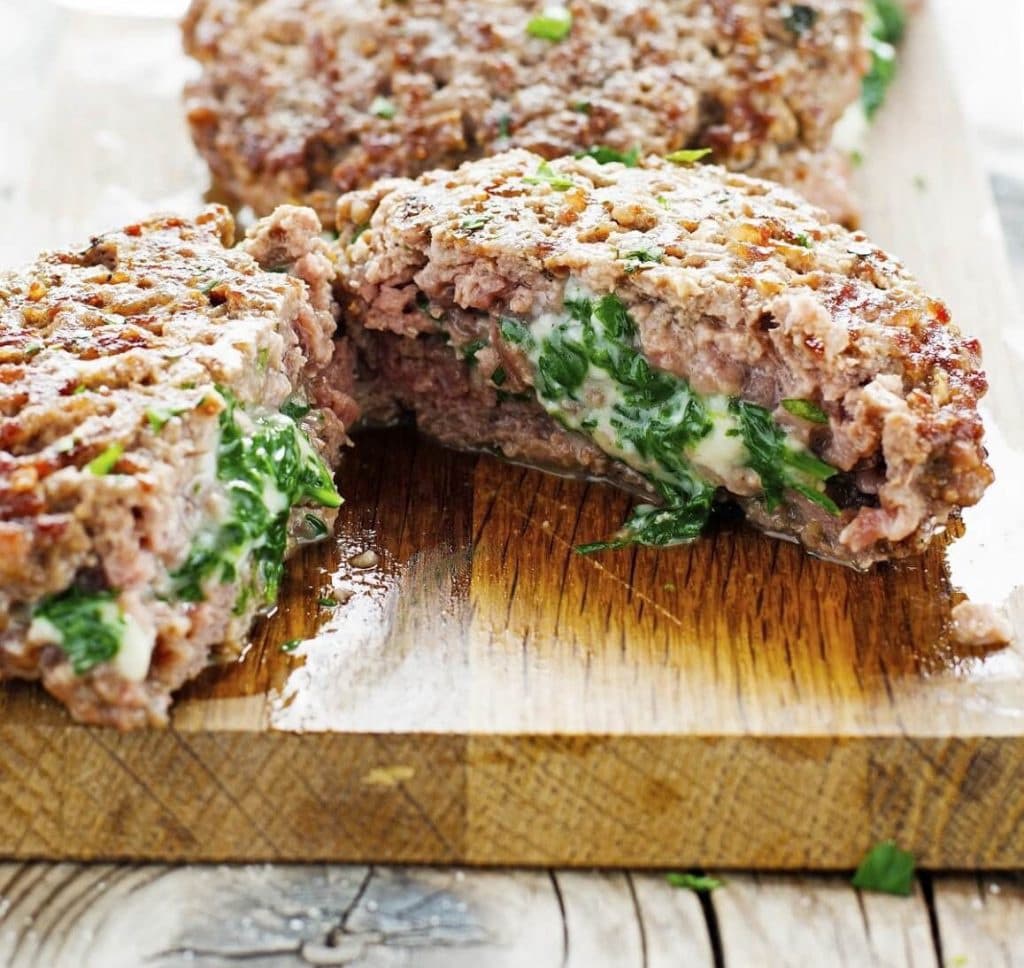 Stuffing your hamburgers with cheese not only makes them delicious but also gives them the surprise and wow factor that everyone will enjoy.
Make this keto friendly dinner to your friends and family, and see how their faces fill up with joy once they see the cheese dripping out of the burger.
Delicious and nutritious – what else could you ask for?
TIP: if your meat choice is beef, be sure not to overcook it. If you're feeling more adventurous, instead of spinach use some jalapenos.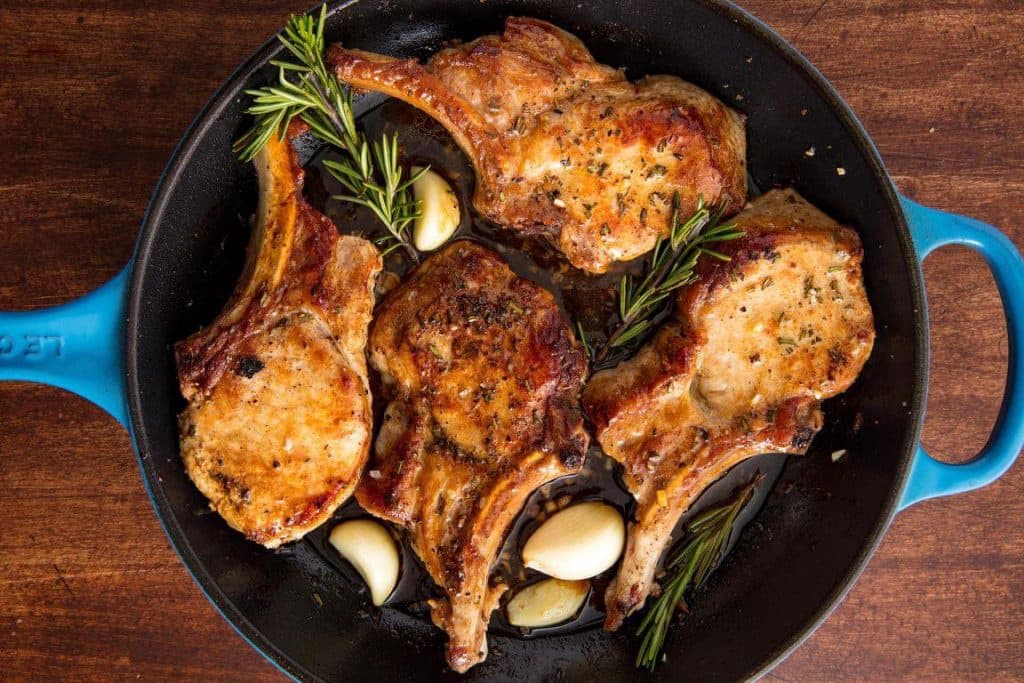 Usually pork is not one of my favorite meat choices, especially when I'm looking for keto friendly dinner ideas. Why? Pork usually makes you feel heavy.
However, with these chops, I didn't feel heavy, nor bloated.
So, when you're looking for keto dinner recipes – this one is a must to try. The pork turns out tender and moist – simply melts in your mouth.
TIP: be sure to give the pork a nice sear – that's where all the taste is. As you know, no color – no flavor.
EXTRA TIP: before serving, you can drizzle it with a little lemon juice to lift up this delicious dish even more.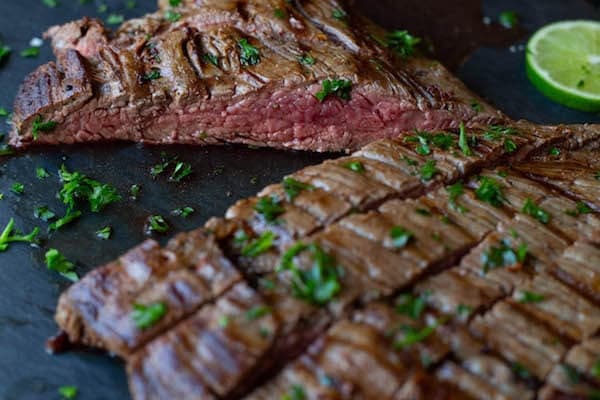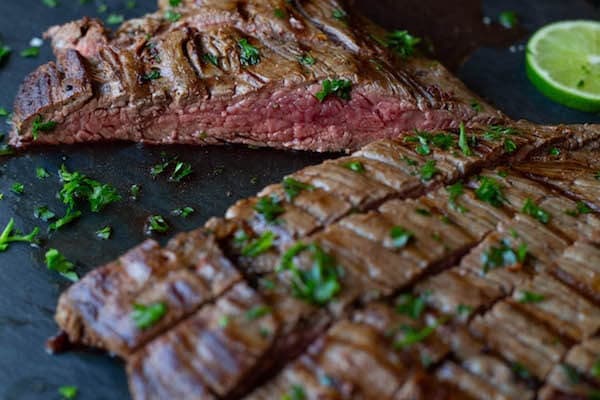 If you look at the original recipe, it says 8 ingredients, however, lime zest + lime juice = lime, so 7 ingredients.
The marinade of this steak simply makes the meat melt in your mouth. Ginger, lime, garlic and red pepper flake combination will seriously tickle your taste buds.
The marinating process takes only 20 minutes, however, since I had some leftovers and cooked them the other day, the meat was way more flavorful and tender. So, this dish is one of the best keto dinner ideas that can be made several days in a row.
TIP: once again, keep in mind that no color means no flavor – give it a nice sear.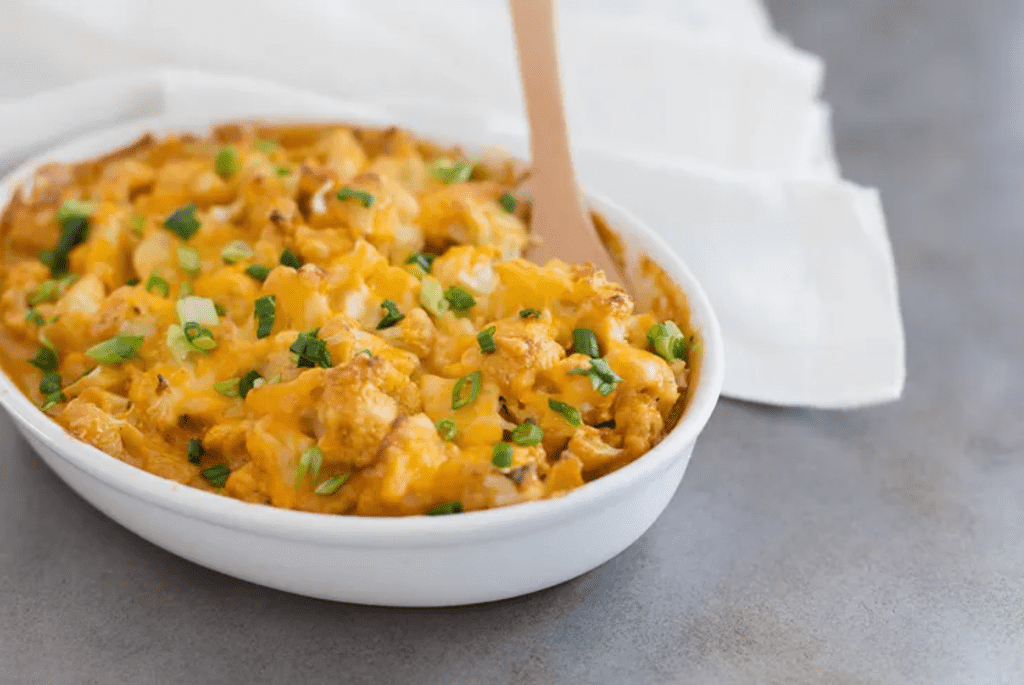 It doesn't matter whether you're making a keto-friendly mac and cheese or a regular one, the secret to good taste is the cheesy sauce.
As you probably have already understood form the title, pasta will be substituted with cauliflower. Still, the dish tastes as good as the original one, but doesn't leave you bloated after you're done eating.
Also, it only comes with 6 grams of carbohydrates per serving. So, this recipe is a real proof that you can convert nearly anything into a keto dinner.
So, if you're a fan of mac and cheese (I know that I am), this melting in your mouth dish will soon become one of your favorite keto dinner ideas to make.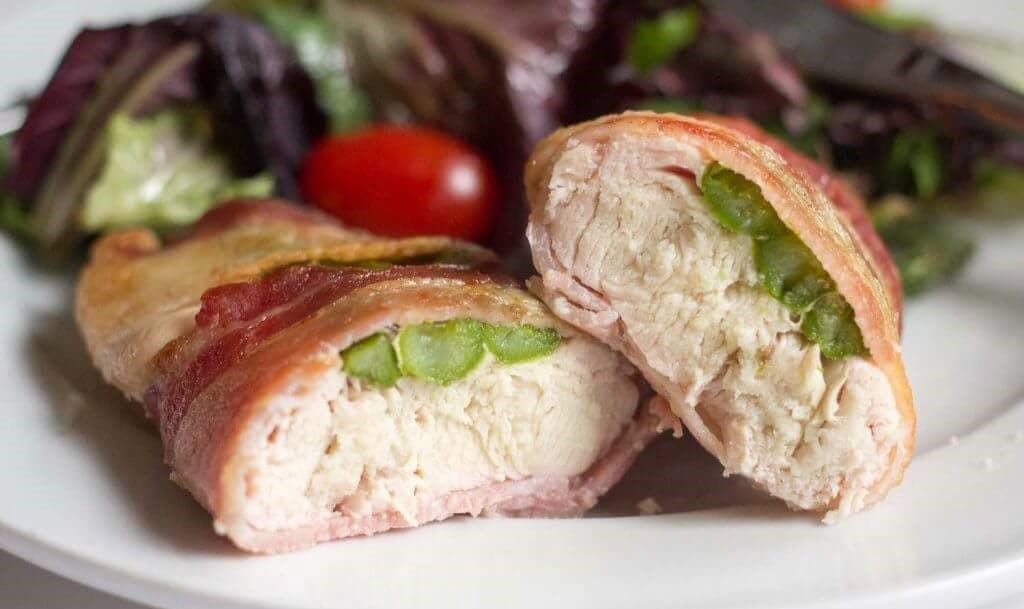 Well, the title basically tells you everything you need to know about the ingredients required for this dish.
As you know, chicken is a very lean meat, so it can overcook easily. Pairing it with bacon not only will prevent that but will infuse your chicken keto dinner with extra moist and assure glistening texture.
The asparagus inside gives it a fresh and vibrant lift, so you get an amazing keto dinner with just 3 ingredients. Wrap it, put it in the oven and voila! Your keto friendly dinner is served.
TIP: If you wish to speed up the cooking process and get the dish on your table faster – cook it on the stove. It will give the bacon additional crunchiness.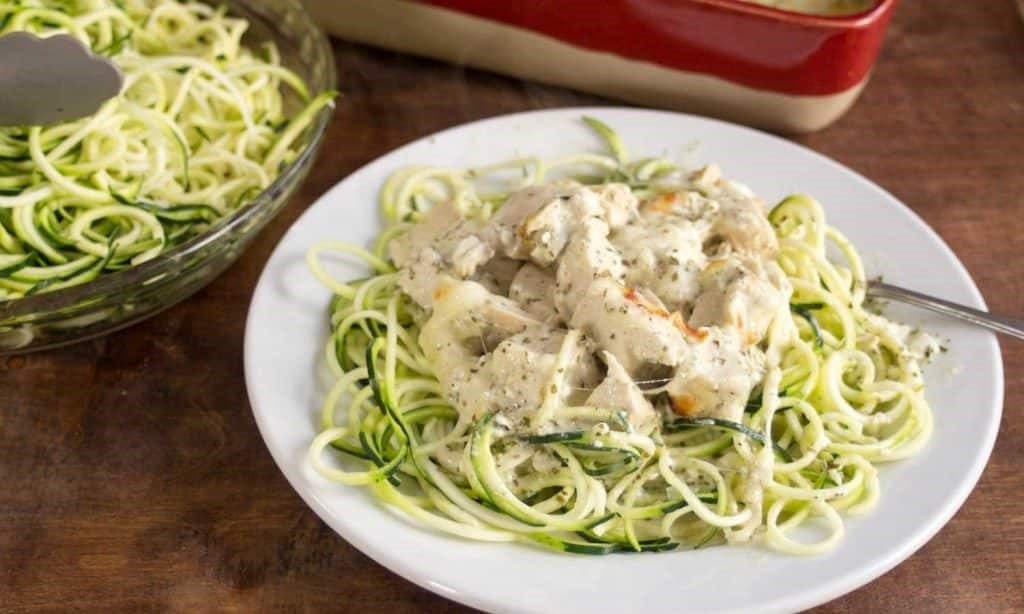 Pesto is one of my favorite sauces, so any keto recipe that I find featuring it is a must-try.
This dish works perfectly on a weeknight as it takes only 5 minutes to prep it. Then you simply let the oven do the work.
If you feel like you want some keto side dish with it, I really enjoyed serving it on zucchini noodles. My second favorite – mashed cauliflower.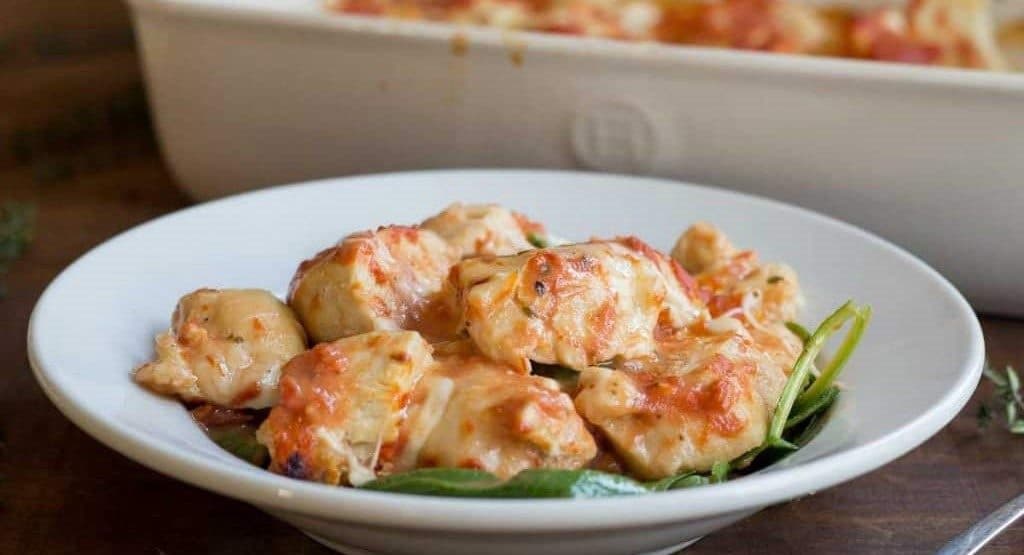 Chicken baked in vodka sauce – how does that sound for a low carb dinner idea?
Only 5 ingredients and 5 minutes prep time. Combine 5+5 and you get a perfect ten – that's how much this dish is worth.
The combination of chicken, Parmesan and mozzarella is seriously to die for. The vodka sauce is rich, filled with flavor and keeps you wanting more.
This one is definitely worth trying.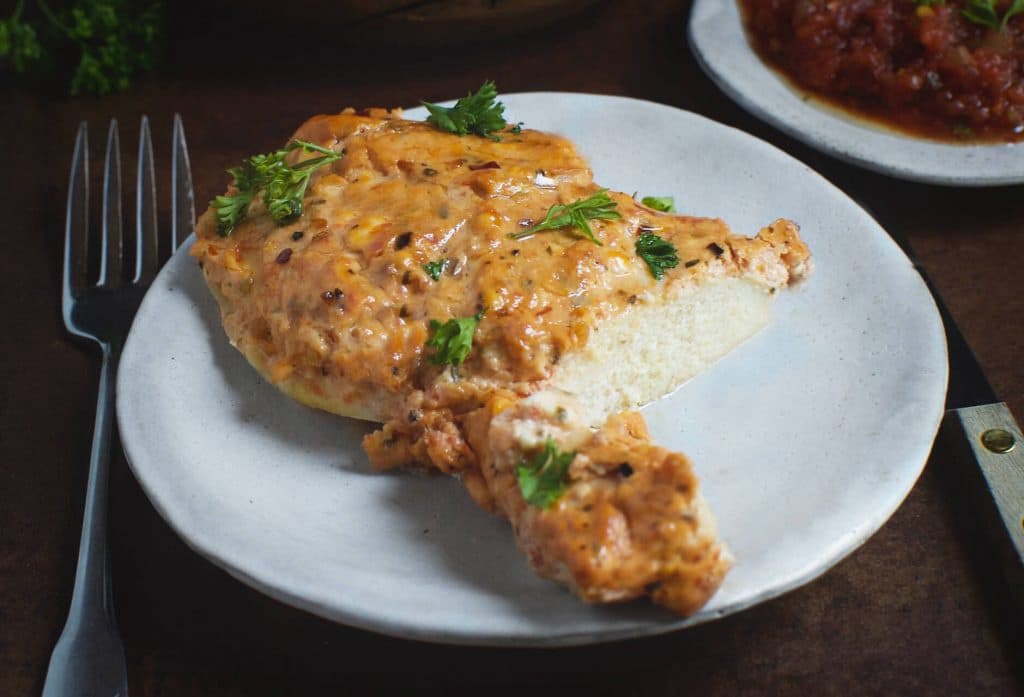 This extremely easy keto dinner will keep you coming back for more.
The chicken covered with the creamy sauce melts in your mouth. The spicy-creamy sauce elevates the dish to a whole new level and you feel like you're eating out.
The spiciness and sourness of the salsa works extremely well with this dish and leaves you with no heavy feeling after you're done eating.
Also, if you feel more adventurous in the kitchen – try making your own salsa from fresh tomatoes – simply delicious.
This has become one of the most satisfying keto dinner ideas anyone could come up with.
TIP: drizzle the dish with some cheddar – yummy!
Quick and Easy Keto Dinner Ideas – The Bottom Line
If the food is quick and easy to make, it doesn't mean that it won't be as delicious as meals that take hours to prep. These keto dinner ideas came among my favorites as they were very simple and easy to make.
In today's world where you have to rush constantly, making a quick and delicious low carb dinner is my favorite way to relax and enjoy my time.
If you're looking for what to cook for breakfast, be sure to check this article with some of the most amazing keto breakfast ideas.
Enjoy!