Finding keto desserts that will not compromise your diet can get tricky. Especially since following the keto lifestyle means saying 'no' to many sweet treats, even sugary drinks.
That's why I made a list of keto desserts recipes that will satisfy anyone's sweet tooth without messing with your ketosis.
Low in cabs and completely delicious – these 20+ keto desserts collection will be a game changer for you.
Below you will find 20+ easy desserts: from keto sweet snacks such as cookies, brownies and ice cream to keto cakes and keto pies that you can eat for a birthday, enjoy!
Keto Sweet Snacks: Cookies & Brownies
Here you will find some delicious keto desserts that you can eat as a snack. Keto sweet snacks are a perfect solution for those who have a sweet tooth but don't want to compromise their ketosis.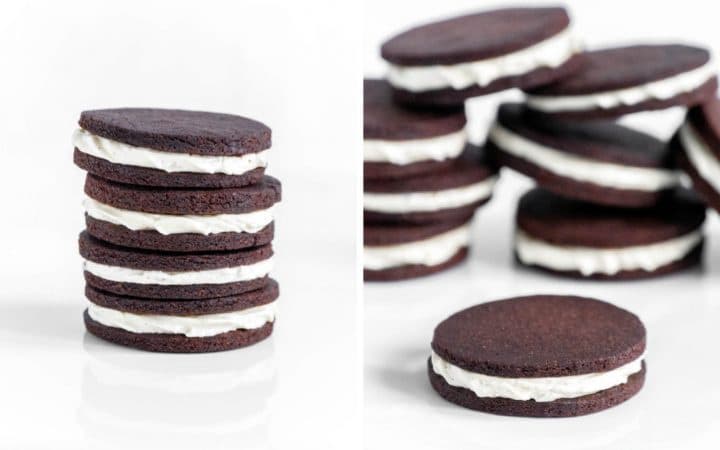 Even though it's hard to believe that you can have keto friendly Oreo cookies, these babies are a proof of it.
Sugar free and gluten free with Only 1 g of carbohydrates per cookie. This keto dessert can be your guilty pleasure without needing to feel the guilt!
So, if you have a sweet spot for Oreos, be sure to try. The taste is a little different, however, still reminds the original ones.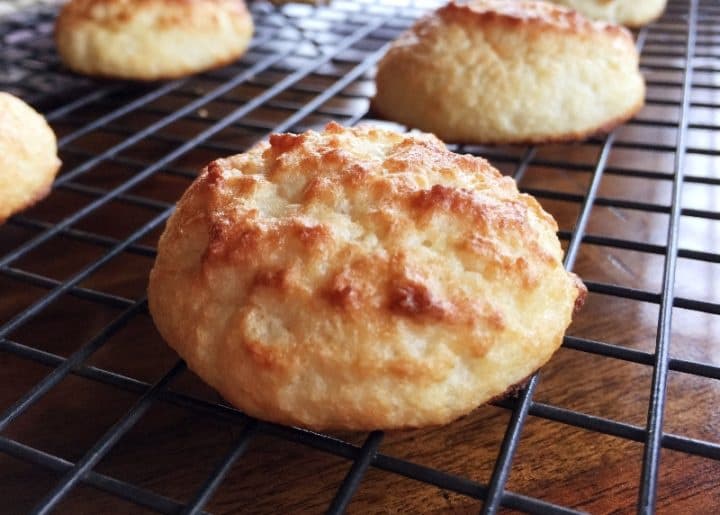 These cookies are one of my favorite keto desserts. Period. I always liked coconut cookies and these are simply delicious.
Adding the rum extract gives them a delicious rum-coconut smell that hits you like an invitation to eat. The cookies are dairy and gluten free. Just 10 minutes of prep time and 10 minutes of cook time will give you an unforgettable experience of melting in your mouth coconut keto sweet snacks.
Eat them after your meals, pack them as a snack to work – they're THE perfect treat.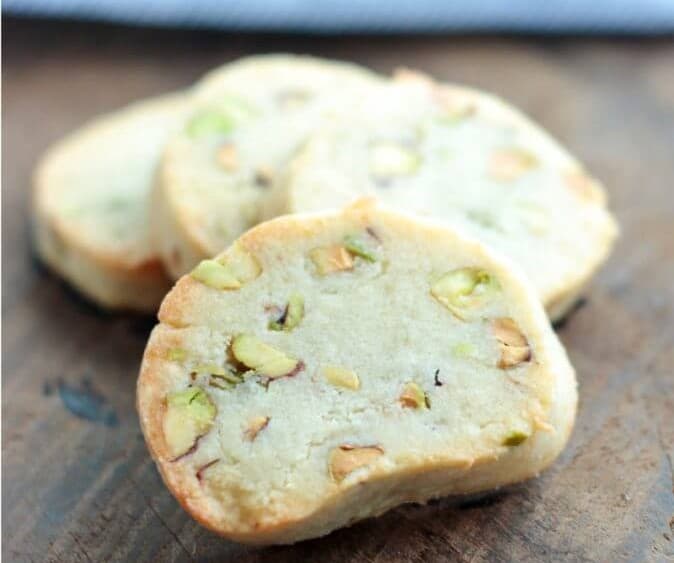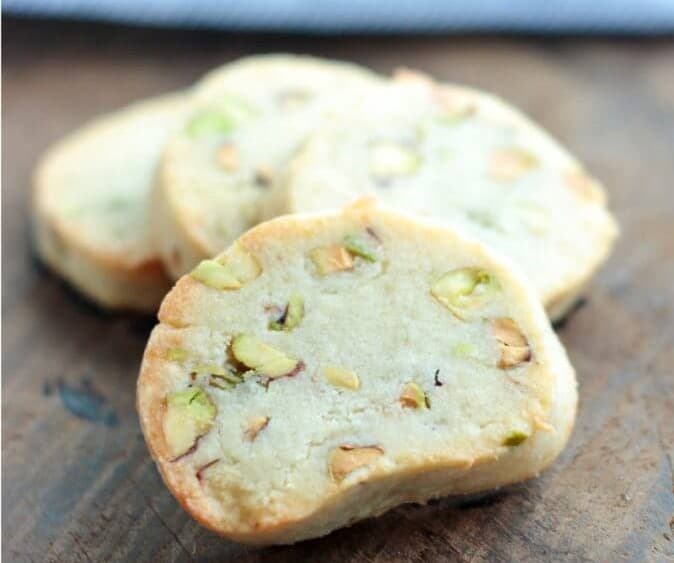 These delicious buttery cookies are definitely a must-try.
Shortbread cookies that melt in your mouth are a great snack, especially when paired with coffee. What I particularly liked about these glistening and melting in your mouth cookies, is how the toasted pistachios give them an extra crunch.
Low in carbs, gluten-free and easy to make. These cookies became one of my top keto desserts choices when I have friends over.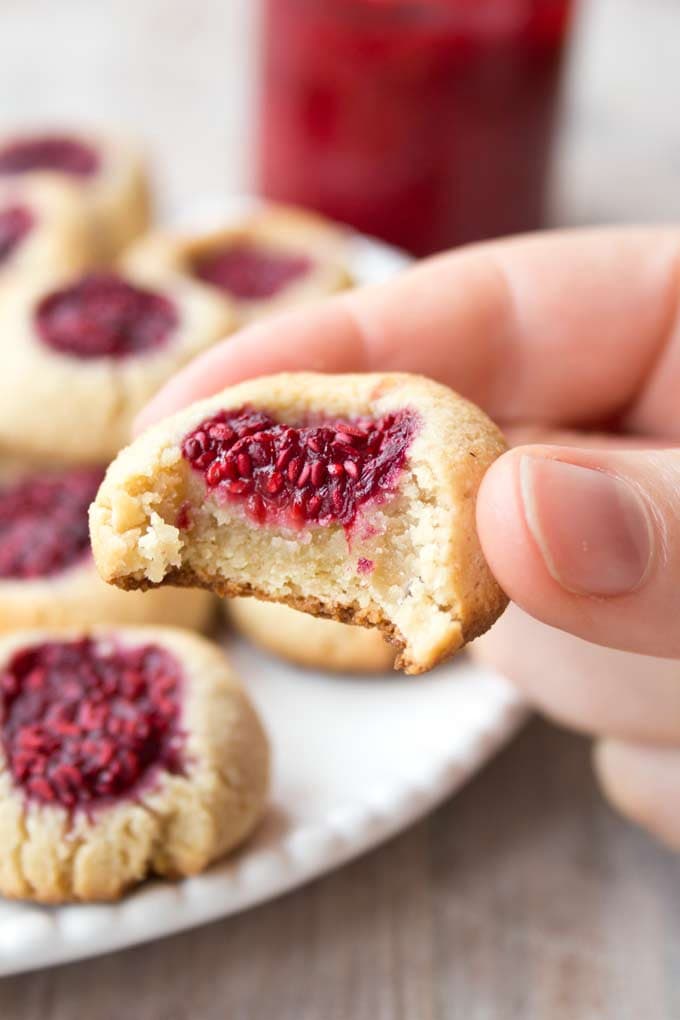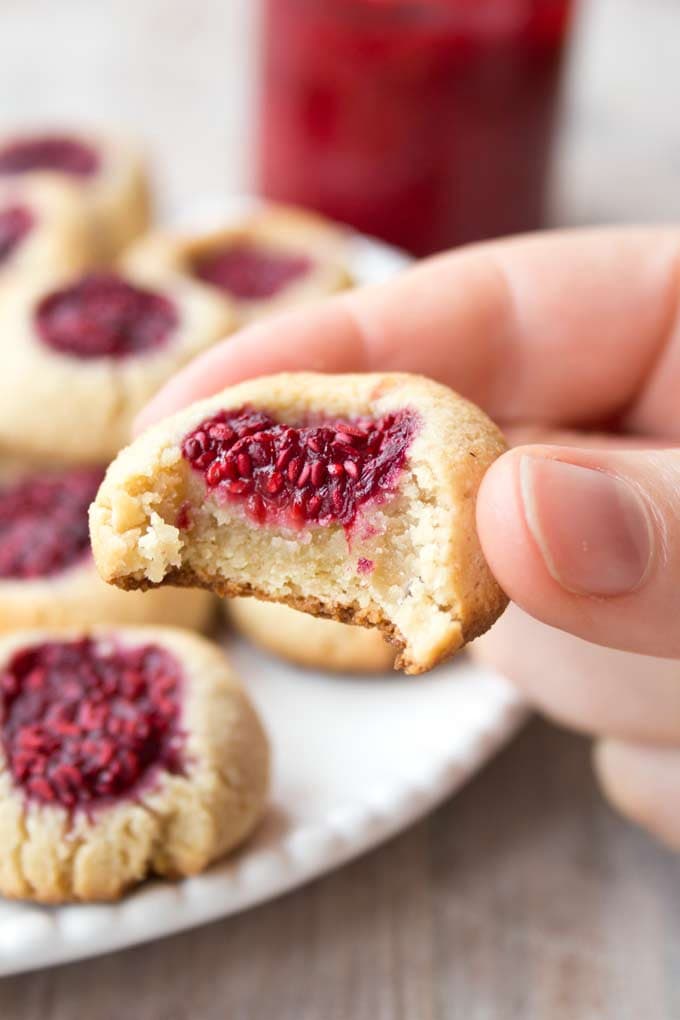 Delicious and very fun to make. Besides the amazing taste, another great thing about these keto sweet treats is the making process.
Making the thumbprints and filling them with raspberry jam is especially fun. If you have children, I am sure they will enjoy helping you make this keto dessert.
What I liked most about these cookies, is how the added cream cheese gives it the perfect base: crunchy on the outside and moist on the inside.
The raspberry jam simply gives it the perfect balance of sweet and sour. They're small, look really appetizing and can be easily transported. So, take them to work or on a picnic and enjoy!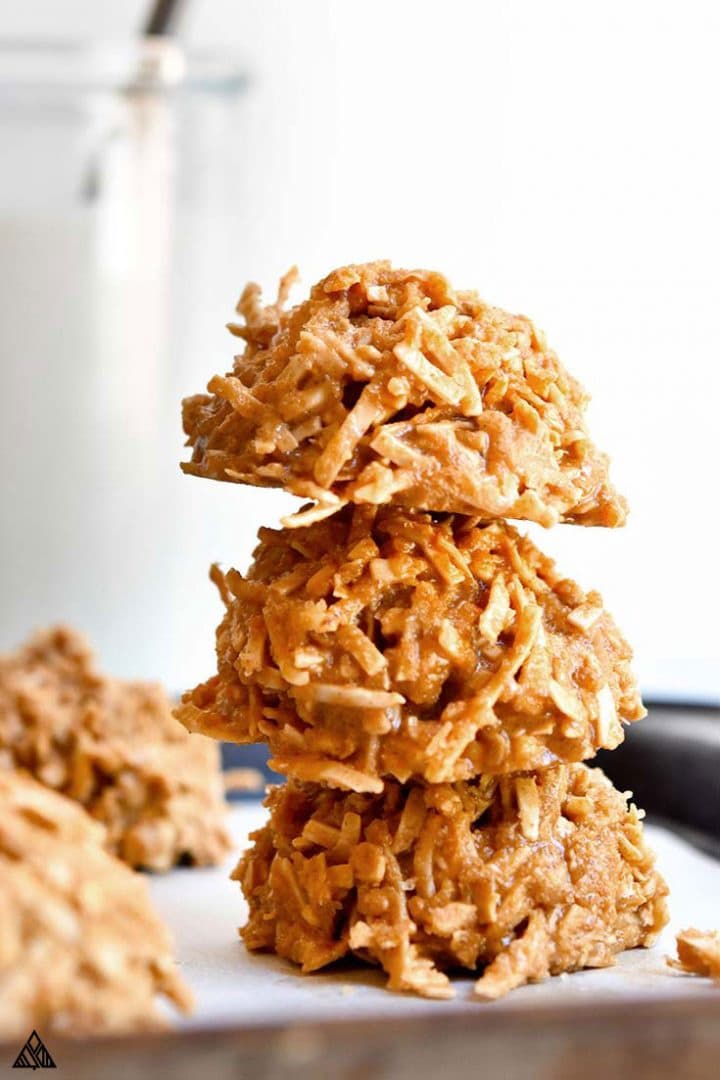 Here's another great recipe in the coconut desserts collection. What's great about these cookies is that they don't require baking. They're absolutely delicious and require very little effort and time to make.
If you feel like you're running out of time, this is one of the top keto desserts to make in a short notice.
Extra creamy from butter and extra crunchy from coconut – a perfect keto dessert you can enjoy at anytime without any guilt.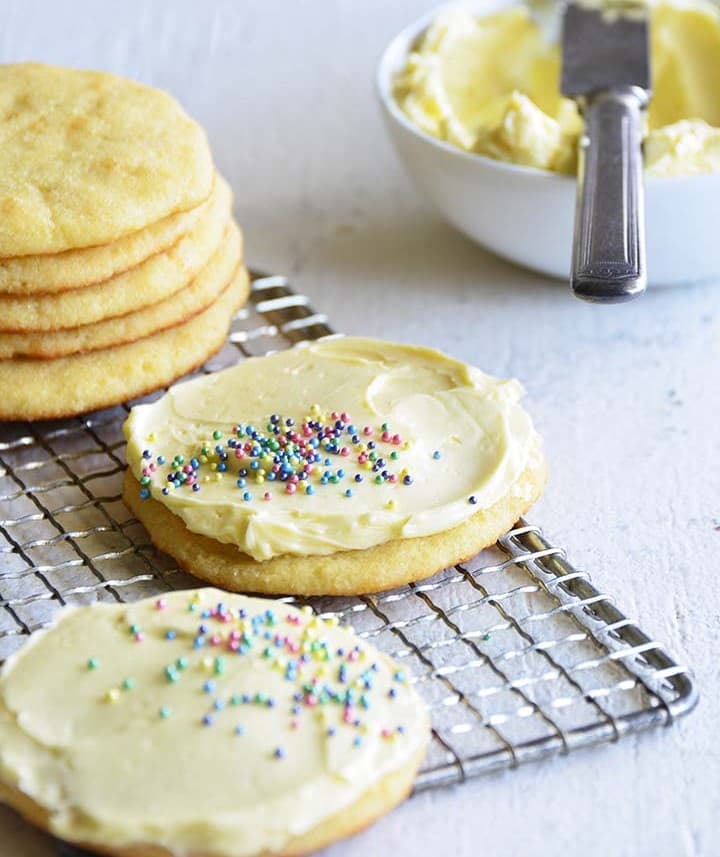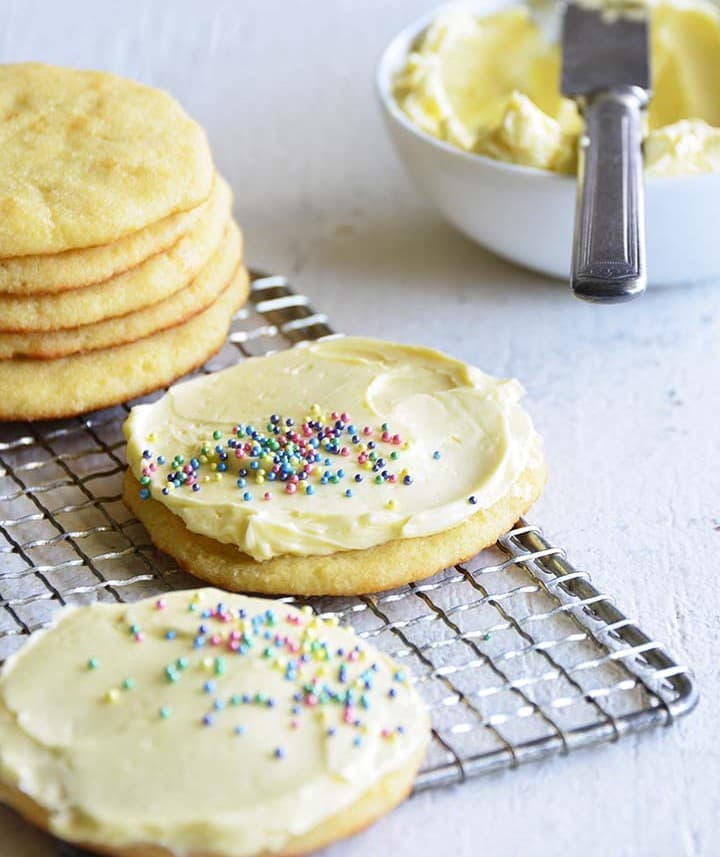 Who doesn't enjoy some frosting with their sweets? I know I do. Frosting is one of my favorite parts in any dessert. These keto sweet snacks are not an exception.
Sugar free and low in carbohydrates, these cookies will help you with your cravings. You can serve them on special occasions and decorate them as you like.
Since cookies are with frosting, I wouldn't recommend taking these cookies to work. However, when it comes to eating keto desserts at home, be sure to try making them.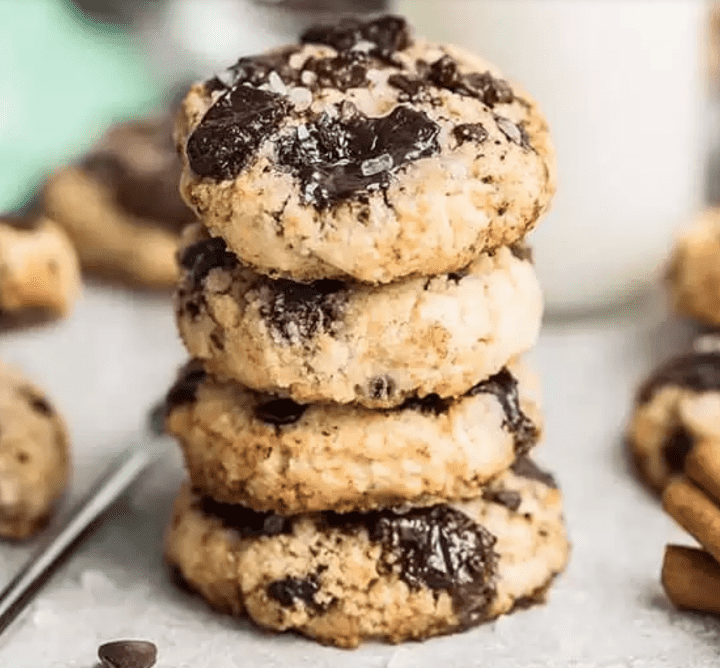 When it comes to chocolate chip cookies, I always liked the melting in your mouth ones better than the crunchy ones.
It took me some time to find the perfect recipe for this keto dessert but here it is.
You need only one bowl to make this sugar free and gluten free treat. Be sure to use the highest quality almond flour and follow the recipe exactly as it says. Usually, I like to add a little twist to keto desserts recipes, however this one is perfect as it is.
This ultimate cookie classic turned into a keto friendly dessert tastes as good as the original ones and give you a taste of childhood. It's the ultimate comfort dessert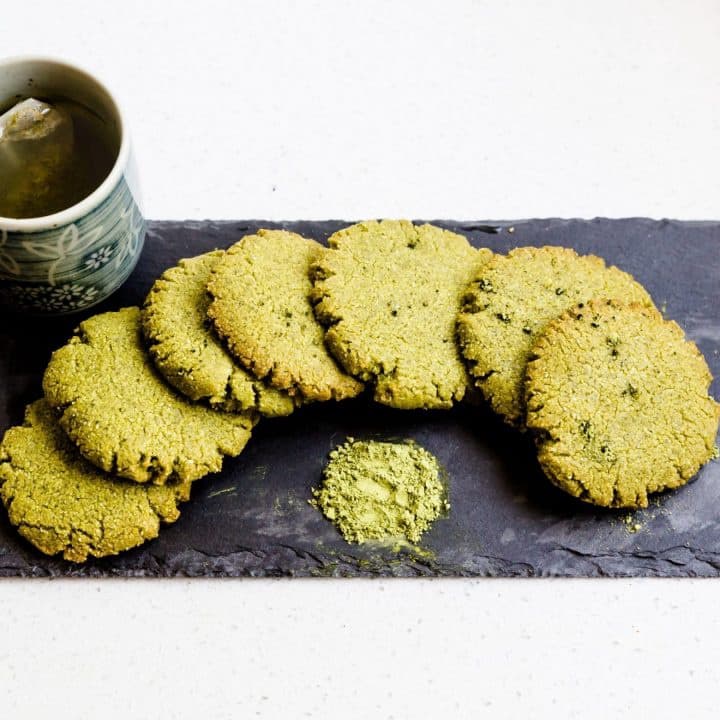 If you enjoy new and exotic tastes – this keto dessert you must absolutely try.
I've always enjoyed a cup of tea and matcha tea is one of my favorites. It's healthy and full of antioxidants. So, when I found out I can turn it into a keto friendly sweet treat – I simply couldn't say no.
Only five ingredients and you will have the perfect breakfast cookie, as it already comes with caffeine in it. If you didn't know yet, matcha tea is often used as a substitute for coffee, as it is rich in caffeine and full antioxidants.
So, what's better than having a dessert that's actually healthy for you?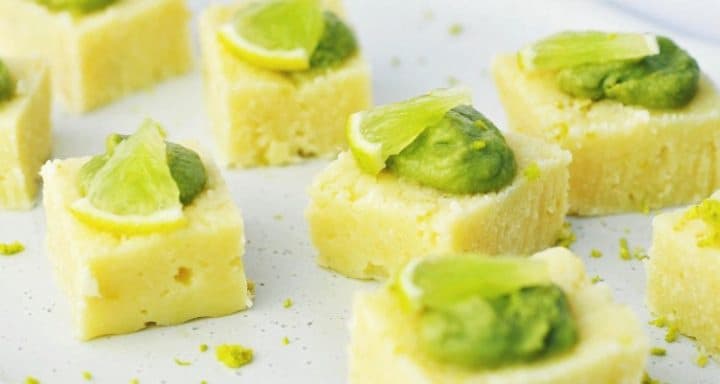 Packed with powerful, healthy ingredients and requires no baking – a perfect summer treat.
These lemony keto coconut lime bars have the perfect balance of sweet and sour, so they quickly became one of my favorite keto desserts recipes.
Also, I liked the hydrolyzed collagen incorporated to the recipe. This is another reason to eat more of these bars – they make you prettier.
Keto Brownies – Taste of The Chocolate Classics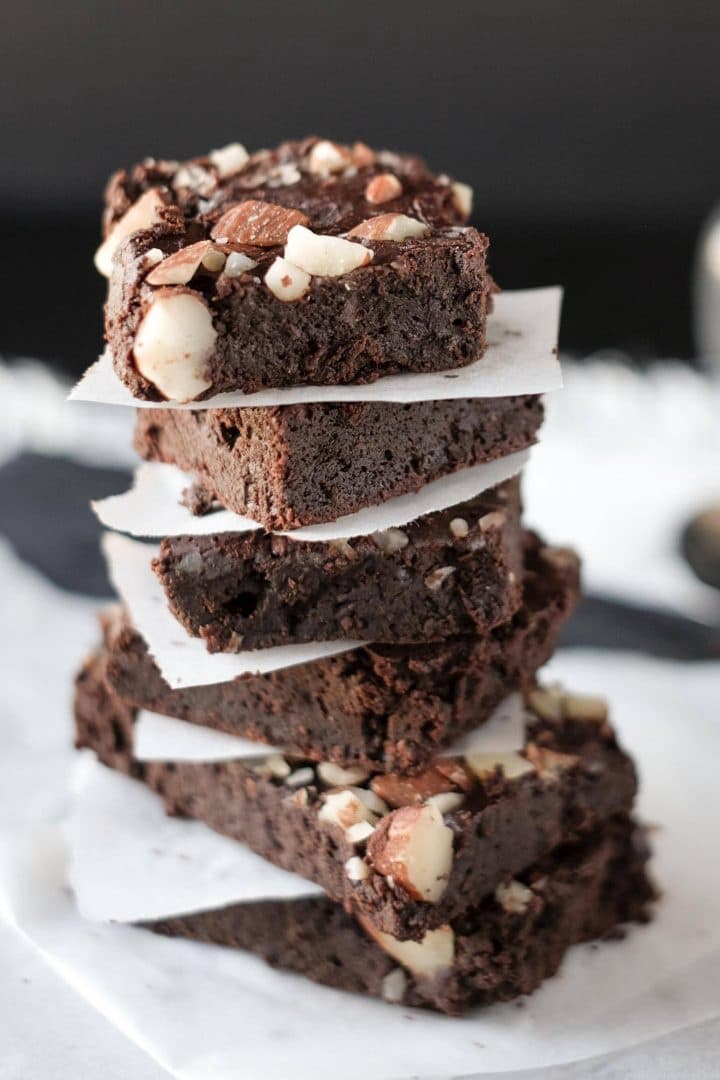 The recipe comes in to versions, be sure to make the updated one. The brownies are moist and melting in your mouth.
The original version also tastes good but the updated one is simply perfect. The brownies are chocolaty, but the chocolate isn't overpowering or overwhelming – that's what I expect from my brownies.
Also, be sure to decorate the brownies with some chopped nuts. The glistening texture of the brownies mixed with crunchiness of the nuts just gives you an out of this world experience.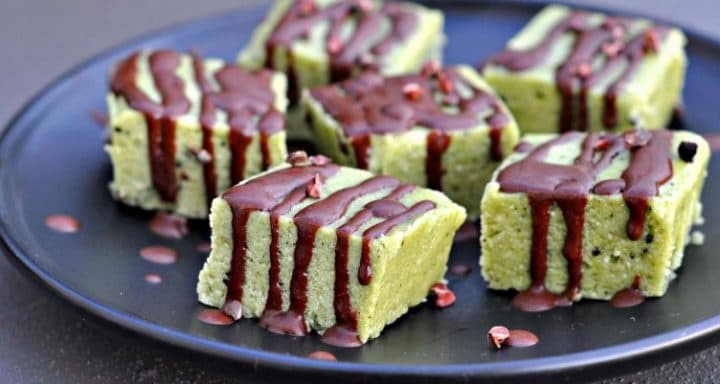 One of my favorite sweets since I was a child were the After Eight minty cookies. I love the combo of mint mixed with chocolate.
So, when I stumbled upon these chocolate-peppermint cookies, I knew I had to make them. Also, I absolutely adored how stunning they look and how the dark chocolate glaze makes the green color of the peppermint simply pop.
For those who enjoy the minty chocolaty flavors, these keto dessert cookies are a must-try.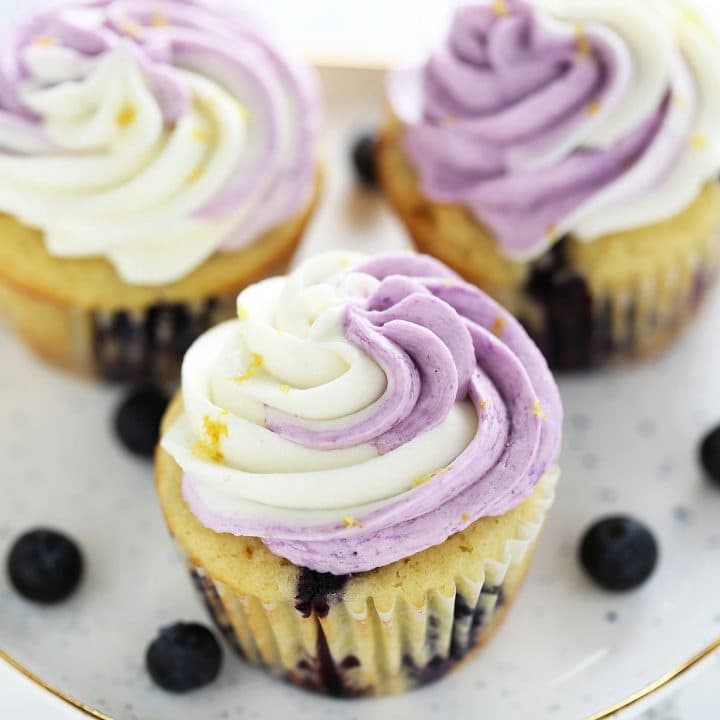 Everyone knows that the perfect cupcake has to be melting in your mouth and have that soft glistening texture on the inside.
Of course, topped with some delicious frosting, a cupcake can give an unforgettable experience.
These cupcakes are exactly like that and come with a bonus. They are very low in carbs, so they can be categorized among the best keto desserts taste wise and low-carbs wise.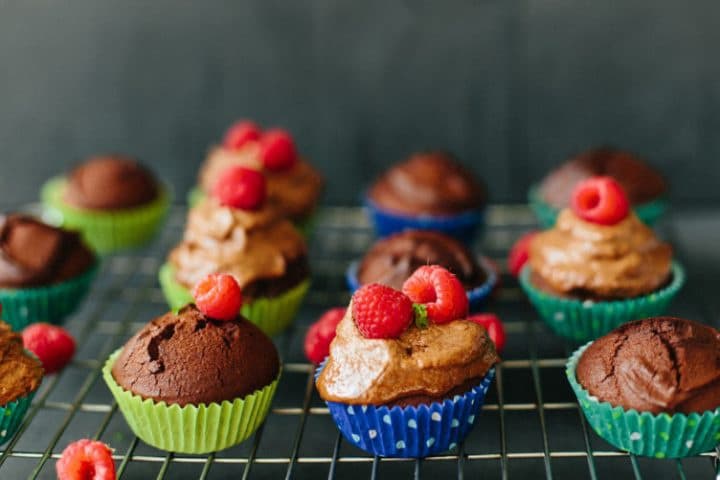 This recipe features one of my favorite all time sweets – coconut. As mentioned before, I am a fan of cupcakes.
What I liked about these cupcakes is that the recipe used high-quality ingredients. Also, these cupcakes are not only delicious but also nutritious and healthy for you to eat.
The cinnamon added to these keto sweet snacks not only lifts them to a level that makes it seem that they just came out of a keto bakery but also works to help stabilize your blood sugar. So, a win-win situation for your cravings and your health.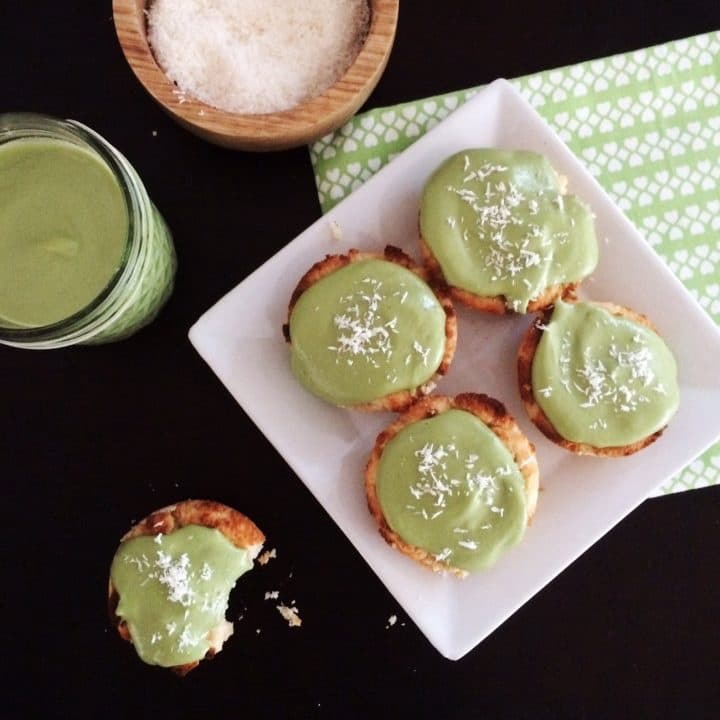 It's not a secret that vegan deserts are among the best tasting ones out there. Since vegans are limited to some ingredients, they have to get creative. I believe this is one of the secrets behind the deliciousness of their deserts – the creativity.
Of course, there are vegan keto desserts. These matcha cupcakes are exactly that. They're absolutely delicious, low in carbs, gluten and dairy free, and packed with antioxidants from the matcha tea. So, an absolute must-try.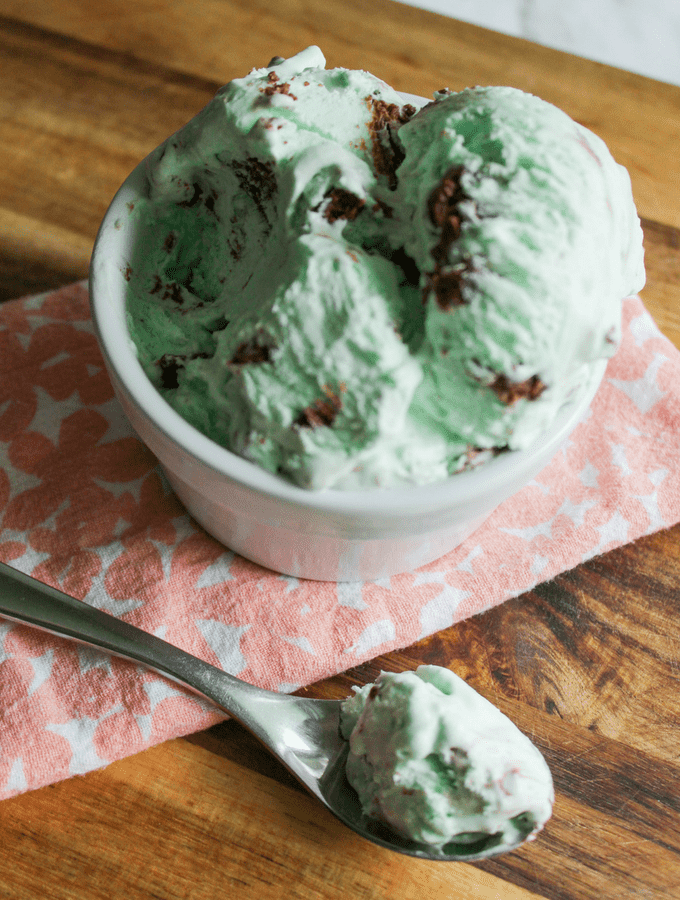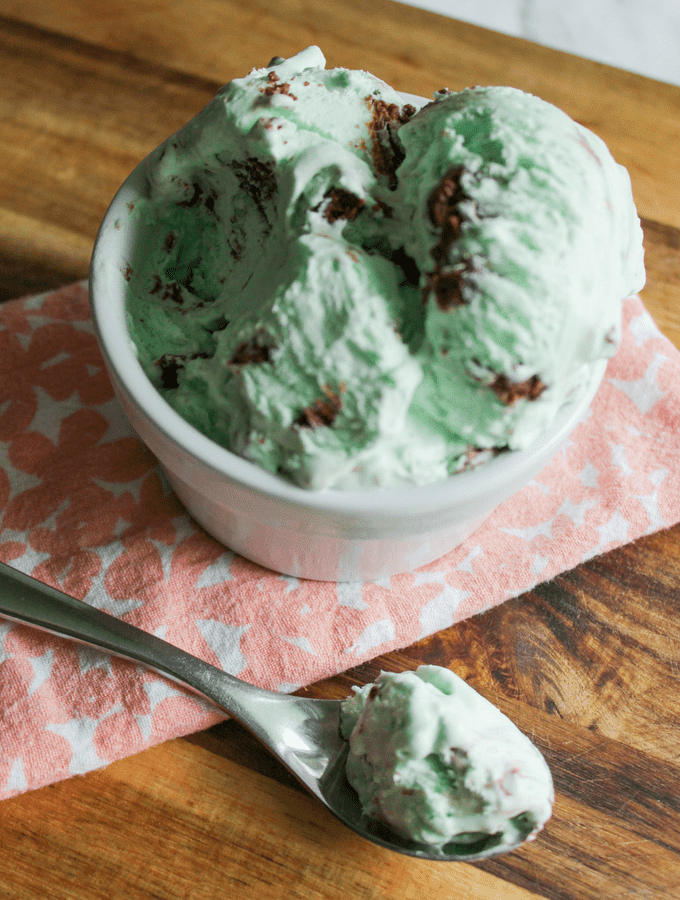 Sweet and refreshing at the same time – a perfect keto desert for a hot day.
As I mentioned before, I'm a huge fat of the mint and chocolate duo, so every recipe I find online, I simply must try. This ice cream was not an exception.
What I liked most about this ice cream, is that you don't need an ice cream maker to prepare it.
I am really glad to find keto recipes that can substitute for foods that I enjoyed eating before keto. So, a huge thumbs up for the person who created this recipe. Thanks!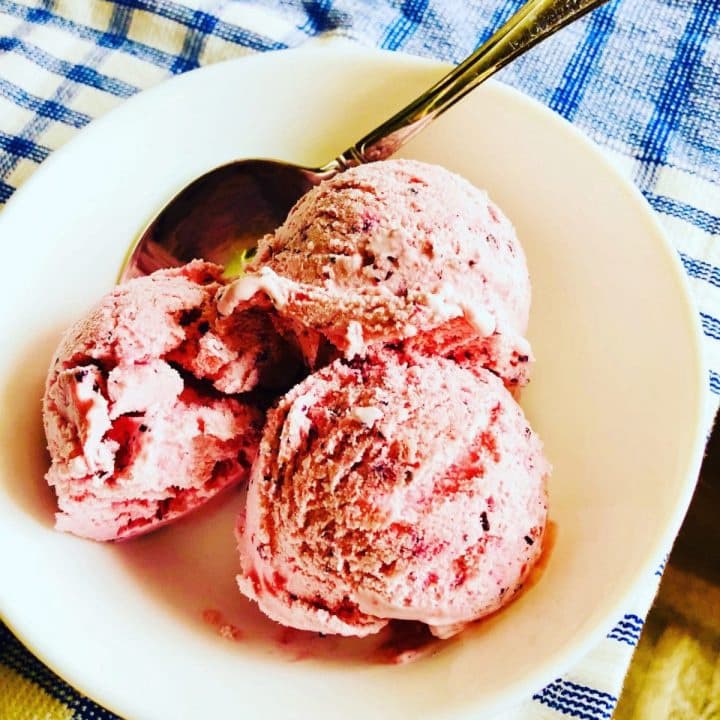 This amazing keto dessert combines the top 3 keto-friendly berries: blueberries, strawberries and raspberries. How great is that?
Making this ice cream requires an ice cream maker, however, if you enjoy making your own ice cream frequently, the maker is a great investment.
The flavors of this ice cream was incredible. It reminded me of those times when I went to Italy and ate home-made gelato there. My favorite flavor turned out to be the blueberry one.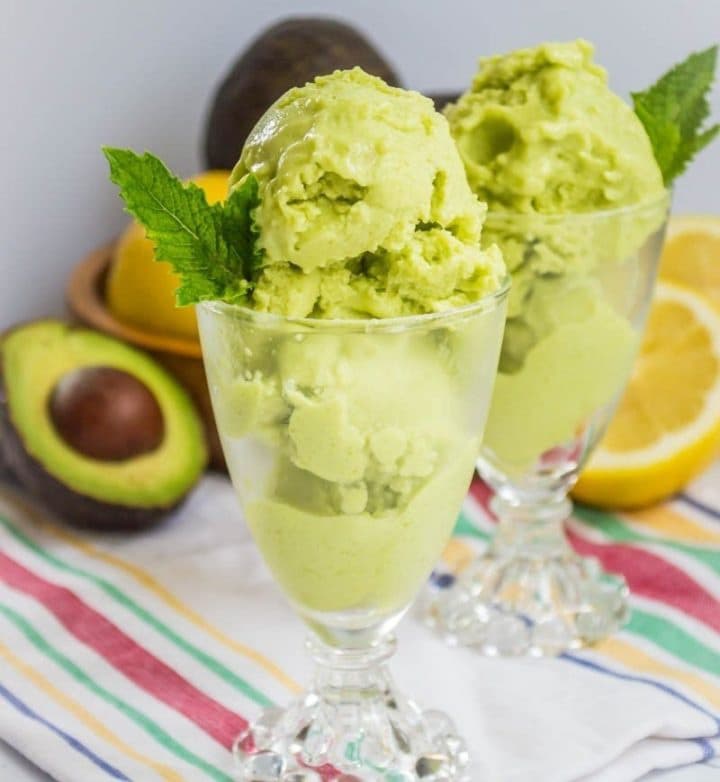 Well, it may get a bit confusing at first but believe me, the ice cream is absolutely delicious. On a hot day, when you don't feel like eating a lot, this keto dessert could substitute for a full meal.
What I liked about this recipe that it is filled with MCT oil that has a lot of health benefits for you, including increased energy, reduced inflammation, supports healthy metabolism and much more.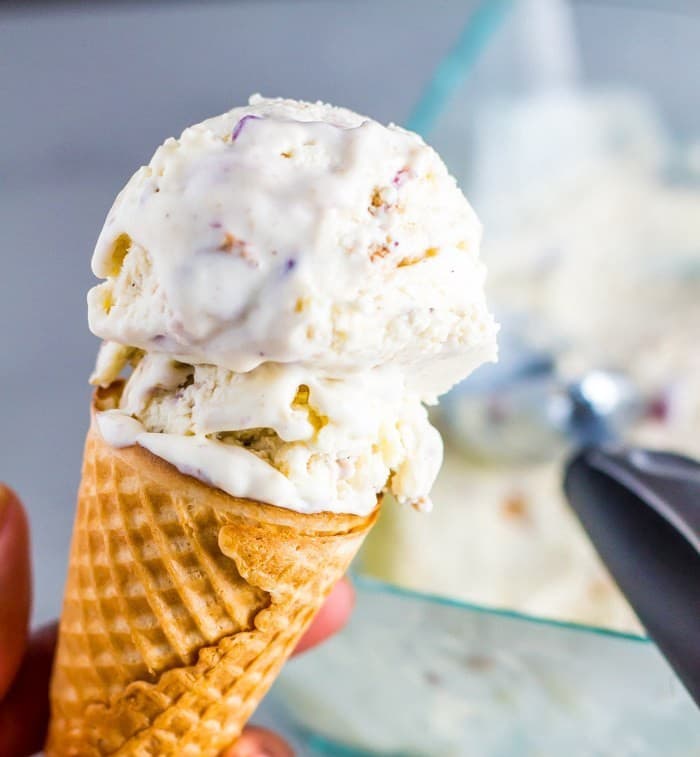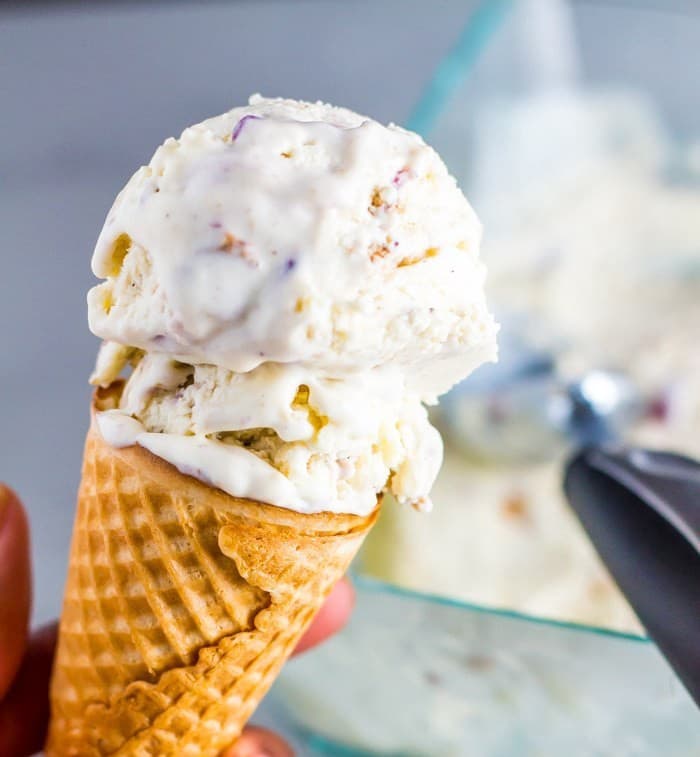 Well, I covered blueberry cupcakes in this article, time for some blueberry ice cream for you to enjoy on a hot summer day.
I liked that the ice cream is completely sugar free and guilt free. The sugar free version of cheesecake itself is completely delicious, however paired with some blueberries and converted into ice cream – it's simply amazing. This ice cream is one of my top choices when making keto desserts on a hot summer day.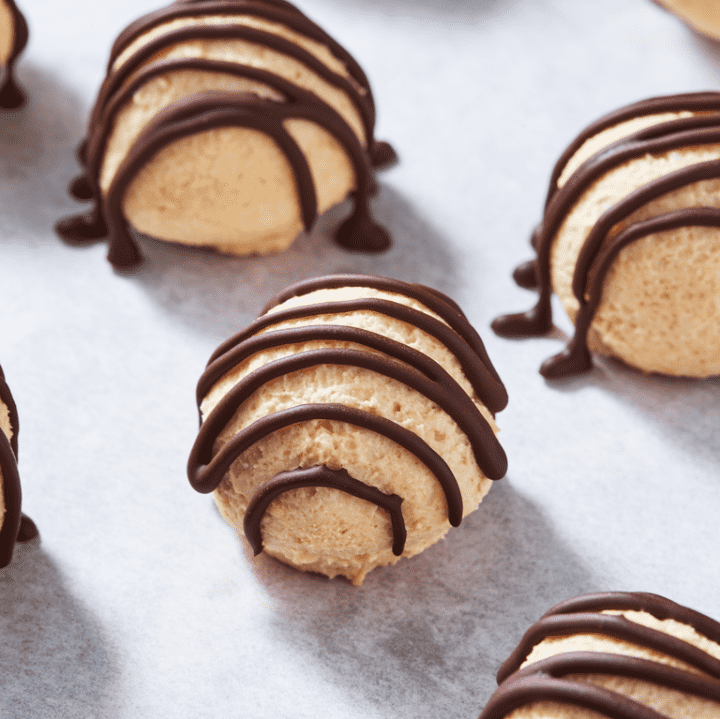 It's impossible to have a complete collection of keto desserts without keto fat bombs. These fat bombs are my favorite ones.
Not only do fat bombs help you enter the state of ketosis faster, speed up your metabolism and provide you with energy throughout the day – they're also absolutely delicious.
It takes only 5 minutes to prepare them and additional 25 minutes in the fridge before they're ready to be eaten. Later, store them in the fridge and grab one whenever you want energy or a delicious one-bite keto dessert.
I know I have mine ready, what about you?
3 Ingredient Keto Desserts – Coconut Bars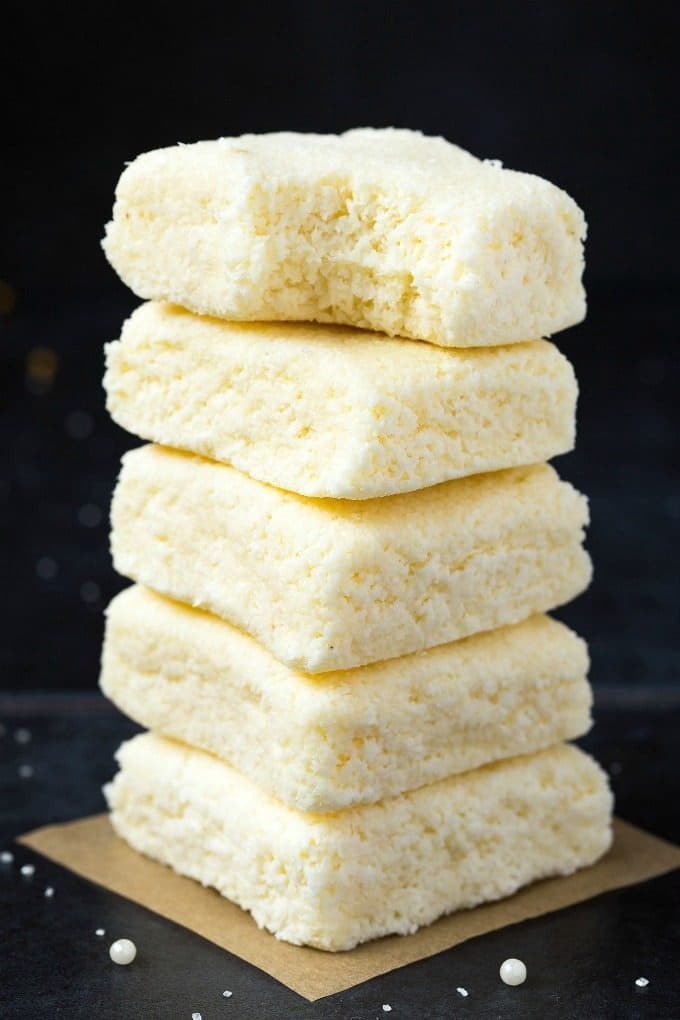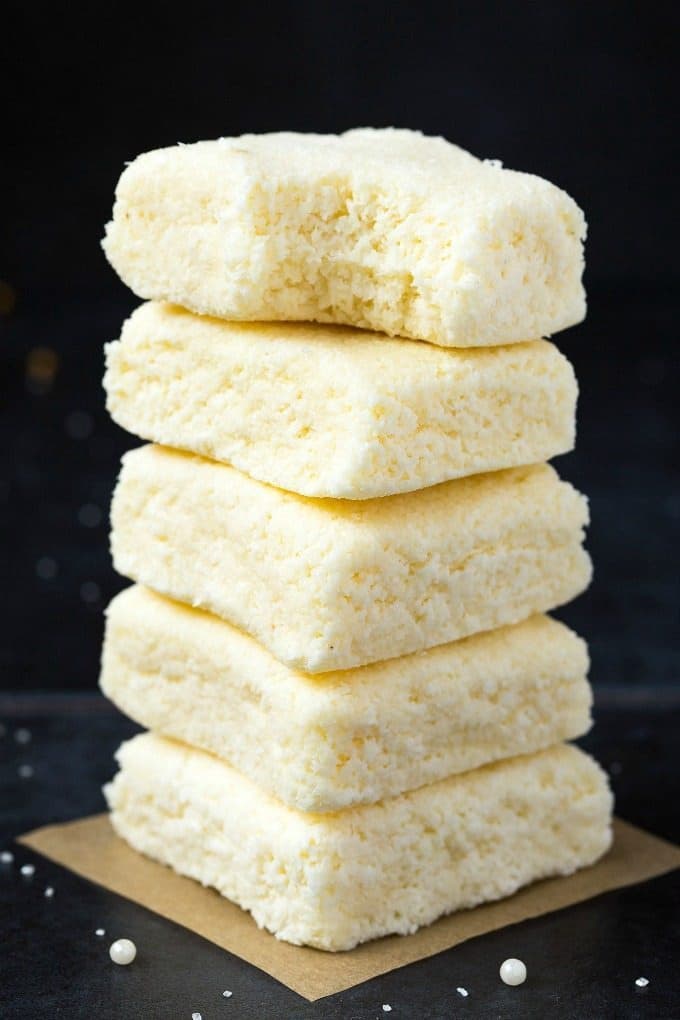 Just in 5 minutes and with only 3 ingredients you can have delicious coconut treats ready.
Combine coconut oil, unsweetened coconut flakes, unsweetened maple syrup and voila, put them in the fridge to freeze and enjoy!
I simply love how easy it is to make keto desserts. They're effortless to make and taste absolutely delicious.
Keto Desserts: Pies and Cakes
Here you will find some all time classic deserts converted into keto desserts. Perfect for birthdays and any special occasions. The best part about these keto sweets – your guests won't even suspect that they're sugar and carbs free.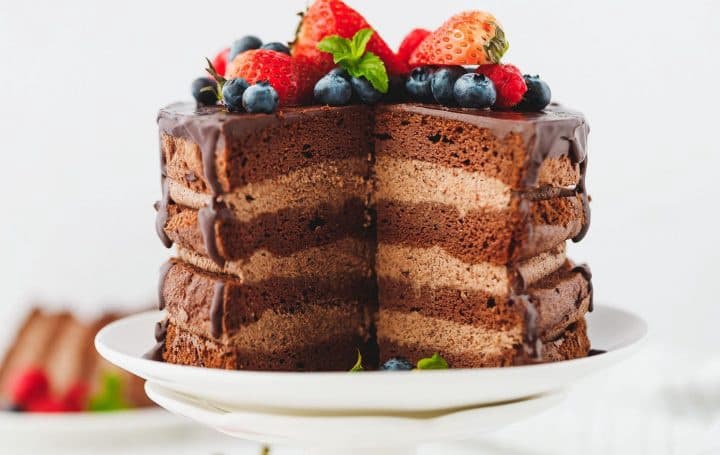 Chocolate cake is the ultimate dessert world classics – the kids love it and the adults love it as well. However, many believe that going on keto means losing the joy of chocolate cake slowly melting in your mouth.
Well, this cake will prove them wrong. I've spent many time in the kitchen and tried dozens of recipes until I found the perfect one. This chocolate cake absolutely delicious. The ratio of the products and the flavor balance is perfect. A must-try.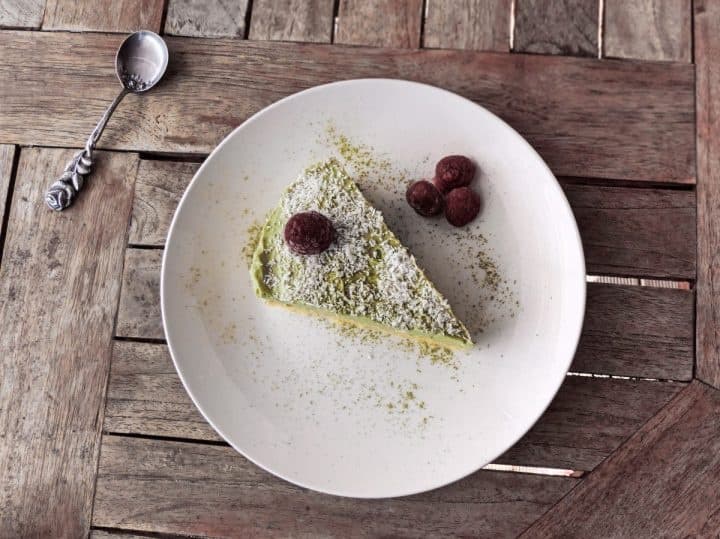 If you enjoy testing new flavors this cake is for you.
Just like other recipes in this article that are made with matca, this cake is delicious and nutritious. It's a great substitute even for coffee and is packed with antioxidants.
The sweetness of the coconut combined with the freshness and aroma of the matcha tea creates a symphony of tastes in your mouth.
However, keep in mind that this cake is for foodies and better to serve it for adults only. Most children will not appreciate it.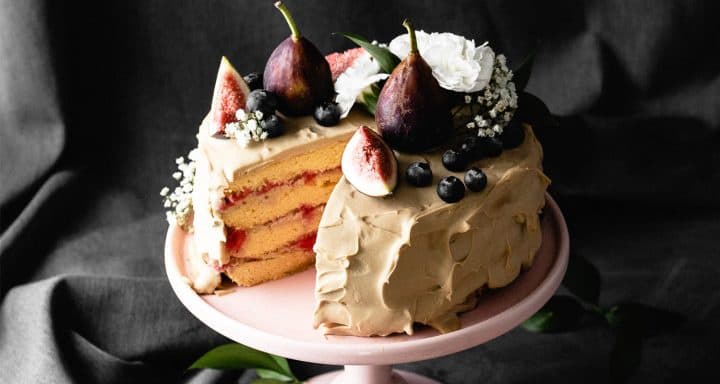 This cake is absolutely perfect for special occasions. From birthdays to weddings. The taste of it is elegant and delicious.
The jam between the layers has the perfect balance between sweet and sour. The flavor is very sophisticated but even children like it. And you know that it's really difficult to impress children and adults at the same time.
In my opinion, this is one of the best keto desserts that works perfectly for any occasion.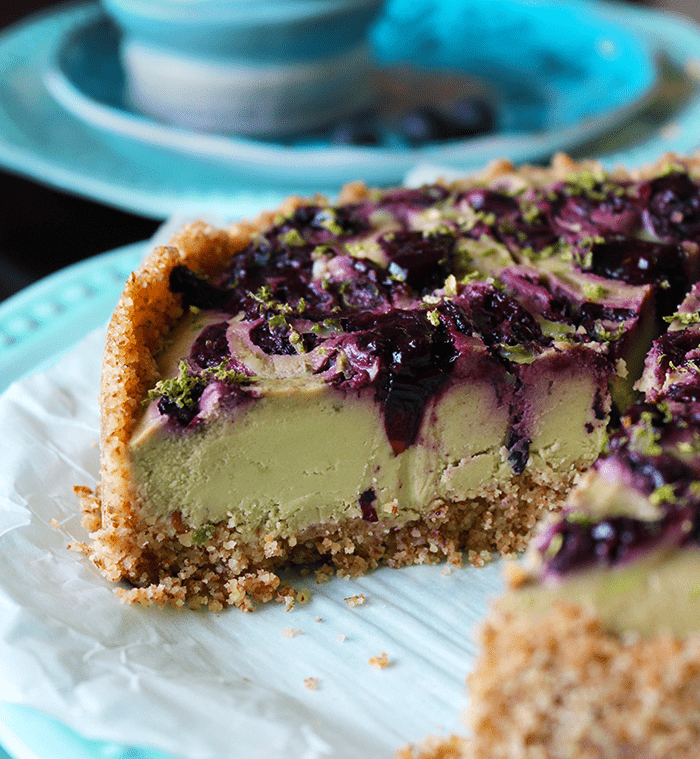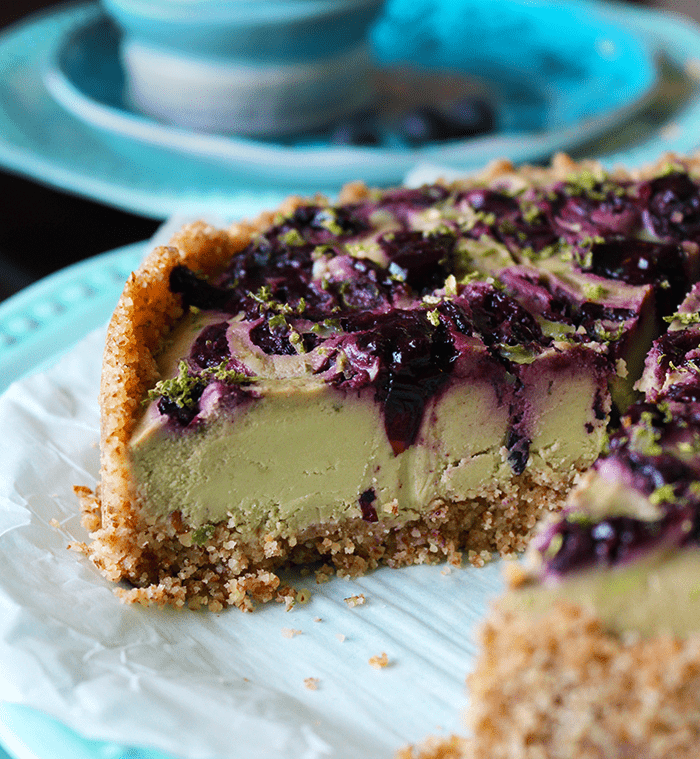 I made this pie for a picnic with friends. None of them were on keto, so since it was weekend, I had to know that I'll have the opportunity to get some dessert after the BBQ.
This cake was an absolute show stopper. It was the first dessert to disappear from the table. Everyone very much enjoyed this ketogenic dessert and had no idea that it was sugarless. Blueberries and lime are a perfect match.
Keto Cheesecake – Saving Best Keto Desserts for Last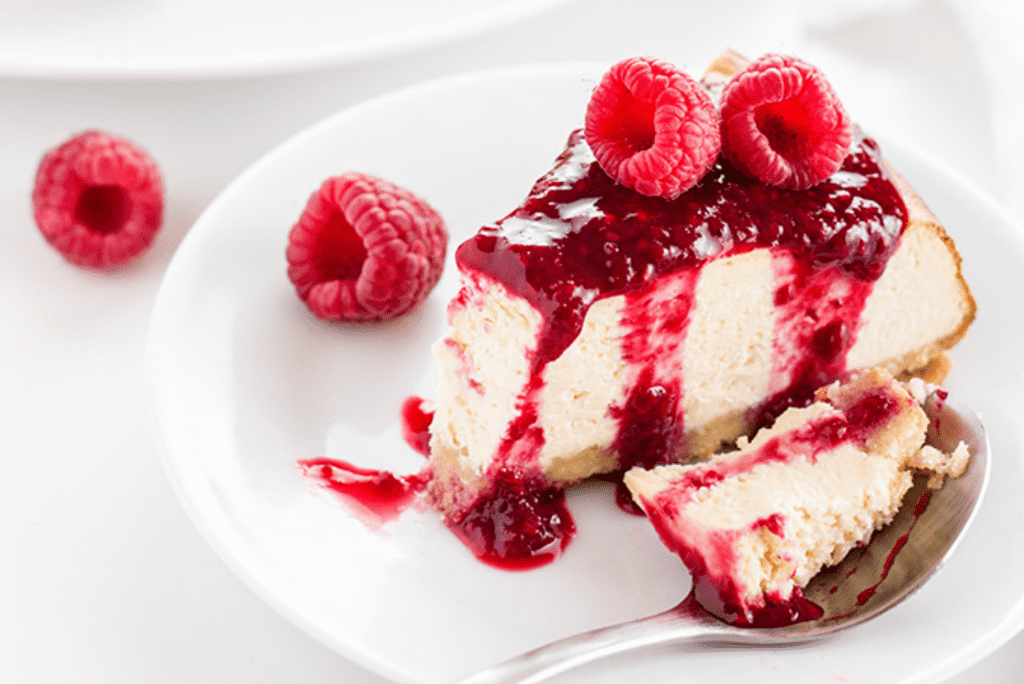 I've saved the best for last – Keto cheesecake. I simply fell in love with this recipe. Cheesecake has always been one of my favorite desserts because it's never too sweet nor too savory. A perfect cake for someone who doesn't have a big sweet tooth but enjoys an occasional dessert.
When it comes to this cake, it has a perfect texture and a nearly perfect balance of flavor. However, I used a little less sweetener for the filling. Of course, I served it with some home-made raspberry jam. The taste is perfect. If you don't like raspberries, it also tastes amazing with blueberry jam (sugar-free, of course).
Keto Desserts to Sweeten Your Life
One of the most difficult things when you go on keto is saying 'bye-bye' to all the sweet treats that you used to enjoy.
Even if you don't particularly have a sweet tooth, everyone has a guilty pleasure. That's exactly a type of person that I am.
However, as you can see from the list I made, I managed to find delicious keto desserts to substitute for the ones I used to enjoy in the past.
Thus, I still didn't find a perfect recipe for a keto apple pie. Maybe you know one?
Remember that all it takes to find the flavors that work for you is some patience and experimentation. So, don't be afraid to experiment and soon you'll (re)discover your favorite flavors again.
Be sure to check out some of my favorite keto dinner and breakfast ideas along with some delicious keto side dishes before you start eating your desserts.