Most people run very busy lives. Always preoccupied with meetings, work and other responsibilities often leaves us with little to no time to eat. Not having time to eat results in buying snacks that might be not too healthy for us. However, if you're following the keto diet, most of the snacks are off limits already. And that's where Keto Chow steps into the picture to save your day.
In short, Keto Chow are meal replacement shakes. Don't get confused, these shakes won't substitute a steak but they might be a good choice for breakfast or cover a light lunch when you're stuck between meetings.
In this Keto Chow review, you will learn the good and the bad about Keto Chow, whether it's worth your money and which are the best flavors to choose.
So, What is Keto Chow?
Keto Chow are meal replacement shakes and soups. They are designed for replacing meals when you're in a hurry and still want nutritious food. Let's take for example breakfast or lunch. Of course, don't get too excited, Keto Chow won't replace a three course dinner or a steak but it could be a good substitute for lunch in between meetings.
With each serving of Keto Chow, you will get 1/3 of your daily vitamin, protein, electrolyte and other nutrient needs. You can mix it with anything from water to heavy cream in order to match your calories request. This means that one portion of Keto Chow can vary from around 800 calories to several thousands.
Technically, Keto Chow could replace all of your daily meals. However, drinking all of your meals may take away part of the joy of food out of your life. That's why most people choose the meal replacement option 1 – 2 times per day. This way you can save time and energy that is required for cooking. Of course, you will spare yourself quite some headaches as you will have less of 'what to eat' questions.
Keto Chow Review – The Flavors
Keto Chow has a variety of flavors that range from savory to sweet. So, it can satisfy the needs of those who have a sweet tooth and those who prefer a savory soup. So, let's look into their flavor profile a bit more.
The Savory Flavors
Keto Chow has a lot more sweet flavors than savory ones. Currently there are 4 types of soup that you can try. Here are the flavors with some personal comments about each:
The Savory Chicken Soup – honestly, this one tasted best out of all the four. I prepared it with heavy cream which gave it some nice texture are creaminess for the flavor. I tried making it with water and a little butter for a lighter meal but the taste was very underwhelming and I didn't even finish eating it.
The Spicy Taco Base – I was very excited to try this one, as I particularly enjoy spicy food. However, the soup was very mild and bland. I used a mixture of bacon fat, butter and cream to make it.
The Tomato and Basil – the flavor of this one was very far away from the original. However, I made it with water and some butter, so maybe more fat would have saved it.
The Beef Soup Base – this one tasted like something that came out straight from the packet, even though I used a lot of bacon fat, butter and various seasoning to make it better.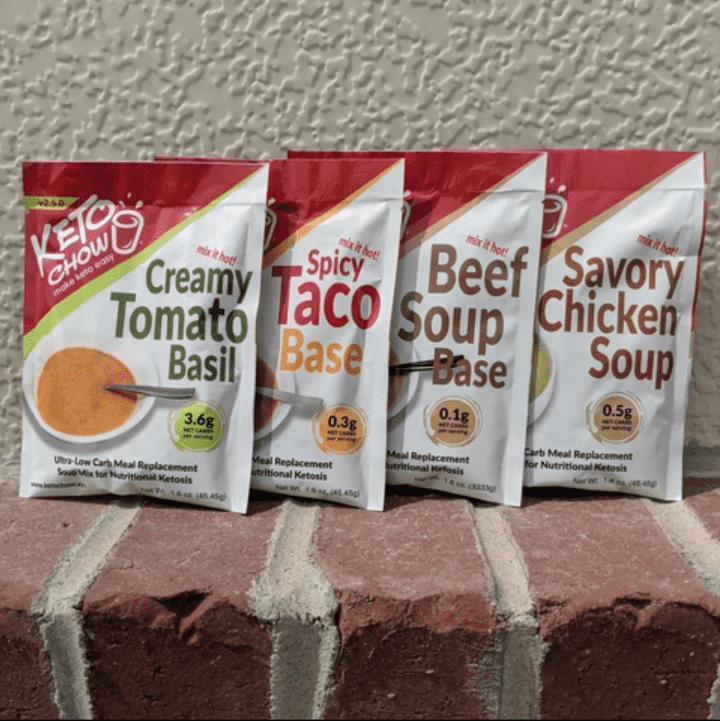 Overall, it's great that Keto Chow is trying out savory flavors but the products still have a long way to go. If you're still curious to try the soups, I would recommend to start from the samples. This way, if you won't like the flavors, you won't feel like you wasted a lot of money on a product that is not worth it.
If you're the type of person who expects your food to bring you joy, even the replacement meals, better choose the sweet flavored Keto Chow shakes. When it comes to sweet meals – they're actually very good at what they're doing. The shakes are not perfect but based on what the market has to offer – they're one of the best options.
The Sweet flavors
So, here's my sweet flavors Keto Chow review. Just like with the savory flavors, you can order a sample pack. Personally, I tried already 12 out of 18 sweet flavors, so still have six more to test.
Here are my favorite flavors that I can recommend everyone to try:
Chocolate Mint – I've always loved chocolate mint ice cream, so this flavor was among the first ones I've tried and I wasn't disappointed. Be sure to add some heavy cream to the mixture – this way your shake will be extra delicious.
Salted Caramel – this one is my second favorite choice. It's a great keto meal replacement for those who don't enjoy extra sweet food or drinks. The salt in the caramel gives it a lightly savory flavor so the caramel isn't overpowering. Another must-try on the list.
Raspberry Cheesecake – The light sourness of the raspberries combined with the creamy flavor is a classic flavor duo that very little people can resist to. In Keto Chow case, they did a pretty good job with this flavor, so you can try it out.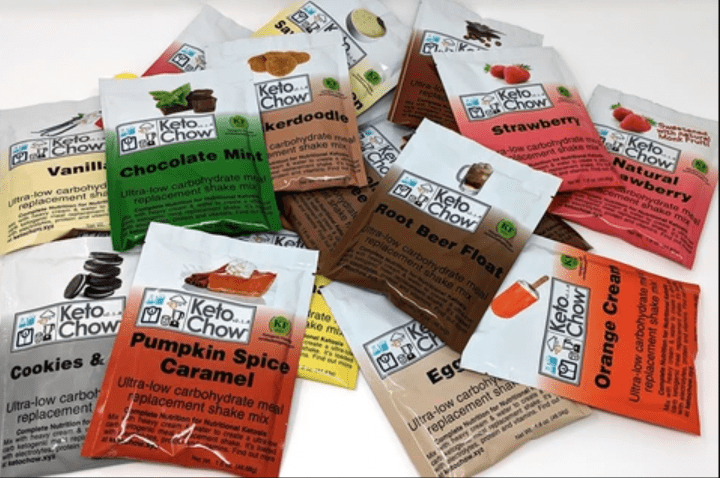 If you're wondering are there any flavors I didn't like, then yes, there were. The only flavor I particularly didn't enjoy was the Orange Cream. I never enjoyed artificial citrus and orange flavors and this one is not an exception. Somehow artificial orange flavor always has this plastic-like aftertaste. So, I would recommend to skip this flavor or if you're curious – better start with ordering a sample.
Keto Chow Reviews by Customers
Overall, most Keto Chow reviews that you can find on their website are positive. People especially enjoy the sweet flavors and how the shakes don't taste like something that came out of a package. They have some dissatisfied customers but most of them are unhappy because of shipping reasons.
When it comes to Keto Chow reviews by customers who tried out the savory flavors – there are still very little reviews, so it's hard to tell whether they enjoy it or they don't. However, there were several comments from very disappointed customers about the soups flavors.
Maybe there is flavorless option?
Yes, indeed there's a flavorless option. If you're not a fan of artificial flavors and just want the nutrients – you should go for the Base Powder 2.1. It's the newest version. The main difference in choosing the Base Powder instead of the shakes is protein. The Base Powder doesn't have any proteins.
Keto Chow Ingredients
Since Keto Chow has a sweet and a savory version, they have different base ingredients. Below you will find a shorter version of each ingredient list. But first, let's go over the most important ones.
Here are the common ingredients for soups and shakes:
Vitamins A, B, C, D… and the list could go on and on. These products have literally the whole rainbow of vitamins.
Protein – besides the flavorless Base Powder, the shakes and the soups are a great source of protein. So, it's great for those who enjoy sports.
Minerals, such as sodium, calcium, potassium, magnesium. Supplementing your body with enough minerals will ensure that your body stays strong and full of energy throughout the day.
If you're interested in learning more about the ingredients used in Keto Chow products, below you will find the nutrition values of both sweet (left) and savory (right) products, as well as detailed lists of ingredients used.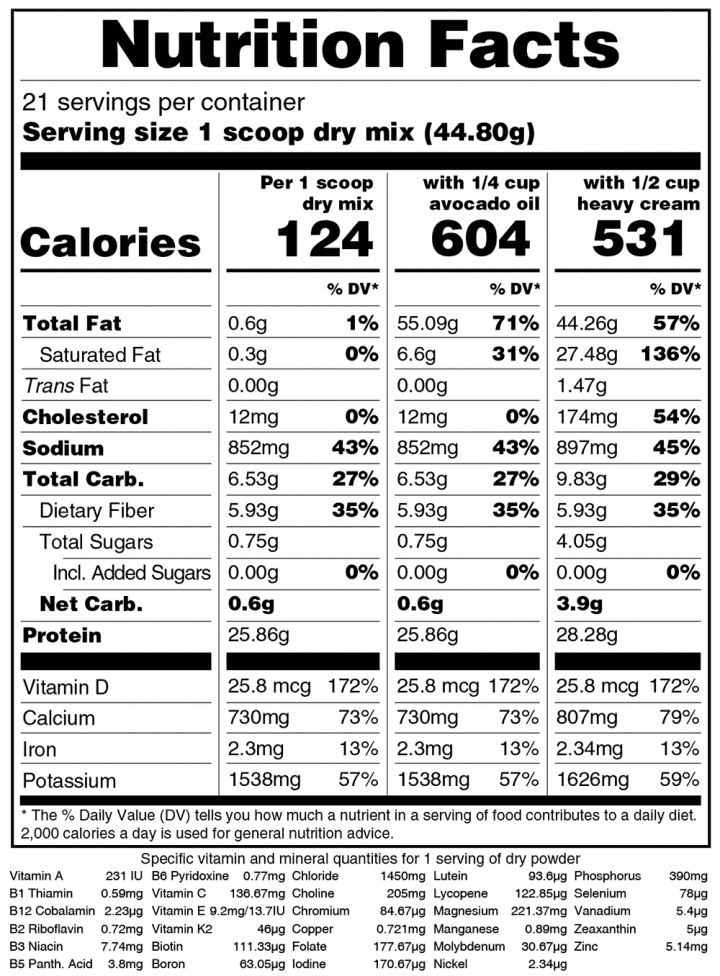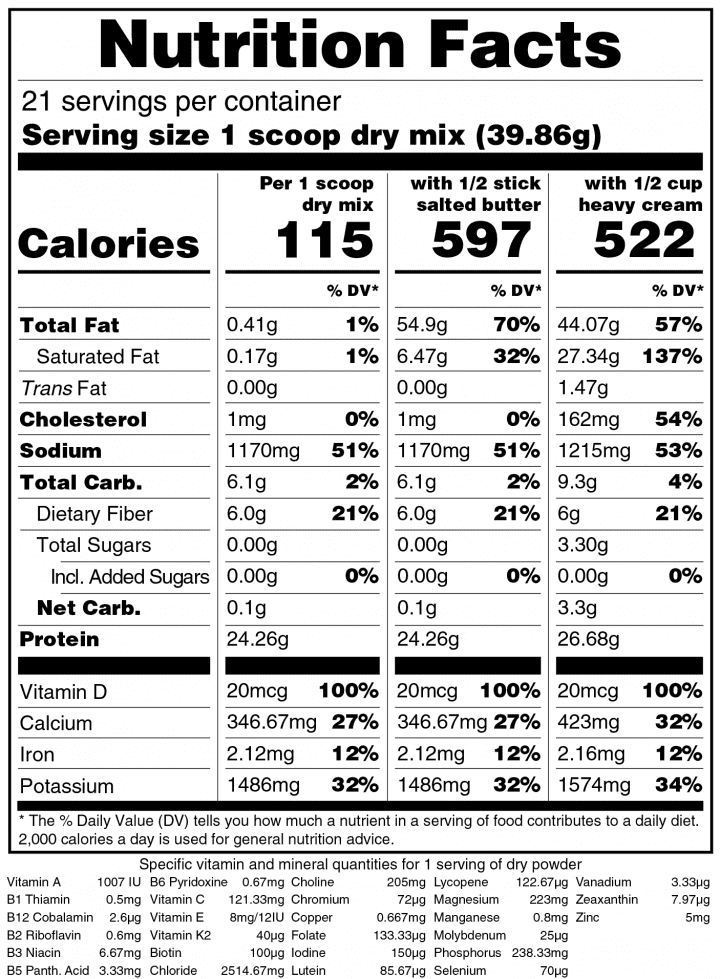 Keto Chow Sweet Shakes Main Ingredients:
Milk Protein Isolate, Acacia Gum, Potassium Citrate, Salt, Xanthan Gum, Choline L-Bitartrate, Magnesium Malate, Potassium Chloride, Flavors, Vitamin Blend and Sweetener (depends on chosen flavor).
Keto Chow Savory Soup Main Ingredients:
Powdered Beef Protein, Powdered Beef Bone Broth, Acacia Gum, Salt, Potassium Chloride, Calcium Phosphate, Magnesium Malate, Xanthan Gum, Potassium Citrate, Choline L-Bitartrate, Vitamin Blend.
You can review the full and up-to-date ingredients list on the Keto Chow website.
Keto Chow Review: Does it Actually Work?
Yes, yes and yes. As mentioned before Keto Chow is a good meal replacement for lunch or breakfast during a busy day. However, the only downside to it, is the fact that it has to stay at least 30 minutes after you're done mixing it. So, if you have a fridge at the office – that makes it way easier.
Of course, you can keep it overnight in the fridge. However, since it's supposed to be treated like milk, carrying a shake around with you won't be the best idea, especially on a hot day.
As I mentioned before in this Keto Chow review, the sweet shakes taste very good while the savory flavors didn't exactly reach my taste expectations.
Compared to other meal replacement options available in the market, these are among the best options taste and nutrition wise. What I particularly liked about the sweet keto shakes is that they do taste similar to the real deal, of course, only if you put enough fat into them.
Bottom Line (TL;DR)
Below you can check out a short version of pros and cons of Keto Chow. In general, if you are willing to stick to a ketogenic diet and have a busy work schedule, the Keto Chow products will spare you some of your precious time, help you stick to your diet and not slip. They might even make the whole dieting into a much more pleasurable experience.
Good
One serving can cover 1/3 of your daily nutrition needs
Keto Chow offers a wide selection of products
Has sweet and savory options
All the products are very nutritious
Products are rich in vitamins
Sweet shakes taste delicious
Has a flavorless option
Sold in sample sizes
Full of minerals
Constantly updated products
Bad
Some savory soups are disappointing in terms of taste
It can get a bit pricey
Has to sit for at least 30 minutes before you can actually consume it
Ready-to-drink product needs to be treated like milk, so no carrying around with you
Overall, my experience with the Keto Chow sweet shakes was good. I took them once a day for around a couple of weeks, so they worked fine as a meal substitute. I would drink them in the morning and prep them in the evening. Unfortunately, my work space doesn't always have a fridge around, so taking them for lunch for me was not an option.
I hope my Keto Chow review helped you to learn a bit more about the product and its benefits. Another reason why I would indeed recommend trying this product out is the fact that it's constantly updated and even the 'old' products keep on getting their better and more effective new versions.
It's clear that it's a family business and the person behind it is passionate about what he is doing. So, thumbs up!