Chinese food is well known for its delicious sweet and sour flavor palate. As you know, sweet flavors usually mean carbohydrates. So, is there a possibility to have keto Chinese food?
If you're wondering whether keto Chinese food exists – then you've come to the right place. Here you will find 20+ delicious keto Chinese food recipes.
Each of the recipes featured on this list will help you (re)discover your favorite Asian-inspired sweet and sour flavors without the load of carbohydrates.
Below you will find some delicious keto Chinese soups, stir-fry recipes, chicken dishes, beef recipes, pork meal ideas, salads ant vegetarian keto Chinese food.
Keto Chinese Soup Recipes
There's no better comfort food than a bowl of soup on a cold day. Especially when you can make a low-carb, delicious Asian-inspired, flavorful and keto-friendly Chinese soup. Below you will find some of the best keto soup recipes.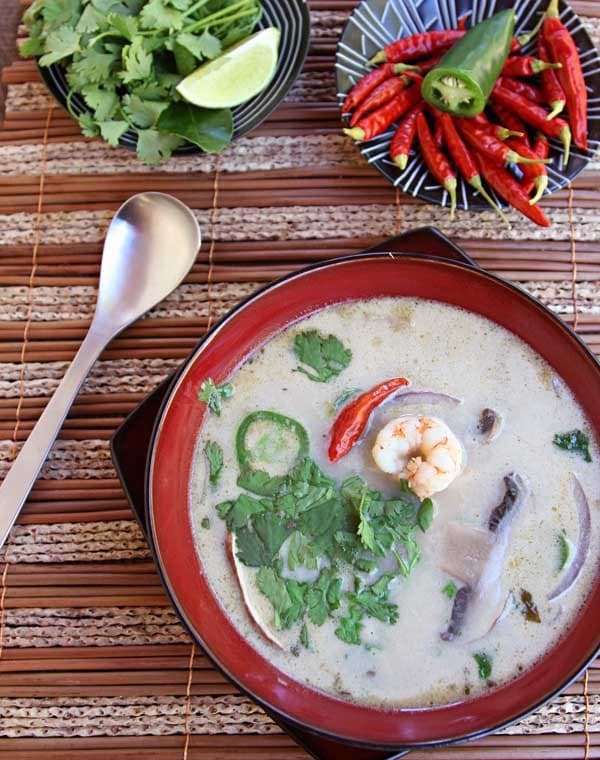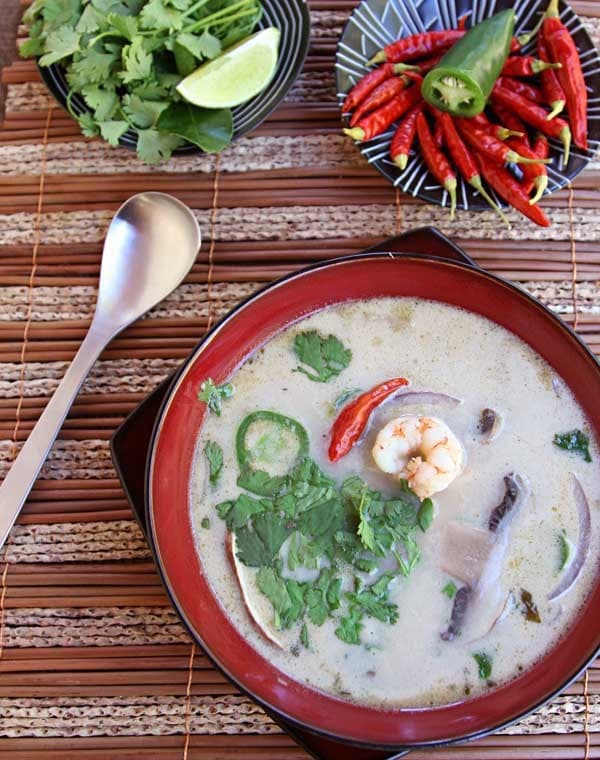 This delicious Thai Coconut soup is so easy to make – you won't even believe. Only 30 minutes and you'll have a restaurant quality sweet and spicy bowl of incredibly flavorful soup.
If you want to make the soup less spicy – simply skip the chili. One of the best things about this soup is how the lime juice elevates the whole dish to a new level and gives it a very light and refreshing taste.
TIP: making the soup with both shrimp and chicken will bring out the most sophisticated flavors from the dish.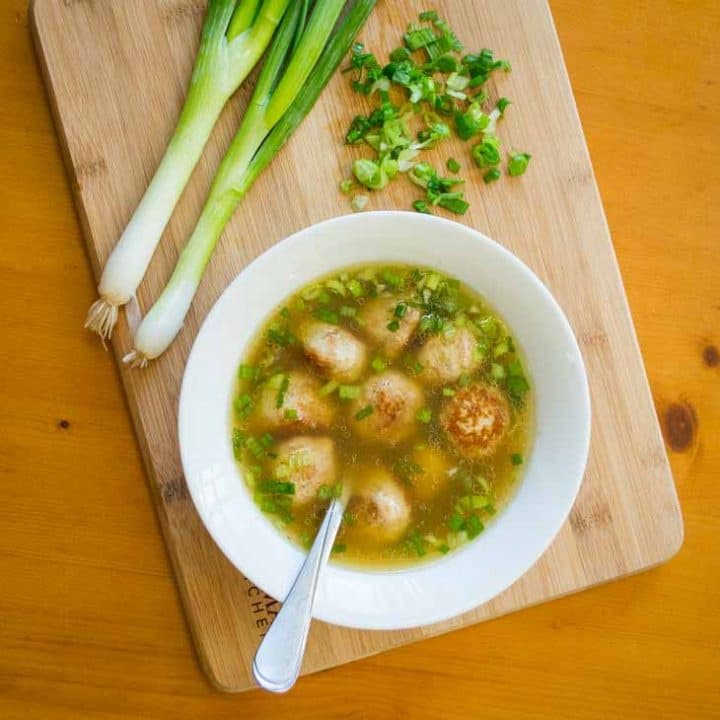 This keto chicken meatball soup is perfect for those, who enjoy only a little spice in their Chinese keto food.
Making this soup requires less than 10 ingredients. Most of it you'll be able to find in your kitchen. What gives this soup a unique flavor, is the combination of ginger and chicken.
Ginger highlights the chicken flavor and turns this soup into a perfect dish for a cold winter evening.
TIP: to make this dish more fatty and fulfilling – use a little coconut milk. It will add some light texture to the soup and make it extra homey.
Miso Soup – Delicious Keto Chinese Food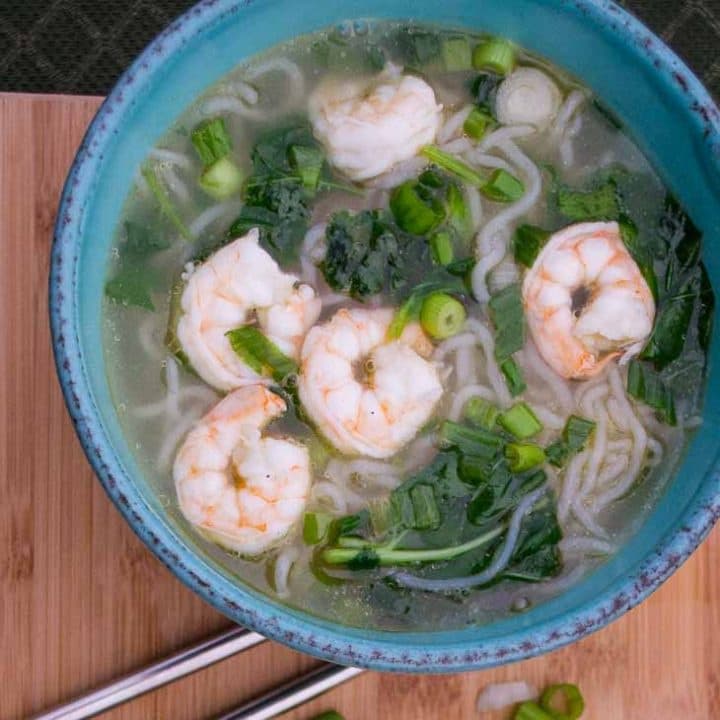 For those who enjoy some hot soup even on a hot summer day – Miso soup is one of the best choices. Packed with incredible sweet, sour and spicy flavors – it's an absolute must to try.
What makes this soup unique, is the lightness of its flavor. You can pick the protein of your choice to personalize the dish. The author of the recipe recommends to select from: shrimp, chicken, beef and turkey.
TIP: to make the soup extra light, choose shrimp or salmon. If you want a more filling dish – choose the beef option.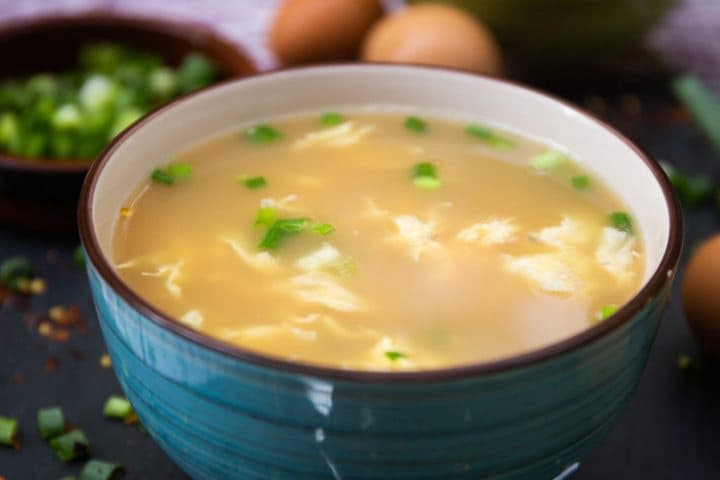 Only 5 ingredients and you will have an incredibly homey and delicious broth-like soup.
What is particularly fascinating about this soup, is how easy it is to make it. To tell you the truth, it is one of the easiest Keto Chinese foods to make. Also it requires very little cooking time – only 10 minutes and you have a perfectly balanced soup ready to be eaten.
TIP: if you enjoy your food a little spicier – use some chili flakes to spice up the flavor palate.
Keto Chinese Food: Delicious Salads
Here you will find some delicious keto-friendly Chinese salads for you to enjoy on a hot summer day or as a side dish. Each of the salads has the amazing sweet and sour flavors with those delicious Asian spices.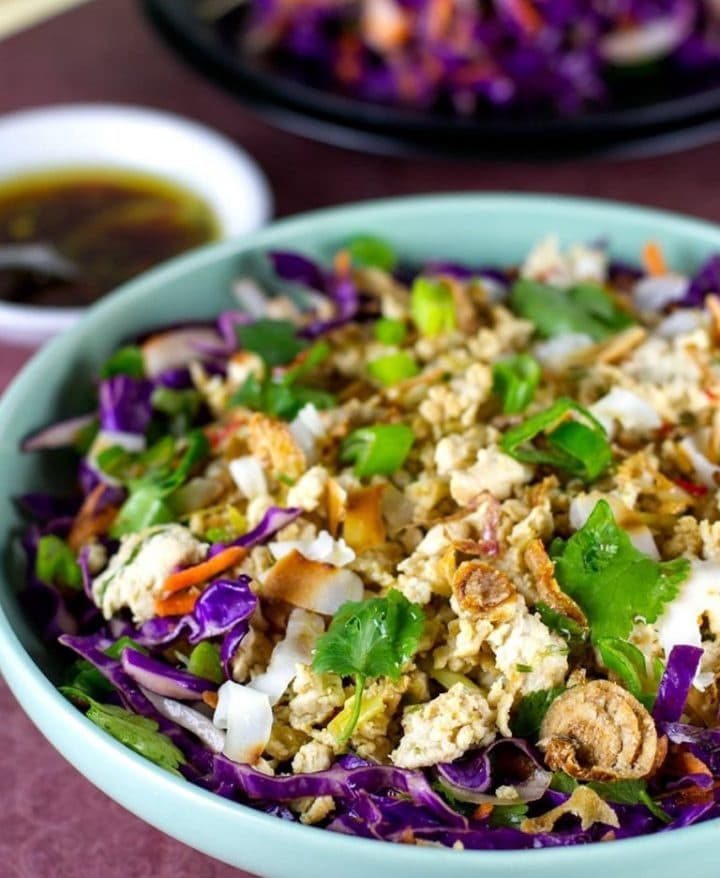 Absolutely beautiful, Asian-inspired salad dish that will make you feel like you just had a full meal. It's a perfect dish for a hot summer afternoon.
This salad is served cold and can be easily transported, so it's a perfect keto meal to take on the go.
The salad is rich in colors and flavors, so it's one of the best cold keto Chinese foods to enjoy on a hot summer day. Eat it for lunch, serve it for friends on a dinner party – it will surely be the star of the party.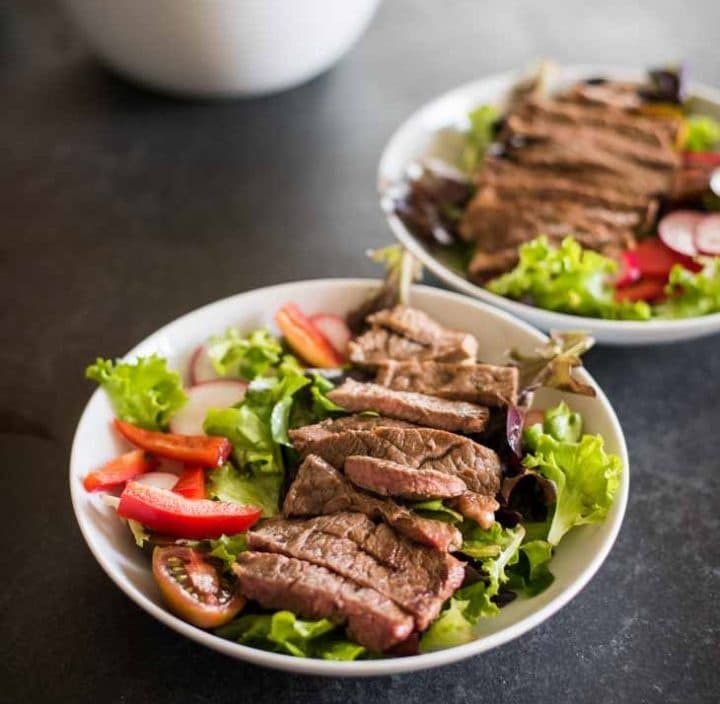 If you have a busy day, don't want to spend a lot of time in kitchen but still want to enjoy a delicious meal – this salad is the perfect choice. Making this delicious marinaded steak salad will only take you 15 minutes and require only 10 ingredients.
This salad is best served fresh and hot, as you know re-heating beef can result in overcooking it. So, to enjoy the best experience out of this salad, be sure to serve them fresh.
TIP: once you cook the beef – let it rest for a few minutes. Immediately slicing the beef will result in all of the flavorful meat juices running out. If the juices run out – your steak will be dry.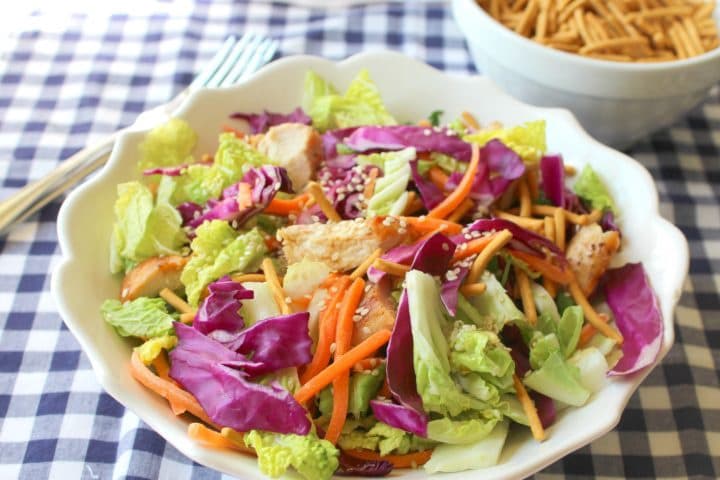 Absolutely gorgeous and delicious. There's no better way to describe this dish. The salad is rich in colors and as equally rich in taste.
It's incredibly easy to make, as most of the ingredients are simply chopped and tossed into the same bowl. What makes this keto Chinese food special, is the Asian-inspired dressing.
The dressing is very simple to make and can be refrigerated for up to 4 days. This means you don't need to make every time you want to enjoy a delicious Chinese chicken salad.
You can pack it as your keto lunch on-the-go, serve it to friends or turn into a delicious dinner for a refreshing evening.
TIP: to keep the salad fresh, only pour the dressing right before you eat it. Otherwise, your vegetables could get soggy and the salad won't taste fresh.
Keto Chinese Chicken
Chicken is one of the most popular protein choices when making regular and keto Chinese food. Here you will find some classic low-carb Chinese chicken recipes mixed with some new and exotic keto friendly chicken recipes.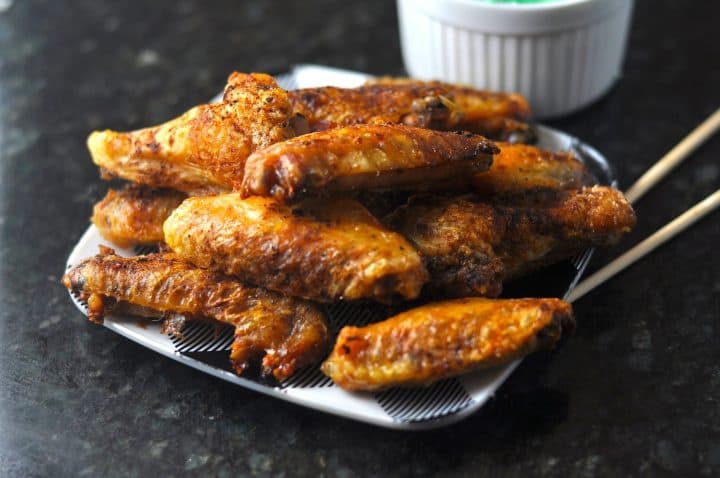 Incredibly easy to make and equally as tasty to eat. These 5-spice Chinese chicken wings are an extremely satisfying finger food option.
What makes finger food even more tasty, is the fact that you can get dirty while eating them. Remember those days when you were a child and would eat everything by hand? How satisfying was that?
So, let's be honest, everything tastes better when there's no cutlery involved. Just like when you're eating pizza, tacos, burritos or chicken wings.
Serve them at a party, or enjoy them while watching a movie at home. The taste and the whole eating experience is extremely satisfying.
TIP: if you don't have the Chinese 5 spice mix or want to have a homemade one – click here.
Sesame Chicken – Classic Keto Chinese Food Flavors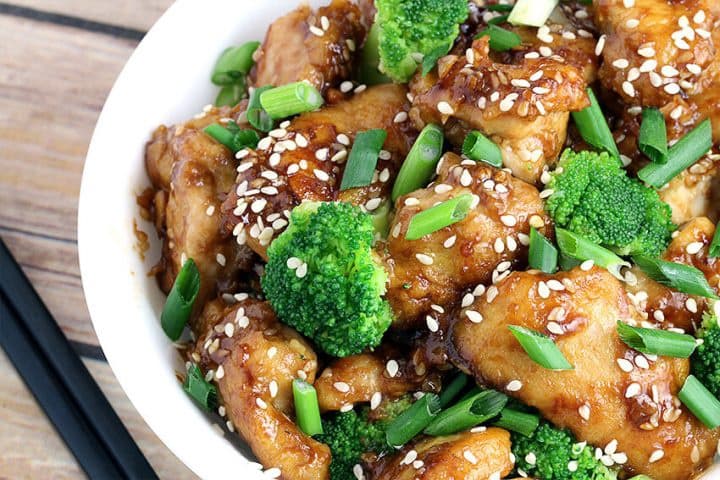 Sesame chicken is one of the classic Chinese dishes you could come up with. So, knowing how to make a low carb version of it, is a must. Especially if you're truly a fan of Chinese food.
What is special about this recipe, is the delicious coating of the chicken and a very smartly made sesame sauce. This chicken dish is low in carbs but very rich in flavor.
It's one of my favorite keto Chinese foods when I'm need of comfort and those fragrant Asian scents at home.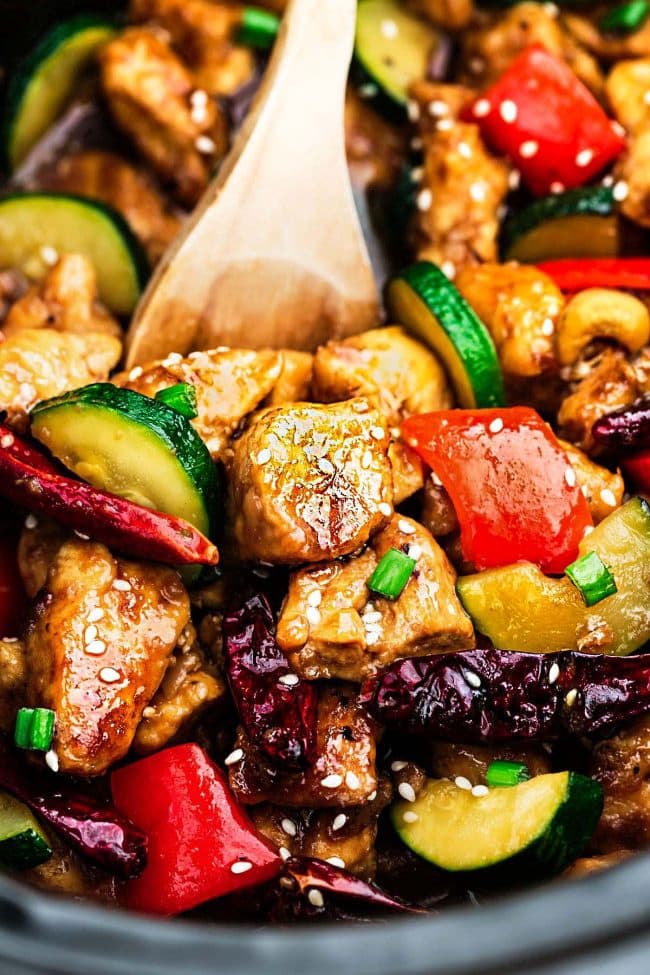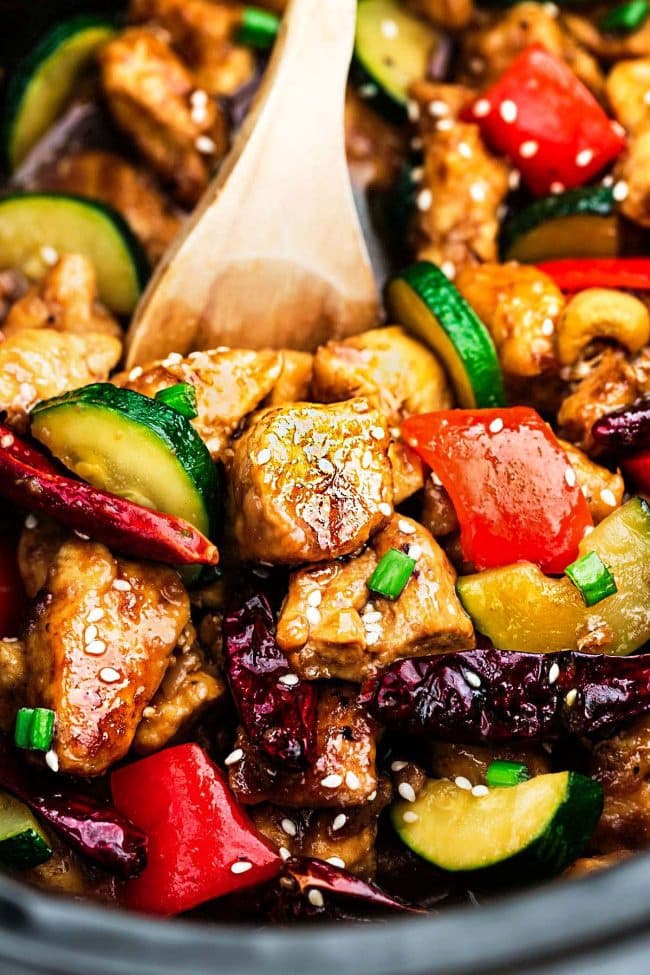 An absolute must-try. This one pan dish is perfect for a busy work day. The dish is keto-friendly and will definitely bring back some of those delicious Chinese take-out flavors that you enjoy.
What's really great about this dish, is how easily it can be customized. You can pick your favorite vegetables and adjust the spiciness level according to your needs. Which means you can make the dish very mild and children-friendly or you can make it super spicy. However, keep in mind that adding too much heat in the dish will result with all the other flavors being overpowered.
So, if you feel like you miss your local Chinese take out, be sure to try this delicious keto alternative that you'll make in less than 30 minutes.
TIP: make this stir fry on a busy weekday – it requires only one pot and only 30 minutes of your time!
Sweet and spicy – it combines those delicious Asian flavors without having the unnecessary carb load in the dish.
Low Carb Chinese Beef Dishes
Beef is a popular protein choice in Chinese cuisine. Here you will find some classic low-carb Chinese beef recipes along with some fresh and exotic keto-friendly beef dishes.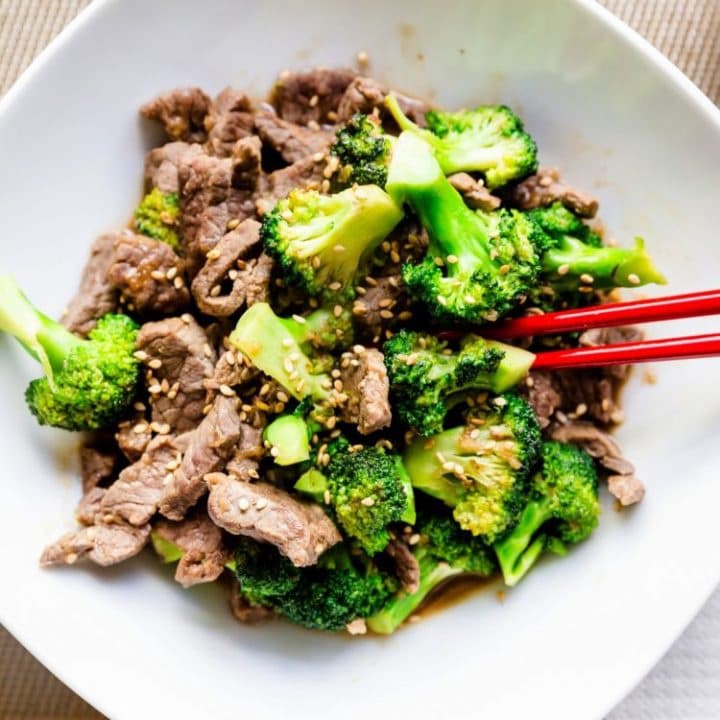 Would you believe me if I told you that this beauty is not only low in carbs, but can also be made in 10 minutes?
If you don't believe – try it. Even if you believe me – still try it, you simply must make this dish. It's easy, quick and effortless – a perfect keto dinner idea for a workday.
Beef and broccoli is a classic Asian cuisine combination. The sauce used in the recipe is absolutely delicious – it's vibrant and fragrant.
TIP: use leftovers as keto lunch for work. Even after being heated up, it tastes delicious.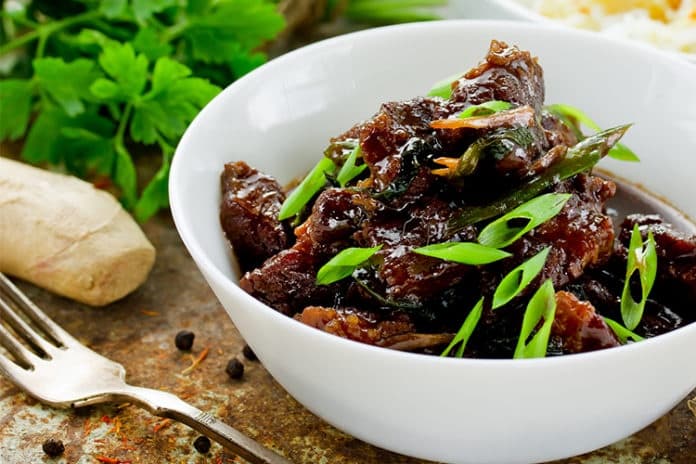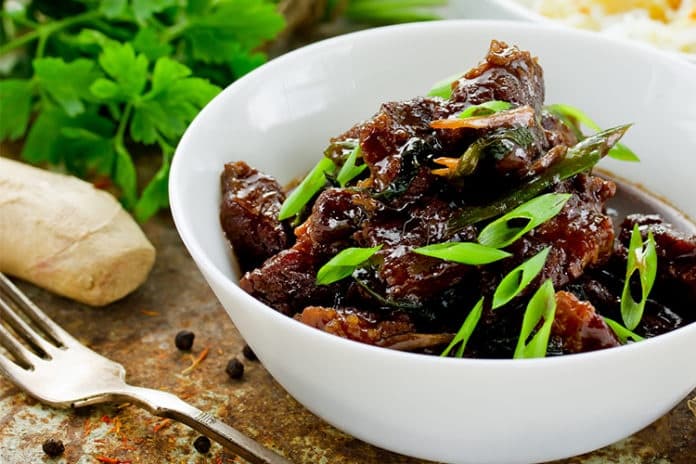 In just 40 minutes you will have an incredible citrusy meal, ready for you to enjoy.
The combination of beef and orange can sound a bit strange, however, the flavors work amazingly well together.
This exotic Asian-inspired low-carb dish is easy to make and has less than 2g of carbs per serving.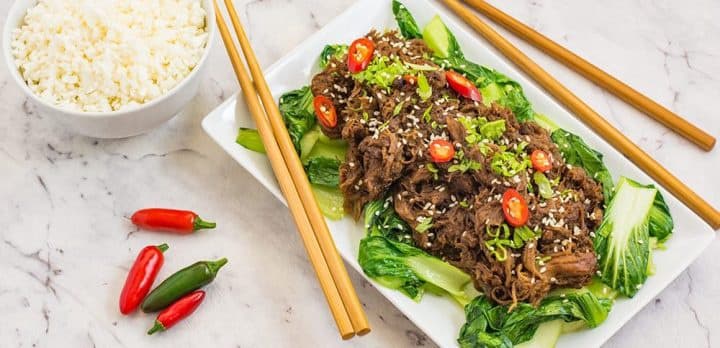 This delicious beef dish is very low in carbs but very rich in flavor. Infused with ginger, chili and garlic it is the perfect dish for a cold evening.
The only downside to this recipe – if you don't have a pressure cooker it will take you hours to make it.
It's the ultimate Asian-inspired comfort food that will bring warmth even on the coldest winter evening with only 2g of carbohydrates per serving.
TIP: try making some lettuce-wrapped tacos with the shredded meat. The taste is amazing and it's very fun to eat it.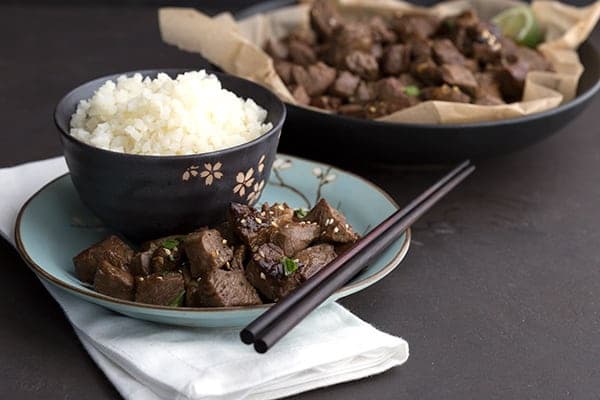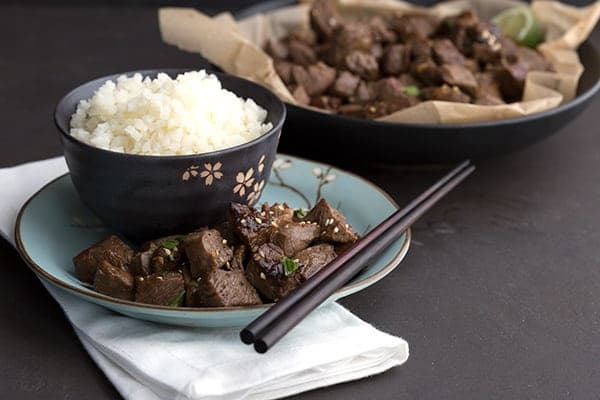 These Asian-inspired steak bites are very easy to make and the whole family will enjoy it.
It's dairy free and keto-friendly, so will suit the needs of several different diet needs. With only 9 ingredients and 20 minutes total cooking time you will have a meal that will definitely make you feel like you're in Asia.
TIP: serve it like lettuce tacos – delicious, healthy and nutritious.
Keto Chinese Pork Recipes
Pork is among the most popular protein choices in Chinese cuisine. Below you will find some classic low-carb Chinese pork recipes along with some refreshing and unexpected keto-friendly pork dish ideas.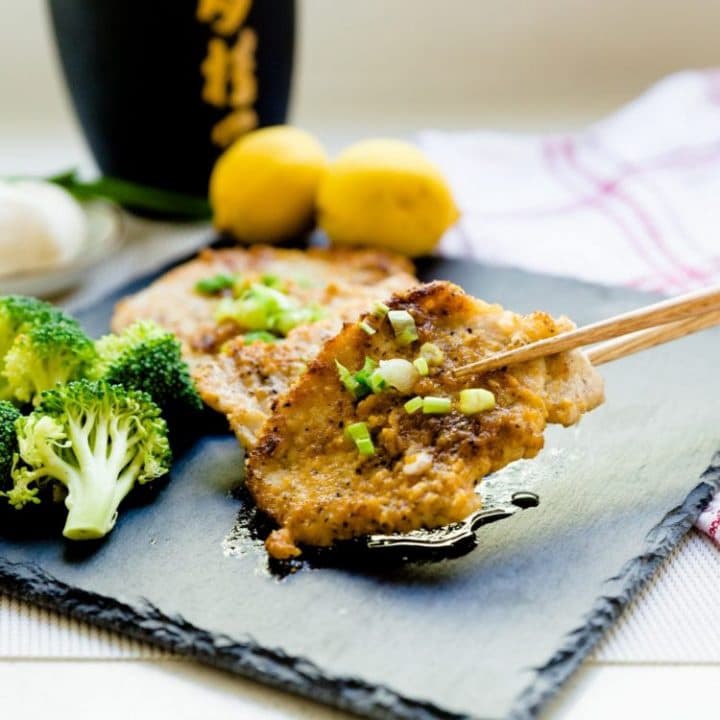 Everyone knows that a pork chop is the best cut of pork you can get. So, why not add some Asian flavors to it?
This keto food is easy to make and is extremely flavorful. Infused with garlic, Japanese sake and soy sauce this dish is absolutely delicious and melts in your mouth.
Even though it's technically a Japanese dish, it tastes like keto Chinese food you could eat instead of take out.
TIP: make extra to take to work the second day. It's delicious and easily transportable.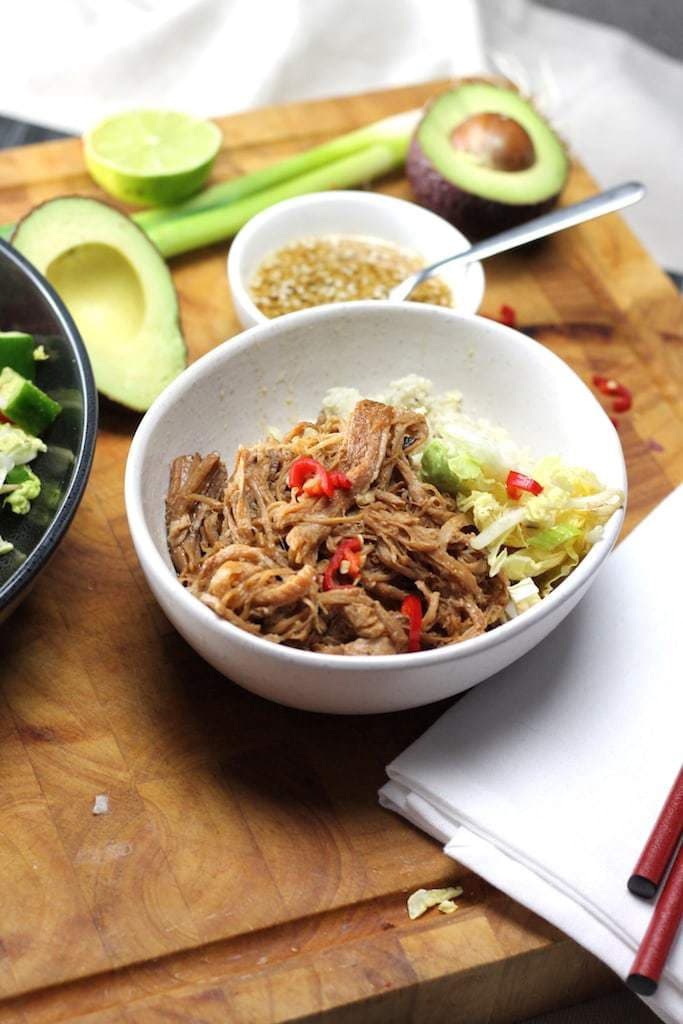 Since we already covered Chinese pulled beef, time for some Asian inspired pulled pork recipe.
By using this recipe, the pork turns out sticky, glistening and melts in your mouth. Flavor wise it's sweet with a little spicy aftertaste.
In general the best way to make it is by using a slow cooker. However, if you don't have it, use any oven-friendly dish that has a lid. The result will be quite similar.
TIP: since it's slow cooked, start making it in the morning, so that 8 hours later you could enjoy it for dinner. Completely worth the wait time.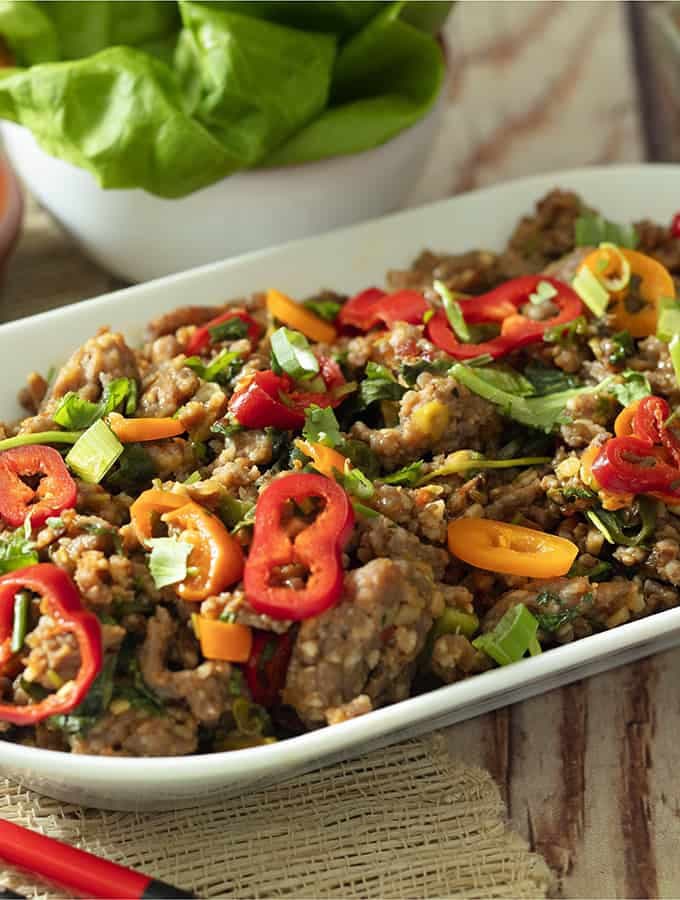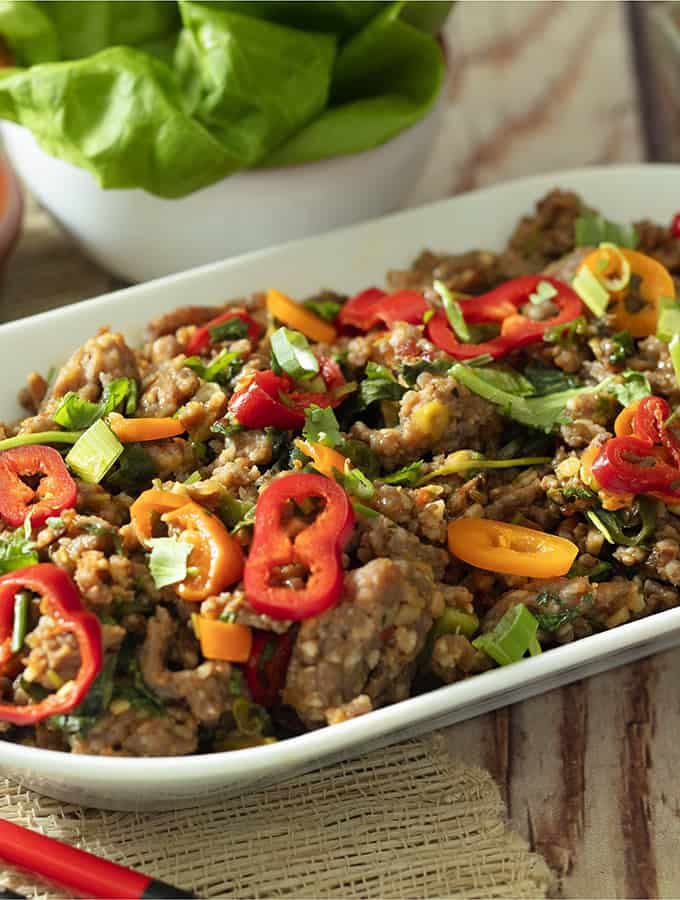 Who doesn't like some spicy ground meat? What's great with grinned meat is that you can turn it into nearly any dish and serve it with nearly any side dish.
What is particularly great about this keto Chinese food is the fact that it can be made in less than 20 minutes. Adjust the spiciness level to your taste and enjoy – only 4g of carbohydrates per serving.
TIP: serve it with delicious keto-friendly veggies.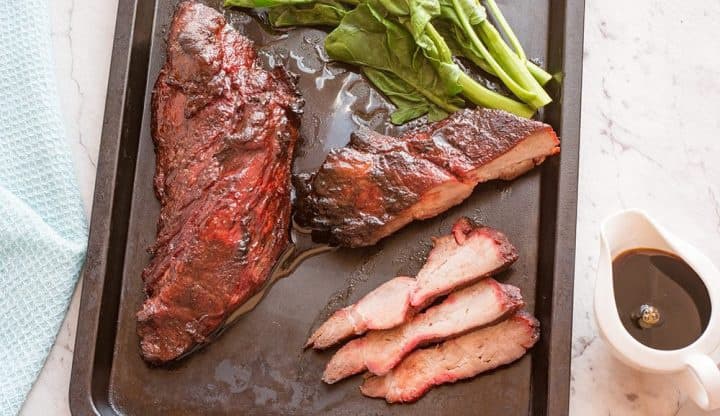 BBQ sauce is well known for being one of the least keto-friendly sauces as it is very rich in carbs. However, this BBQ flavored keto Chinese food has only 1g of carbohydrates per serving.
What I particularly liked about this dish is how quick you can make it. It takes only 6 ingredients and less than an hour of cooking time.
It's a great dish to make on special occasions and for casual workdays dinners.
TIP: serve it with some cauliflower rice, they're easy to make and compliment the pork taste very nicely.
Vegetarian Keto Chinese Food
In this section you will find some delicious low-carb vegetarian Chinese recipes. Get ready for some delicious and exciting meatless keto Chinese food!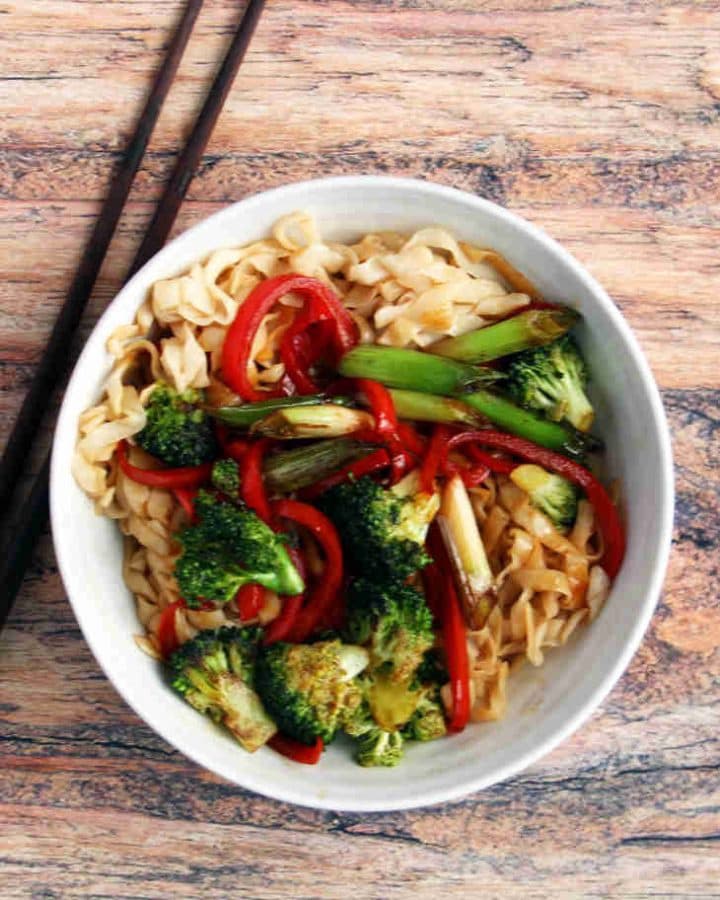 To start with, if you don't know what chow mein means – chow stands for stir-fry and mein means noodles. So, to put it in other words, it's a stir-fry with noodles.
This keto Chinese food is low in carbs – only 9g per serving and completely vegetarian friendly.
Infused with some amazing garlic and ginger flavors, it's an amazing dish that even meat lovers will enjoy.
TIP: if you're not vegetarian and simply must eat meat with your every dish, use this recipe for making a side dish.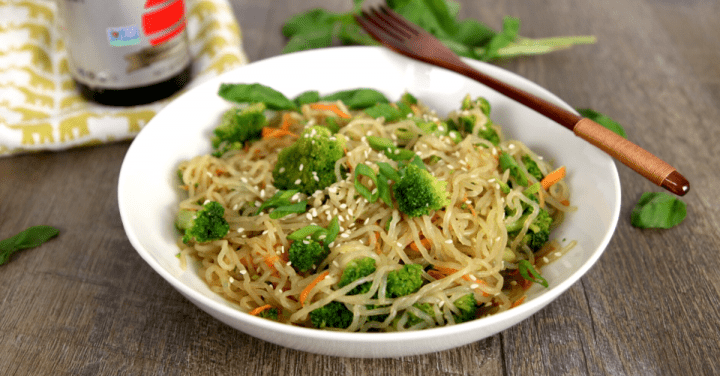 Easy to make and gorgeous to look at. This vegan keto Lo Mein is absolutely delicious and nutritious.
It's full of those spicy Asian flavors that simply take you to a short trip to China, or if you've never been there, at least to the nearest China town.
Even though it has very little carbs in it, the taste is very authentic and simply irresistible.
TIP: Be sure to make extra as you'll definitely want to refill your plate again and again!
So, is it Possible to Get and Make Keto Chinese Food?
Yes, it is! Making keto Chinese food requires some imagination but it is indeed possible. Keep in mind that you already have a list of recipes to get you started.
Even though Chinese food doesn't sound like something that could be low in carbs – it can be. As you noticed from the list, keto Chinese food is easy and quick to prepare, which means it can be enjoyed on any workday evening.
Making some take-out -like food means choosing a healthier option. Also, you'll always know exactly how much carbs are in the dish. However, if you feel extremely lazy, have no time to cook or simply miss take-out food, check this list of keto-friendly fast food options.