Let me guess, you started keto and now you're starting to experience your first cravings for sweets? Or, maybe, you just got tired from your regular keto candy and now you are looking for some new low carb candy alternatives?
Whichever situation it is – you're in the right place. Here you will find a list of (almost) carb-free candy that you can purchase online and simply get them delivered straight to your doorstep. This means that you won't need to run around any supermarket and spend your precious time on low carb candy hunt.
If you're a beginner who's just starting your keto journey – keep on reading, I'll share some valuable insights about eating sweets during keto. Also, I'll share my no-longer secret that helped me and maybe will help you to survive those keto cravings when it gets REALLY hard.
If you're here just for the candy, click here to jump straight to the list of low carb candy that you can purchase online.
Why It's Sometimes Ok to Have Low Carb Candy?
Just like with anything in life – if you can't have it, most likely you will want it. That's why it's better to give yourself a treat every once in a while. This way you will reduce your keto candy cravings, rather then end up eating a bag of not-so-low-carb candy.
As long as you control the cravings and it's not the cravings that control you – it's okay to have a treat. However, you shouldn't turn your treats into snacks. A handful of low carb candy can seem an innocent amount. Yet, it can be just enough to compromise your ketosis.
So, be sure to keep choosing fatty cheeses, meat or vegetables as snacks and keep the keto candy as treats. You can stack some in your pantry. This way, when you'll feel like you can't control your cravings, you'll know where your low carb candy treats are.
What Actually is a Keto Candy?
A keto candy is a sweet treat that has a low-to-no carbohydrates. But, do such things exist? In fact -yes, they do. In general, you could turn any candy into a keto candy. However, the amount that you could would be very low as it has to fit into your daily carbohydrate intake amount.
That's why it is better to choose candies that are low in carbs and low in sugar – the ones that have artificial sweeteners in them. Such candies are a lot more keto friendly than the regular full of sugar candy options. Yet, even very low carb candy still have carbohydrates. So, as mentioned before, you shouldn't turn them into snacks. To be sure that your ketosis doesn't got to waste – you should only enjoy them as treats.
Most Popular Keto Candy Sweeteners
Some of the most popular keto candy sweeteners include stevia and erythritol. These two sweeteners are well known as they have one the lowest impacts on blood sugar and are frequently used for baking.
Natural and Sugar Alcohol Keto Sweeteners
Sugar alcohol keto sweeteners have an extremely low impact on blood sugar levels. That is why when you see candy with sugar alcohol, you should subtract the amount of sugar alcohol from the total carb count.
Let's say a low carb candy has 15g of carbohydrates out of which 13g are of sugar alcohol. Then it has 2g of net carbs (15 – 13 = 2g). However, there exist some keto sweeteners which sugar alcohol should not be subtracted from the total carb count, such as Maltitol.
That is why, in order to count your carbs properly, if you ever encounter any unfamiliar sweeter – better check the facts before assuming that it doesn't count and making a purchase. This way you will be sure that the treats you eat don't have a negative impact for your ketosis.
Keto Candy You Can Buy Online
In the list below, you will find various types of keto candy that you can purchase online. Every low carb candy option on the list was personally tested, so only the best ones made it to the top.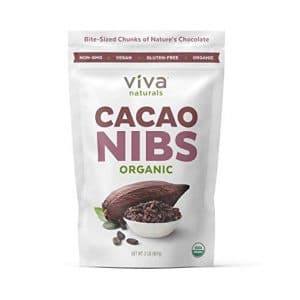 Net carbs per serving – 3g
These Cacao Nibs are real cocoa beans that were crushed into pieces. Such snack can satisfy the cravings of those, who enjoy eating crunchy chocolate.
Not only will these crunchy keto treats satisfy your cravings – they're also good for your health. Cocoa beans are full of powerful antioxidants and nutrients that have a positive effect on your cardiovascular health. Cocoa beans also help to manage your cholesterol levels and stabilize blood sugar.
So, if you enjoy healthy and crunchy keto sweet treats, you can order your pack of Cacao Nibs here.
TIP: you can just snack on them as if you were eating pop-corn or you can blend them along with several other ingredients into a delicious smoothie, or bake into a keto cake.
Ketomanna – Ketogenic Chocolate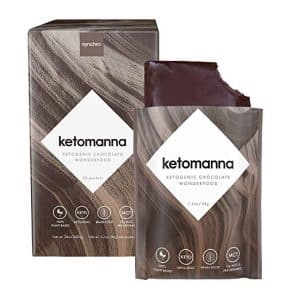 Net carbs per serving – 3g
This is a perfect keto treat for those who are not sure, whether they want liquid or solid chocolate. Let's be honest, sometimes these dilemmas occur.
With less than 3g of carbohydrates and 20g of healthy fat (12g out of which are MCT oils), this is a great choice for those who enjoy chocolate and want to have a healthier, keto-friendly option. If this sounds like you – this could be your perfect keto candy.
So, if you enjoy your keto chocolate solid and sometimes liquid, you can order your pack of Ketomanna low carb chocolate here.
ZeroChoc -Dark Chocolate With Sea Salt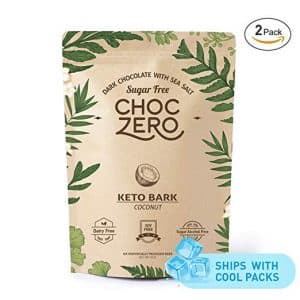 Net carbs per serving: 2-3g (depends on flavor choice)
This creamy dark keto chocolate is very recommended by many people who follow the ketogenic diet. It is GMO-free and sweetened with natural sweeteners that come from monk fruit. This delicious low carb chocolate comes in 3 flavors: coconut, almond and hazelnut.
ChocZero with almonds has only 2g of net carbs per serving. So if you enjoy your keto chocolate with crunchy almonds in it, you can order some here.
ChocZero with hazelnuts just like the one with almonds, this low carb chocolate has only 2g of net carbs per serving. If you enjoy your keto chocolate with some delicious hazelnuts in it. You can order some here and get it shipped straight to your home.
ChocZero with coconut has 3g of net carbs per serving, 1g more compared to the other two flavors. If coconut is your favorite flavor for low carb chocolate, you can order it here. You won't need to search for it in store and will get it delivered to your doorstep.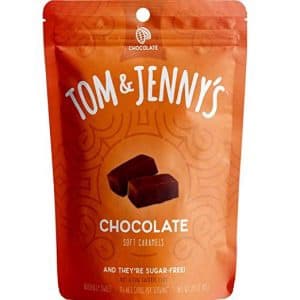 Net carbs per caramel: 2.5g
Sugar-free caramels that taste almost exactly like the real ones. Because of this amazing reason and if caramel is your guilty pleasure – this keto candy could be the answer to your sugar cravings.
These caramels contain artificial sweeteners: GMO-free xylitol and maltitol. So, if you're sensitive to maltitol, don't eat too many of these keto candies or better select another option.
If you read the reviews, you will notice that people especially enjoy these low carb caramel candies as they don't stick to your teeth and taste very similar to the real deal. Curious to try them? Order here.
NOTE: the caramels come in 5 different flavors, so pick your favorite and try. You can select from: classic, spiced rum, coffee, chocolate and ginger.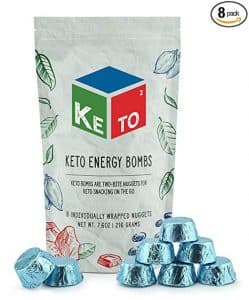 Net carbs per serving: 3g
It's hard to imagine keto diet without the delicious fat bombs. If you don't enjoy making them yourself – you simply must try these. Hand-made and 80% fat – Keto Squared Snack Fat Bombs can become your ultimate low carb candy choice or a regular keto snack.
Made with MCT oil powder, cocoa butter, coconut and many other nutritious ingredients – this is a perfectly fat keto candy that's not too sweet.
These low cab fat bombs are made with natural monk fruit sweetener and comes in 3 delicious flavors: Berry Cheesecake, Macadamia Crème and Chocolate Dream. You can order a pack of fat bombs here.
TIP: if you don't particularly have a sweet tooth but enjoy a low carb candy that's not too sweet – these keto fat bombs could be your perfect choice.
Notty Cold Brew Dark Protein Keto Chocolate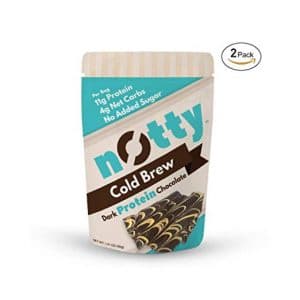 Net carbs per serving: 2-3g
This dark protein keto chocolate has zero added sugar and is diabetic friendly. This keto candy contains only natural sweeteners: a blend of stevia and erythritol which helps to eliminate any aftertaste.
Notty Cold Brew Dark ProteinChocolate doesn't contain any GMO products, soy, corn or gluten. Made in Colorado USA, this delicious chocolate contains good fats that come from real cocoa butter.
If you want to try this low carb and high protein snack, you can order it here and get it delivered right to your doorstep.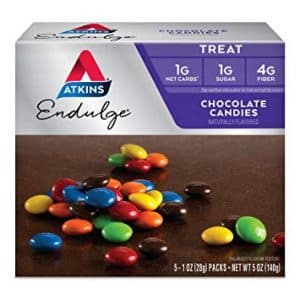 Net carbs per serving: 1g
If you used to be a fan of M&M's, then this could be your perfect keto-friendly alternative.
Atkins chocolate low carb candies work perfectly with the keto lifestyle. These small yet very delicious candies do remember the times before keto when you could feast on M&Ms. So, if they used to be your guilty pleasure, here you can order their alternative that is lower in carbs but equally delicious.
NOTE: you can choose other popular Atkins keto candy options, such as Peanut Caramel Clusters and Chocolate Coconut Bars. Explore and choose your favorites!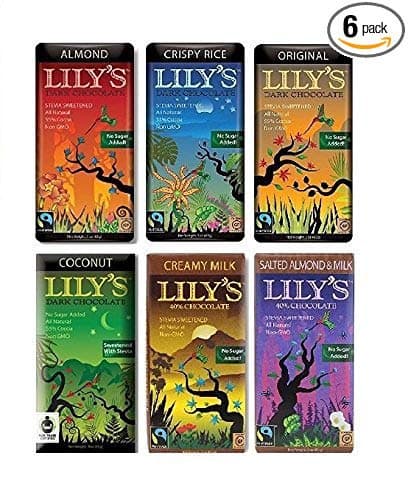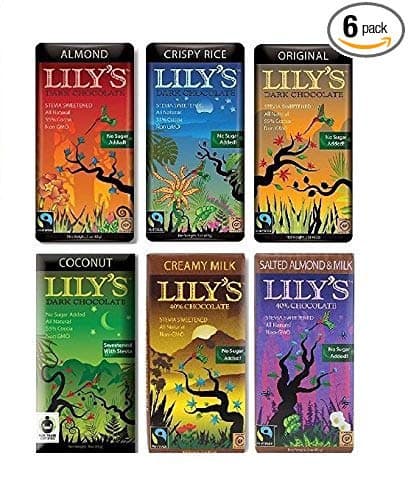 Net carbs per serving: 4g
This is a great choice for those, who enjoy mixing the flavors and tasting new things. So, I would definitely recommend the tasting pack – the Super Variety. You can order it here.
Lily's Chocolate, probably the best known brand among keto-friendly chocolate makers, exceeds all expectations you could probably have for a chocolate bar that is sugar-free.
You can have a taste of these delicious chocolate bars in 6 different flavors: Almond, Coconut, Creamy Milk, Crispy Rice, Original and Salted Almond Milk.
Each of them has a unique flavor, so you will soon pick your favorites. Mine are Coconut and Salted Almond Milk. To tell you the truth, the Salted Almond Milk is currently my ultimate guilt-free pleasure.
NOTE: order the Super Variety and try 6 delicious keto chocolate tastes at once!
Stevita Stevia Sweet Keto Candy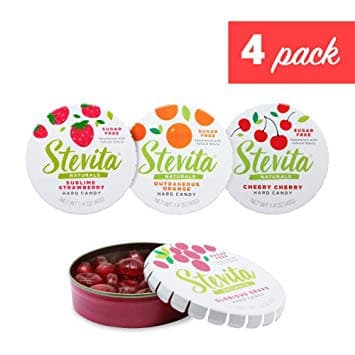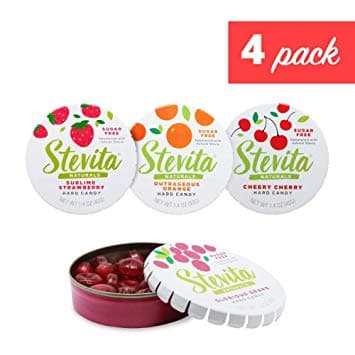 Net carbs per serving: 0-1.5g
If you're looking for hard keto candy – you just found them. Sweetened with stevia, these delicious treats are very low in carbs. You can choose your favorite flavor from grape, cherry, orange and strawberry.
If you're not sure which flavor you want – choose the Variety option. This way you will get to taste all of the flavors with just one order. You can order the variety of keto candy or the flavor of your choice here.
NOTE: if you're a fan of hard low carb candy – be sure to try these babies. They're absolutely delicious.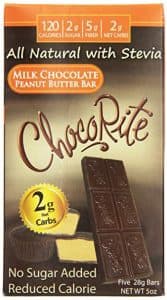 Net carbs per serving: 2g
Attention peanut butter lovers – here's your new favorite low carb candy choice. This chocolate contains only all natural sweeteners – a blend of inulin and erythritol.
If peanut butter used to be your favorite choice of sweets, you must give this low carb version a shot. It's mouth watering, delicious and simply invites you for another bite.
Curious to try it out? Get your low carb peanut butter chocolate bar here.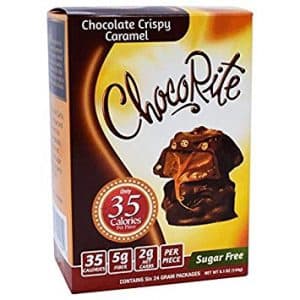 Net carbs per serving: 1-2g
Another delicious low carb chocolate product made by ChocoRite. These small chocolate bites will absolutely help you go through your cravings. These choco bites get their sweetness from erythritol – a natural sweetener.
You can get them is 3 different flavors: dark chocolate pecan clusters, milk chocolate pecan clusters and chocolate crispy caramel – pick your favorite one and get it today.
With all of the unnecessary calories removed, this is a great choice for a low carb candy to help you go through cravings.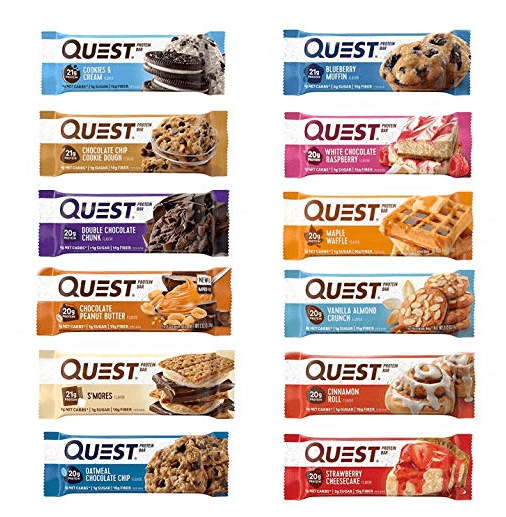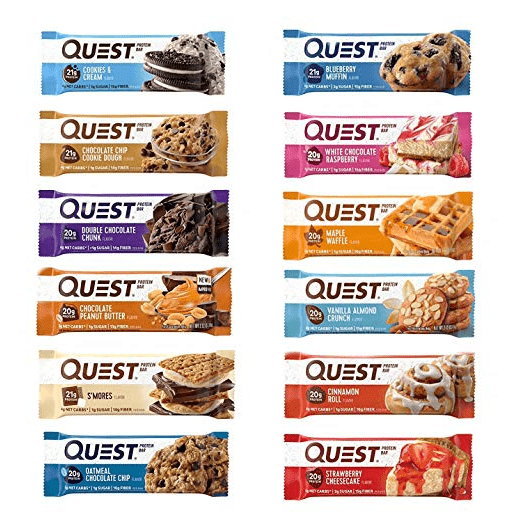 Net carbs per bar: ~4g (depends on chosen flavor)
In general, this is not a keto candy but these protein bars come in 12 different flavors per pack, so you can just call them your low carb candy substitute.
What I particularly liked, is how many different flavors you get with just one order. Just look at this amazing list of Adventure Pack tastes :
Apple Pie
Blueberry Muffin
Chocolate Chip Cookie Dough
Chocolate Peanut Butter
Cinnamon Roll
Coconut Cashew
Cookies & Cream
Double Chocolate Chunk
Oatmeal Chocolate Chip
S'Mores
Strawberry Cheesecake
White Chocolate Raspberry
My personal favorites are Chocolate Peanut Butter and Coconut Cashew. Once you try them, be sure to share your favorite flavors!
NOTE: there are 3 more packs with different flavors available: Chocolate Lover's, America's Variety, Chocolate Mix-Up. These packs include some of the most popular and liked protein bar flavor choices.
Keto Candy – Is It Worth Trying?
Yes, keto candy are definitely worth a shot. Even though, you probably won't like all of them, I am pretty sure that you will find some low carb candy options that will help you survive your cravings.
However, if you don't think that keto candy is the best treat for you, I will share my little secret with you. It seriously helped me when I was going through my cravings phase. The magical cure was sugar-free carbonated drinks. To be more specific Coca-cola Zero and Pepsi Max.
Currently, I no longer feast on them, however, at the beginning of my keto journey – they helped me a lot. By drinking sugar-free drinks you trick your body into thinking that it actually gets real sugar when it doesn't.
NOTE: Keep in mind that I don't recommend you to drink a lot of sugar-free drinks – it is not good for your health in general. Only use this trick when you don't have a better and healthier option.
Otherwise, good luck in conquering your cravings!