As your grandma used to say – breakfast is the most important meal of the day. Even when you're on keto diet. That is why, having a list fresh keto breakfast ideas will help you start your day in a healthy and tasty manner.
I've went through hundreds of keto breakfast recipes and selected the best low carb breakfast ideas that will definitely suit your needs.
Here you will find a list of handpicked keto breakfast ideas and recipes. They will keep your carb intake low, while at the same time keeping you full and satisfied until lunch or dinner time.
I've personally tried each of them and can justify that they're absolutely de-li-ci-ous.
To make it easier for you, I've split the list of low carb breakfast ideas I've gathered into two parts:
So, based on your preferences, you can jump straight to the section of your interest and find ketogenic friendly breakfast ideas for a tasty morning.
Keto Breakfast Ideas Featuring Meat
If you wish to start your day strong and treat yourself with a slice (or a few) of bacon, here you will find some really great all-meat keto breakfast ideas.
Eggs & Bacon to Die For
Let's start from the ultimate classics and one of my favorite keto breakfast recipes – eggs and bacon.
After learning to prepare scrambled eggs the Gordon Ramsay way, I find it to be my favorite way to eat eggs.
However, the Gordon Ramsay recipe will work perfectly with any type of egg preparation you want: poached, fried, sunny side up – any. Just remember to use butter. Butter makes everything taste better.
Even though the original recipe is not 100 % keto friendly, you can change that simply by eliminating the bread out of the picture.
What I particularly liked in preparing eggs the Ramsay way and turning this classic dish into a keto breakfast was the perfect texture of the eggs.
So, simply follow the steps in the video. I'm sure that this recipe will become one of your favorite low carb breakfast ideas that you'll think about every morning.
When it comes to bacon – don't forget to season it with salt and pepper!
TIP: you can replace the bread with avocado, sprinkled with salt, pepper and lime – yummy.
Keto Omelet That Melts in Your Mouth
If you enjoy all your keto breakfast ingredients mixed in one place – keto omelet with tasty ham and bell peppers will work great for you. It is fast and effortless to prepare.
This recipe features eggs being mixed with sour cream. It gives the omelet an extra fluffy texture that simply melts in your mouth.
TIP: before you start prepping, keep in mind that ham and cheese will give the omelet a salty flavor, so don't over-season the eggs at the beginning.
I've experimented with various cheese options, but my all time favorite remains cheddar with a little sprinkle of parmesan to give the original taste an extra lift.
Spice Up Your Keto Breakfast With Jalapeño Popper Egg Cups
If you enjoy spicy food, this keto recipe for breakfast will soon become one of your favorites.
The only downside to it, is that you'll need a muffin lane in order to prepare it.
If in the morning your short on time, better keep this keto breakfast idea for weekends. Then you will have the time to enjoy a healthy and equally as tasty breakfast.
Also, it looks good on the plate, so if you wish to surprise your significant other – that's your way to go.
TIP: I've tried making this keto breakfast both ways, with fresh and canned jalapeños. Both taste great, however, the fresh ones have an edge flavor wise.
Pizza for Breakfast – Yes, Please!
The great thing about keto is no longer counting calories. So, if pizza sounds like a great keto breakfast idea – this one will seriously tickle your taste buds.
Everyone knows that cheese is one of the best parts of pizza, so why not make the dough from it? What I particularly liked about this 'pizza as keto breakfast' idea, was how nicely mozzarella combined with parmesan mixes into a perfect pizza base.
However, one of the times I was baking it, I found some cheddar leftovers in the fridge. Surprise-surprise, cheddar gave the pizza 'dough' a more creamy and yet crispy texture.
So, if you have some cheddar, feel free to try adding it to level up this keto breakfast pizza.
Who said you can't enjoy a sandwich for breakfast when on keto?
All you need to do is simply use a bread substitute and any of your favorite sandwiches will become one of the best keto breakfast ideas you will think about every morning.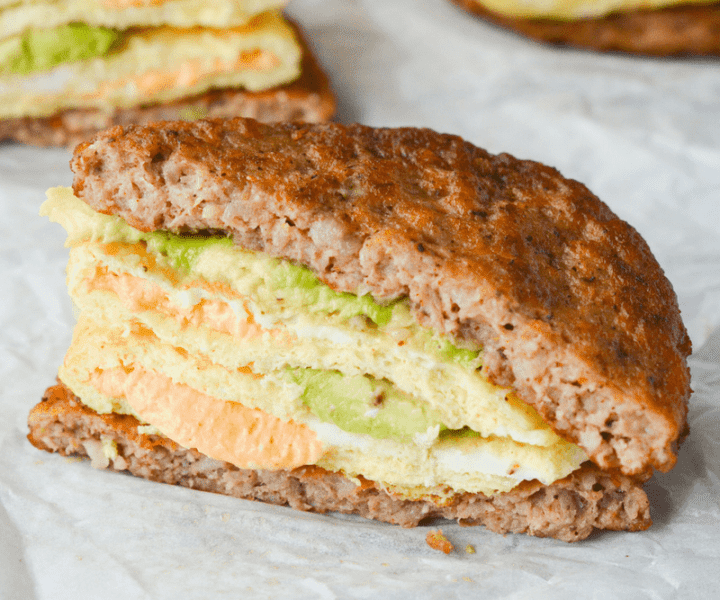 This keto friendly sandwich uses turkey sausage patties as a bread substitute, how tasty does that sound?
And the inside of the sandwich stuffed with avocado, cheddar and cream cheese makes it extraordinary. Definitely worth a shot.
TIP: feel free to experiment with other kinds of meat that you like – even beef. The only downside – your sandwich might start leaking, so if you enjoy a messy keto breakfast, be sure to try!
If you're a sandwich lover and enjoy more than a few layers, this club sandwich will become one of your favorite keto breakfast recipes.
What I really liked about it, is how nicely the beef, chicken, turkey and pork mix together. It's one of the most satisfying bread substitutes I've ever encountered.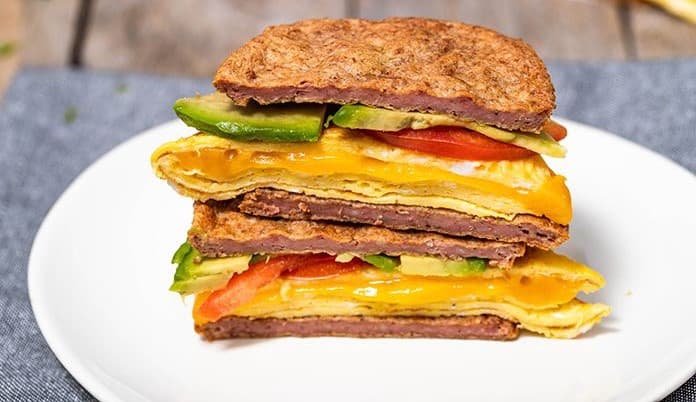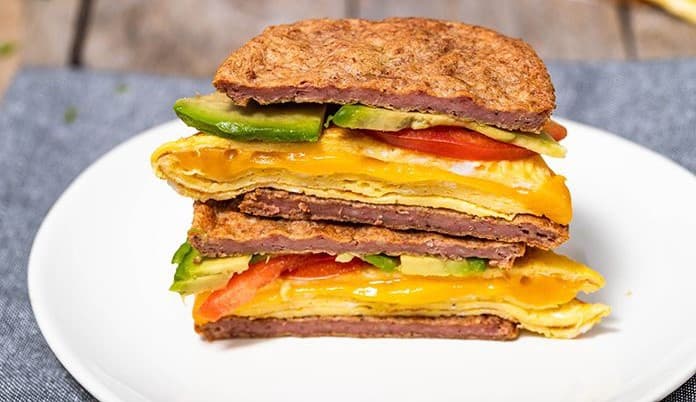 What I changed about the sandwich is adding some extra cheese and quickly backing it in hot over. Melting in your mouth patties combined with sticky cheddar is a sin not to try.
Also, you can build as many layers as you want, however, don't go overboard as it will collapse while eating!
TIP: if you're looking for extra full keto breakfast ideas, try adding not only cheese, but some crispy bacon. Bacon can be served on the side as well if you prefer eating it as crisps.
Just like with pizza, you can have a burrito for breakfast if you substitute the ingredients right.
One morning when I woke up and had no low carb breakfast ideas. However, had a lot of burritos on my mind, I found this great recipe.
The base is made of eggs and sour cream, so it's like having a rolled omelette. The only difference is that you get to roll it and stuff it with all of your favorite ingredients.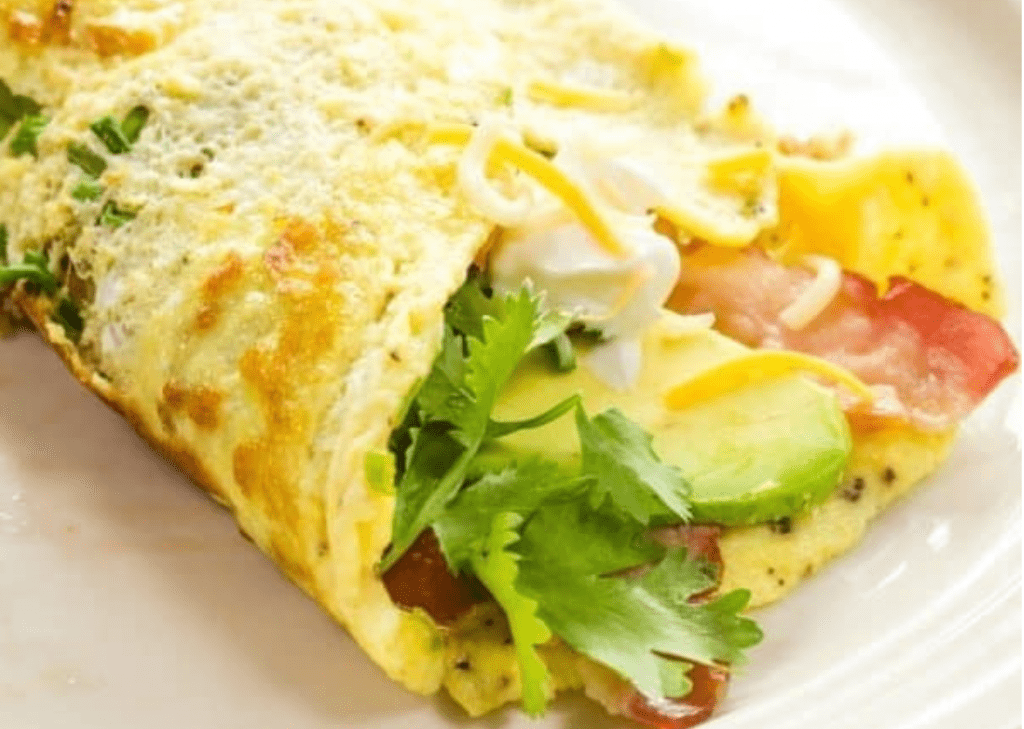 Also, it's easy to pack for lunch or turn it into keto breakfast on the go.
The particular recipe suggests several filling options. My personal favorites were smoked salmon, dill and cream cheese. However if want some meat with it go for roast beef and horseradish sauce. Surprisingly, bacon also incorporates very nicely into this option. Enjoy!
Just like in that song 'bacon pancakes, bacon pancakes, I take some bacon and I put in a pancake' the dish tastes as delicious as it sounds.
These pancakes are savory, rich and will seriously fill you up for the day. Also, they are fluffy like clouds, so you must definitely try them at least once. However, I'm sure that after that, you'll make them even more times.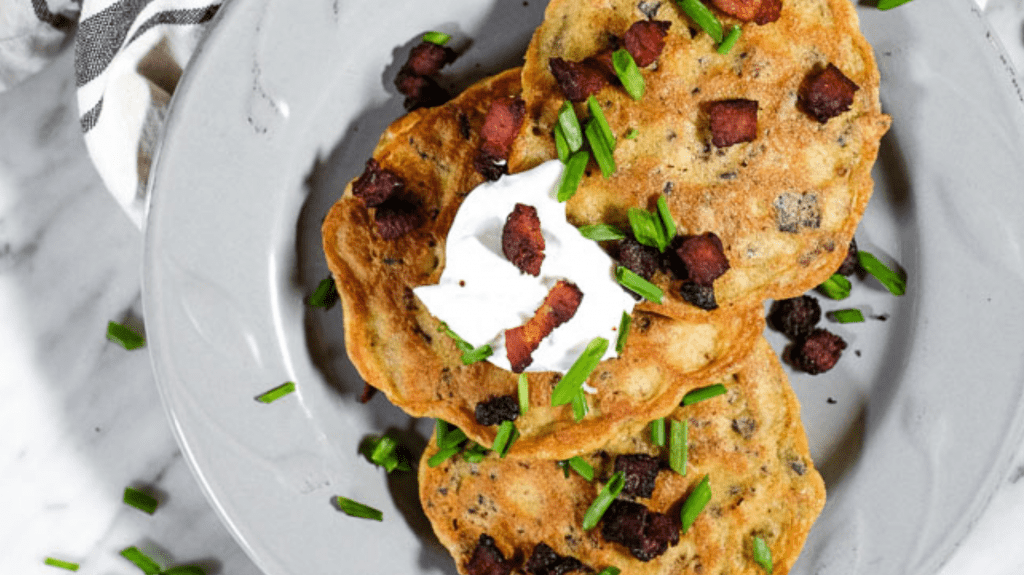 The way the fluffy texture of the pancakes mixes with the crunchy texture of the bacon is a taste you cannot afford to miss out on.
With topping or without toppings they taste great, so be sure to include them in your keto breakfast menu!
If you enjoy avocados, then you must try this keto breakfast burger. It's full of fatty acids, omega-3 oils and protein. Not only will you get an amazing eating experience it will also give a serious boost to your health.
Substituting regular buns with avocados will make the burger keto friendly. Fried eggs with bacon and vegetables inside will definitely tickle your taste buds.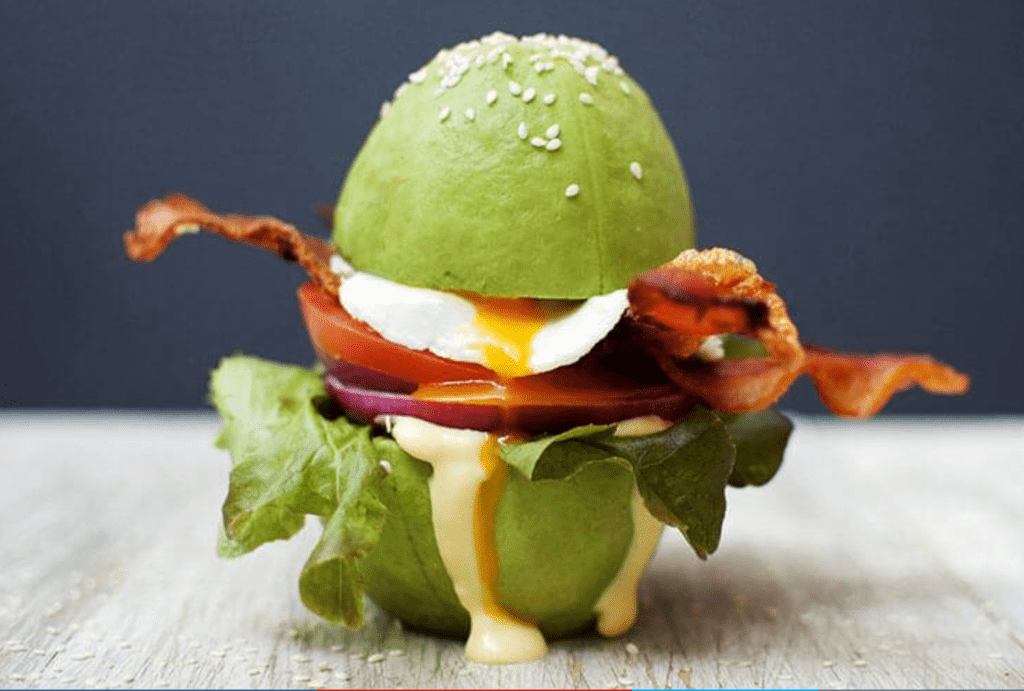 However, you should consider grabbing a fork and a knife with you before eating. Since it's not your typical burger it might disintegrate between your fingers.
TIP: I'm a spicy food lover, so if you enjoy it as well, some fresh jalapenos will level up the taste experience.
Before I learned to make scrambled eggs the Gordon Ramsay way, my ultimate favorite were Eggs Benedict – even before I started keto.
Once I got into keto, I started to miss them, so after a deep research and a lot of experimentation, these Eggs Benedict were one of my favorite keto breakfast recipes.
The mug bread described in the recipe tastes great when you're in a rush and have no time to bake in the oven, however, if you're having a lazy Sunday, I totally recommend making the bread in the oven.
The taste is lighter and the bread is fluffier with a nice crisp on the outside. You can use the same ingredients, but instead of a mug, simply put the dough on baking paper.
TIP: hollandaise sauce is very tricky to make even for professional chefs. So if you want to go for an easier option and be sure that your hollandaise sauce turns out perfectly, watch this video and follow the instructions on it.
When things in the kitchen don't go your way, it can seriously break your spirits and turn one of the most amazing keto breakfast ideas into a nightmare you'll constantly wish to avoid.
10 Amazing Vegetarian Low Carb Breakfast Ideas
Even if you're a bacon lover but feel like having a light breakfast – going vegetarian is a great idea. Here you will find some of the best vegetarian keto breakfast ideas that will work for great for not only vegetarians but meat lovers as well!
Fresh Summer Keto Smoothie
Who doesn't like a fresh fruit smoothie on a hot summer morning?
If you are looking for refreshing low carb breakfast ideas that don't require a lot of time to prepare – a smoothie could be the perfect solution.
Not only is it perfectly healthy and tasty, you can pour it into a paper cup and have a keto breakfast on the go!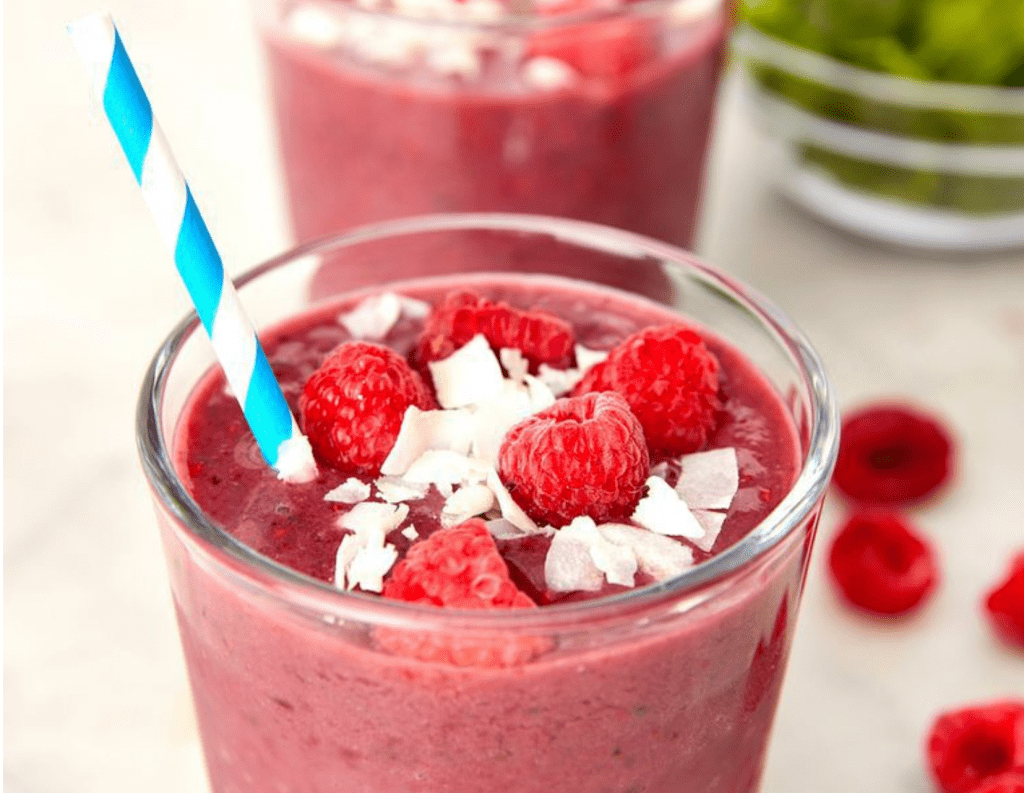 Berries like strawberries, blueberries and raspberries are very low on carbs in comparison to other classic fruits used for smoothies, such as bananas and mangoes.
TIP: Simply mix it with coconut milk and some baby spinach for extra nutrients and voila! You have one of the best keto breakfast recipes. Enjoy!
Chocolate Protein Shake Before a Long Day? Yes, Please!
Have a long day ahead of you and looking for some morning energy shot to keep you going throughout the day?
Take a protein shake. Filled with almond butter combined with almond milk and topped with hemp & chia seeds – this chocolate protein shake is a healthy and nutritious keto breakfast for those who are in a rush.
TIP: Blend your protein shake together, pour it in a take-out cup and have a keto breakfast on the go. Yummy!
If you don't enjoy making food in the morning but wish to treat yourself, these banana muffins deserve to be called one of the best keto breakfast meal preps.
Almond flour combined with butter, banana extract and nuts come together as beautiful keto breakfast cupcakes that can be prepped in the evening for you to enjoy in the morning.
Their silky texture melts in your mouth and makes them simply irresistible.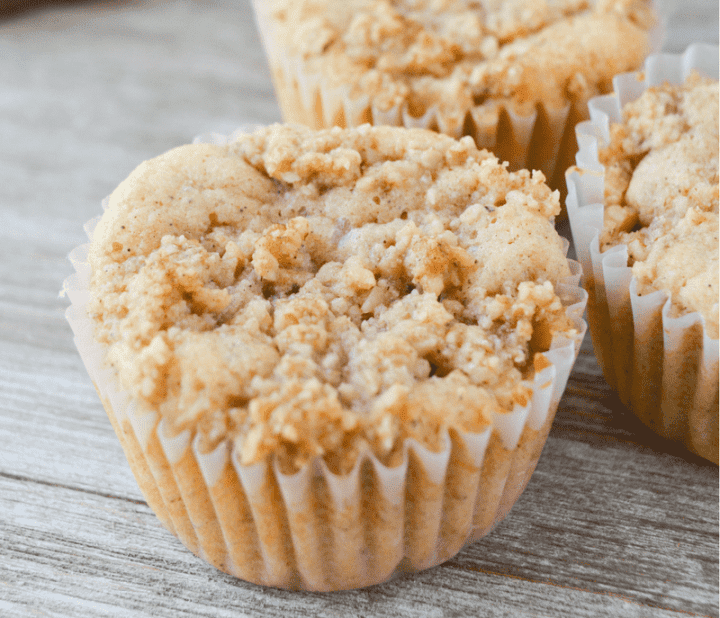 If you enjoy savory foods in the morning and sweets and treats don't sound like great keto breakfast ideas, save them for lunch or pack it as a keto snack for you to enjoy in between your meals.
It will also work for those who don't have a lot of time as it can also be a keto breakfast on the go, made at home. Certainly works for me.
Fat Bomb to Speed Up Metabolism
Low in carbs and high in fat – these small fat bombs will keep you full throughout the day.
It works great as keto breakfast on the go, as you can simply store these little keto treats in the fridge and just grab one when hungry. Great low carb breakfast ideas do come in small packages.
Peanut butter combined with coconut oil and some dark chocolate will fill you up for the day and ensure you have a tasty morning – a great start for the day.
Look no further – here are your perfect cannoli crepes for a tasty keto breakfast.
Cream cheese mixed with butter and eggs make a delicious keto-friendly crepe. Adding cinnamon to the mixture lifts up the dish to a whole new level.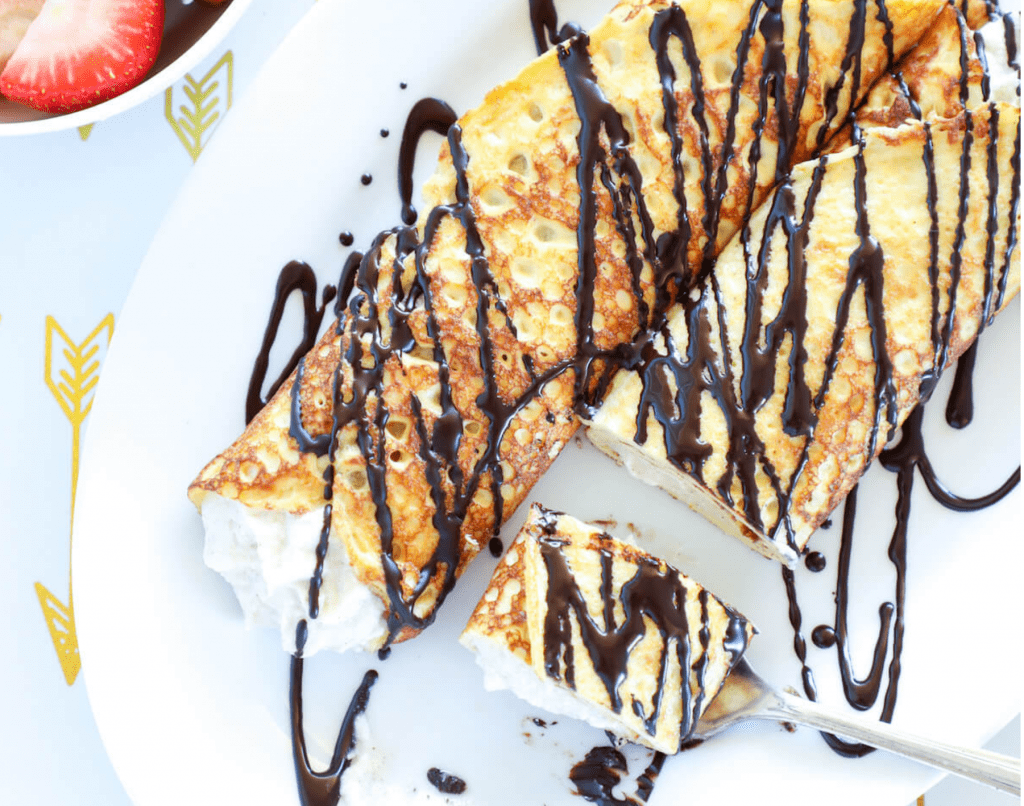 And that's just the beginning. Filled with mascarpone and ricotta cheese mix enhanced by lemon zest, the cannoli crepe simply melts in your mouth leaving your taste buds satisfied without any heavy feeling for your stomach.
If you have a sweet tooth and an appreciation for french and italian cuisines – this is one of your ultimate keto breakfast recipes.
Cloud Eggs – Perfect Savory Start for the Day
This keto breakfast recipe works perfectly both ways, vegetarian and with ham inside. However, I enjoyed the meatless option, so I put the recipe here.
The secret behind this great keto breakfast idea is separating the egg whites from the yolks and whisking the egg whites until stiff peaks.
When baking in the oven they get this cloud shape and topped with a runny egg yolk simply become irresistible.
TIP: be sure to check your cooking times as whisked egg whites can overcook quickly and that will just not taste nice.
Keto Bagels – Quick Keto Breakfast on the go
These amazing keto bagels topped with rosemary are very easy to make and tastes great.
The crispy outside and a fluffy glistening inside of the bagel makes it simply irresistible.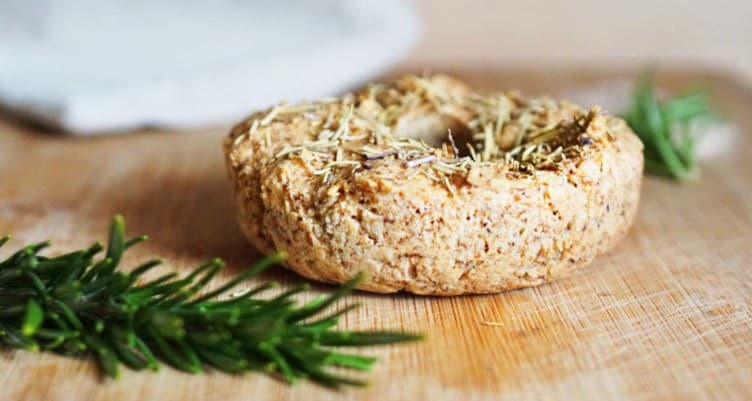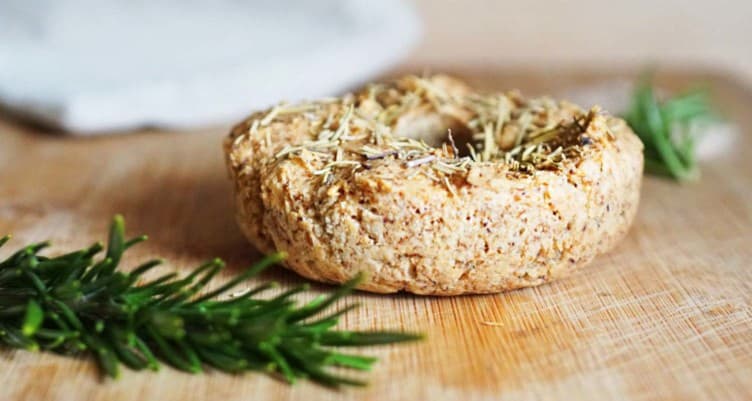 Made from almond flour this dish is a perfect keto breakfast recipe that can be used as a base for a tasty sandwich. Simply top it with some avocado or a sunny side up egg with a runny yolk and enjoy.
TIP: if you're not a fan of rosemary, you can top it with some italian seasoning like basil and oregano combined with some salt, pepper and cayenne for some heat – the taste is simply amazing.
These soft boiled eggs are one of the greatest keto breakfast ideas on their own or with keto bagels (recipe above) on the side.
This keto breakfast recipe is very easy to make and has only one tricky side – peeling the eggs. Thyme and butter works as a great seasoning for this breakfast dish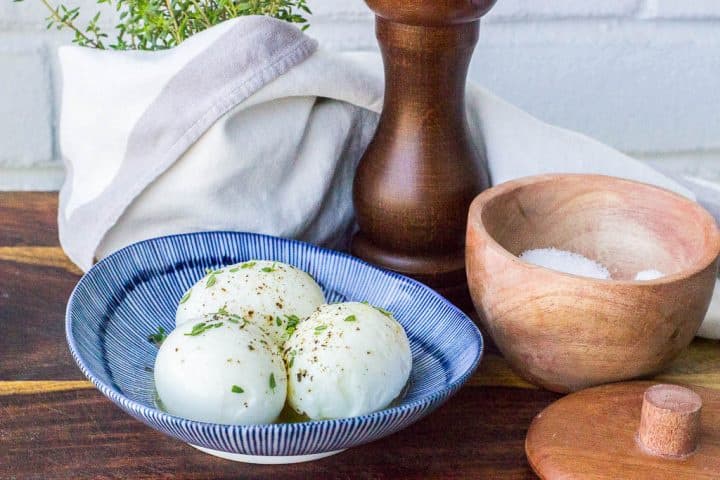 If you enjoy cracking the top of your egg and eating it with a spoon – feel free to do so. Simply pour the melted butter in a small bowl, mix it with thyme and pour this amazing sauce over the eggs as you eat. It's easy and you won't need to deal with the egg peeling.
Savory and sweet – works perfectly both ways.
Making your own oatmeal sound tricky, but in fact, it's easy and there's no mumbo-jumbo behind it. It's very quick and basically effortless to prepare. You can enjoy it whenever this keto breakfast idea pops into your head.
Made from almond flour, chia seeds, coconut flakes and spiced with cinnamon, this dish is a tasty and quick keto breakfast. You can make it quickly on any morning.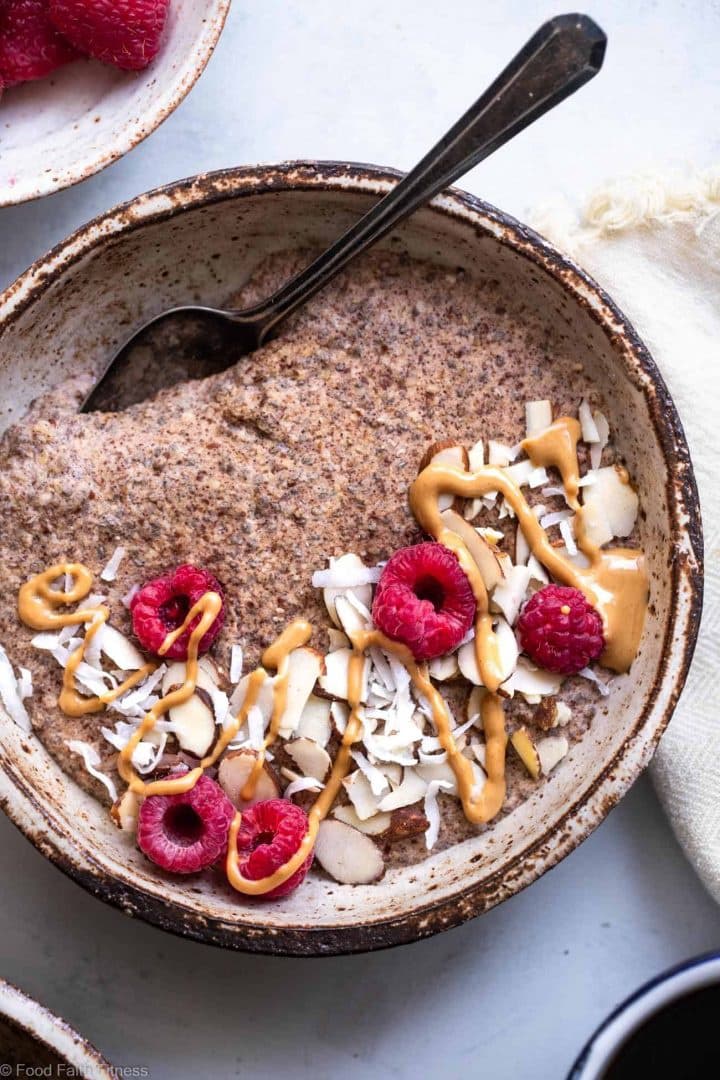 Of course, don't forget the toppings. My favorite ones are blueberries and raspberries with some additional coconut flakes.
If you're feeling like making it a bit more savory – ditch the berries. Go for avocado with a fried egg on top. Yummy.
When I saw the picture of this amazing dish, I immediately knew I had to make it.
This strawberry chia pudding has an amazing balance between sweet and savory. It works perfect as keto breakfast and also as a dessert to serve when you have guests over.
The only downside to it is that you need to do the keto breakfast meal prep in evening. The dish requires to be refrigerated overnight. Trust me – it's really worth the effort and the wait.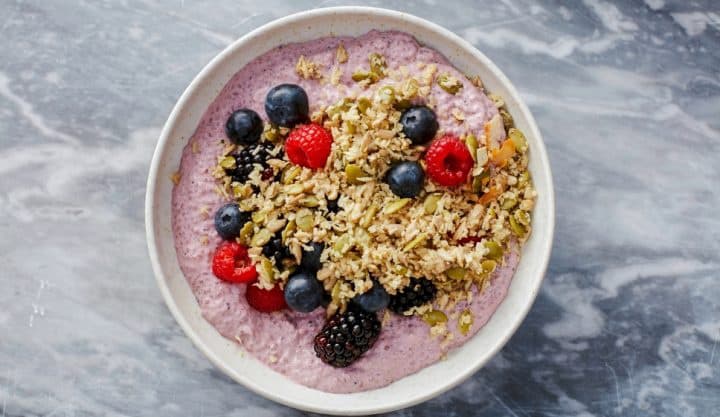 Be sure to top it with some fresh berries and enjoy how the pudding melts in your mouth!
Best Keto Breakfast – The Bottom Line
Each of the recipes listed above are great keto breakfast ideas. Whether you feel like eating savory or sweet, all of these keto breakfast recipes will keep your carb intake minimum.
Filled with protein and fiber, each of the keto recipes for breakfast will provide you with energy, satisfaction and great mood for the whole day.
When it comes to low carb keto breakfast – the possibilities are endless. You just need to experiment a little (or a lot).
Food is one of the greatest pleasures in life, so enjoy it!
P.S. Be sure to check out these amazing keto dinner ideas!